This right here is our favourite pancakes at the moment. Topped with homemade berry coulis and raw chocolate sauce and nuts and and and… what more can a girl ask for? I normally make a batch and freeze them (separated by greaseproof paper) which makes it easy to take out in the mornings, afternoons or evenings cause I basically eat them any time of the day 🙂
Like I promised in the previous post I am going to share some of the recipes I used for my first foodie event. And, I have decided to start with the dessert we had because why not? These pancakes are really easy to make and reeeeeeeally yummy. The added banana makes it moist and adds the right amount of sweetness and that is why it is important that you use very ripe bananas in the batter.
What makes this recipe so easy is the fact there are basically just two parts: the dry ingredients mixed in one bowl and the wet ingredients in another and then the two are whisked together. As a final step the banana gets added with a gentle stir and then the batter is ready for frying. I took this recipe from 100 days of real food but tweaked it a bit to our liking and I can promise you this recipe is fool proof!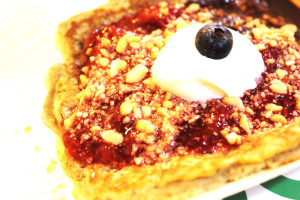 Whole Meal Pancakes
Author:
Ingredients
2 cups stoneground whole meal flour (I use Eureka Mills)
1/4 tsp salt
1 tsp baking soda
2 tsp baking powder
2 large eggs, gently beaten
11/2 cups milk
2 tbsp salted butter, melted*
1 tbsp raw honey
2 very ripe bananas, mashed with a fork
coconut oil for frying
Instructions
Add all the dry ingredients to a large bowl and whisk gently.
Add the milk, butter and honey to the eggs and whisk gently.
Make a well in the flour mixture and gently add the egg mixture and incorporate well. Don't over mix.
With a wooden spoon or spatula, add the banana and mix gently.
Turn the stove plate to medium heat and prepare a small pan with 1/2 tsp of coconut oil. Make sure the stove is hot enough before adding the batter to the pan. However, keep the stove plate at medium heat.
Fill a soup ladle about 3/4 full with the batter and pour it into the pan. Make sure the batter covers the base of the pan. Allow to fry until the edges turn brown (about 70 seconds) and flip to brown on the other side.
Remove the pancake and prepare the pan with more coconut oil and continue until the batter is finished.
Notes
If you prefer to use unsalted butter, increase the salt from 1/4 teaspoon to 1/2 teaspoon.
(Visited 190 times, 1 visits today)