Vegan curry at it's best! Just in time for Meatless Monday. It's a winner, friends. I know many of you love your meat and your dairy but if you would like to omit it just once, then THIS should be your go-to meal. Who knows, you might just want to be a vegan after this 🙂 And that's totally fine.
While I am not a vegan or a vegetarian, I do enjoy cooking or including recipes that cater for those of you who are. I often cut out meat and dairy from our lifestyle even if it is only for a week or 2 at a time simply because I get tired of it. I don't think I'll ever cut it out of my life completely but taking a break from it every so often won't do any harm. In fact, I think it can actually do more good.
Today's vegan red tofu & peanut curry is the last meal that I am sharing with you from last week's UCOOK menu. On that note, please remember that this is also the last week for you to enter our BIG COMPETITION. You have to order your menu before Wednesday noon to be entered into the competition. So, enter and Get cooking. The winner will be announced on Friday. I am SO excited to see who wins that month's worth of UCOOK recipes and amazing ingredients.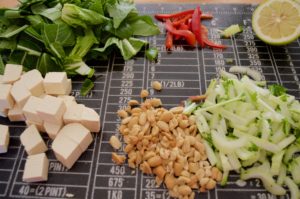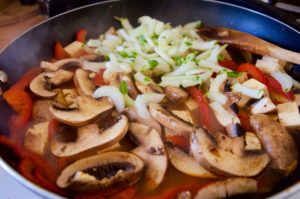 I absolutely loved this recipe because it was my very first time cooking tofu. Tofu, or bean curd, is an important component in many Asian dishes. The texture of tofu reminds me of that of feta cheese. In our meal today it is used as a substitute for meat; really yummy and so easy to prepare. I actually caught my husband picking them from the dish and eating it as is. I absolutely love cooking dishes like this where he doesn't even miss the meat.
There is so much flavour in this one pan dish. And when I say flavour I mean flavour. And then there's so much colour! Oh heaven, foodie heaven. I could possibly do this every day until I get bored 🙂 Go on, try it.
Boil your kettle and prep your ingredients as listed. Dilute your stock granules with boiling water from the kettle (quantity indicated in the ingredients list). Separate the pak choi stems from the leaves.

Place a pot or saucepan (the right size for your curry) over a low-medium heat. Add a drizzle of cooking oil, half of the red curry paste, peppers and garlic. Sauté these ingredients for about 5-7 minutes until the peppers have softened. Shift the ingredients around the pot every so often.

At this stage add the tofu and gently mix to combine. Sauté for a further 3-5 minutes before adding the stock, mushrooms and pak choi STEMS. Bring to a simmer for 2-4 minutes stirring occasionally.

Then add the pak choi LEAVES, rice noodle cakes, coconut cream, soy sauce and half the coriander. Gently mix to combine and cook for a further 3-5 minutes until the vegetables and the rice noodles are cooked. Stir occasionally and use your cooking utensil to work the rice noodles into the curry as they soften.

Taste your curry sauce and add further curry paste (diluted in bit of hot water to extend it) for a stronger flavour. If you have added more, allow it to cook for a further 1-2 minutes to bring out the flavours.

Add some fresh lemon juice and season further to taste.

Add a splash of water if your sauce needs extending and turn up the heat should it need to be reduced further.

Dish up, topped with the remaining coriander and chopped peanuts. ENJOY!
The post Vegan red tofu & peanut curry appeared first on And then there was food.
(Visited 297 times, 1 visits today)