According to the Oxford dictionary, the informal meaning of the word orgasmic is "very enjoyable". This definition is not quite strong enough to describe my recent experience at the launch of the Winter Menu at the Terra del Capo tasting room at Anthonij Rupert Wyne, but the selected adjective packs quite a punch when you utter it. So I'll stick to it as it was the first word that came to mind during my experience.
Now say it with me: or-GAS-mic!
See what I mean?
This orgasmic experience took place on Friday at one of the tasting rooms on the L'Ormarins Estate in the Franschhoek Valley. Upon arrival with our excellent tour guide from La Rochelle Tours, we (the media group) were welcomed by beautiful grey clouds, a majestic vintage door and smiling faces… the perfect setting for a winter menu.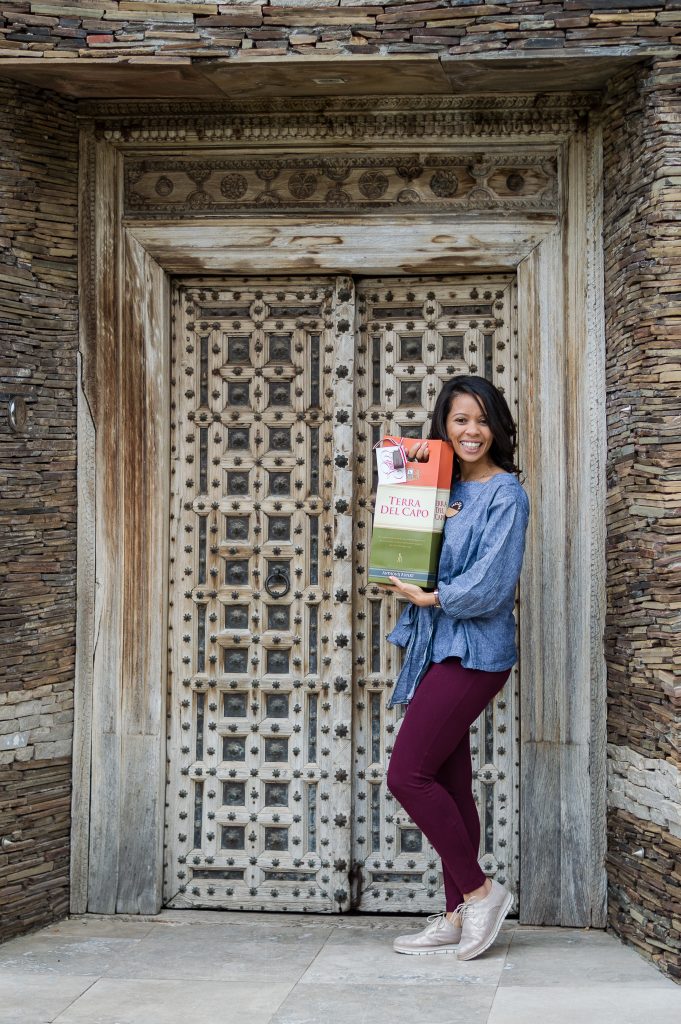 Beautiful displays of the wines and the olive oils that are produced at Anthonij Rupert Wyne were set out in the foyer. And of course a glass of L'Ormarins Brut Classic NV greeted myself and the other bloggers. Why I have not yet seen the L'Ormarins cold-extracted olive oil before is beyond me, because I love getting my hands on a good Extra Virgin Olive Oil. Maybe I've become so familiar with the brand I always buy. But the L'Ormarins is definitely one of the yummiest olive oils I have ever tasted. And it's never too late to add a new favourite to the pantry.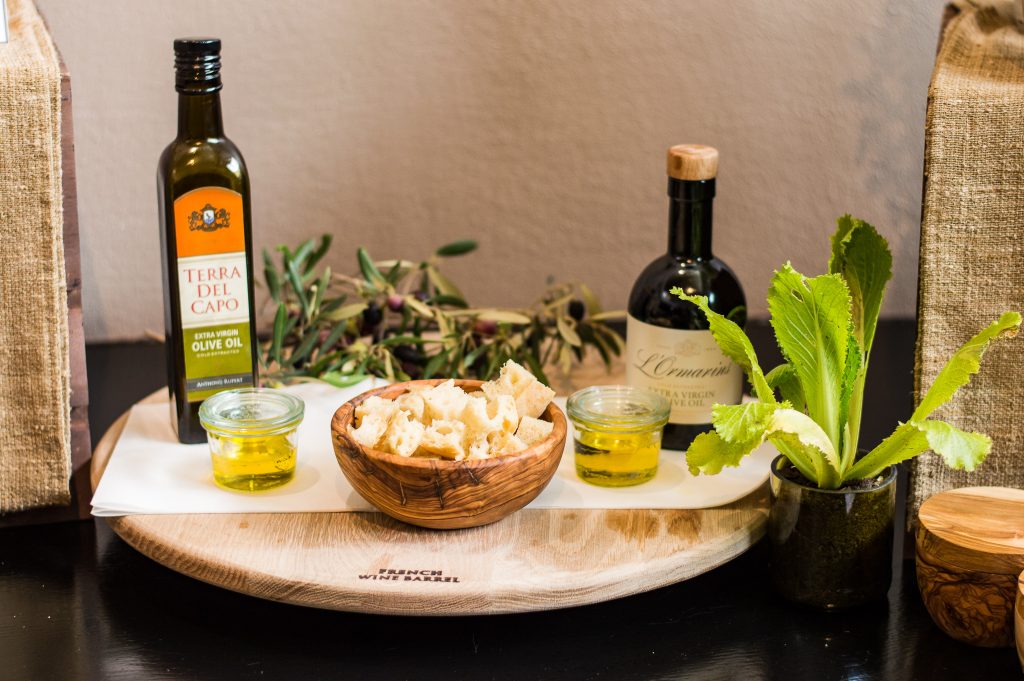 Terra del Capo is one of two tasting rooms at Anthonij Rupert Wyne; the other being named after the first owner of the farm, Anthonij Rupert, which is also the name of their flagship wine. Since the passing of Anthonij Rupert in 2001, his brother, Johann Rupert took ownership in 2003. In mentioning the name of the flagship wine, it is interesting to know that Anthonij Rupert Wyne consists of 5 brands: Anthonij Rupert, Cape of Good Hope, The L'Ormarins, The Terra del Capo and The Protea. These 5 ranges are produced on different sites as the focus of Anthonij Rupert Wyne is on terroir specific wines. This lends to the grander vision of variety, thus representing our country well.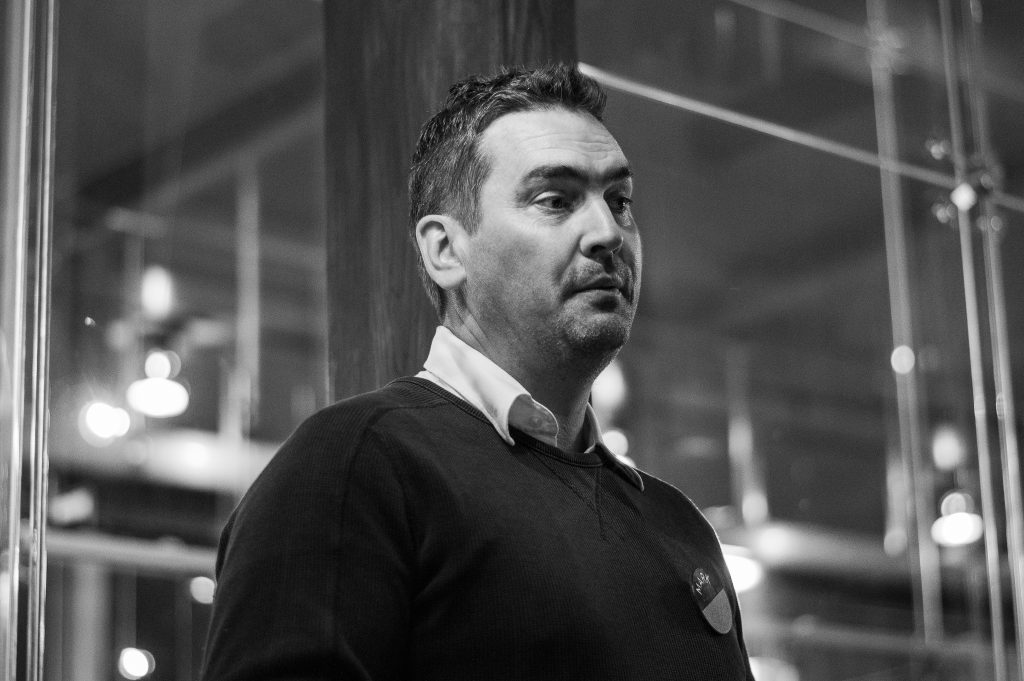 The tasting room for the order of our day invited us with its warm and rich tones. Even though the production of the wines can be seen through the glass windows from the Terra del Capo tasting room, the large lighting features and the modern interior creates an intimate and warm setting. This, quite ironically, lends to a very peaceful atmosphere inside the room whilst at the same time one feels included in the winemaking process.
The Terra del Capo is an antipasti bar so all the dishes we enjoyed were just that: antipasti aka tapas or starter course. An Italian inspired feast of tapas were prepared for us. But as one of the foodies said, these were no ordinary tapas but rather "tapas on steroids". The attention to detail, colour and flavour of these tapas made them stand out above the rest.
And we got to taste so many of them! The friendly staff kept bringing more and more plates of goodness whilst lovingly explaining exactly what we were about to indulge in.
On our table, a variety of cute baked breads awaited with THE BEST Porcini butter. Seriously, if my refrigerator only has that butter in it I'll be magnifico! 
Our first course (of tapas) was accompanied by the Terra del Capo Pinot Grigio. The tasting notes of this wine include lemon, orange leaf, peach and stone fruit – a light fruity wine for the four amazing starters seen below. First up: Baby Vegetable Crudité with vegetables straight from the L'Ormarins garden. Nothing makes my heart happier than knowing exactly where my food comes from, so Terra del Capo has already won my heart with that fact. My second tasting plate from the first course was the Grilled Artichokes served with a yummy Sultana Chutney. Out of all the amazing dishes, many of us simply couldn't get over this grilled artichoke which travelled all the way from Italy. Then, I thoroughly enjoyed the Franschhoek Trout Ceviche, Gooseberry and Honey with Lime & Ginger dish. Oh gooseberry! These yellow pops of sweetness were the perfect touch (one I sure wouldn't have thought of) to this light and flavourful dish. The Ceviche was prepared with local Franschhoek Trout. Go Franschhoek! We really are blessed to have such a fine place in our midst. And finally, those beautiful carrots you see: Carrot Arancini with a Cumin Boerenkaas filling. Ooh, this was yummy and super cute on the eye.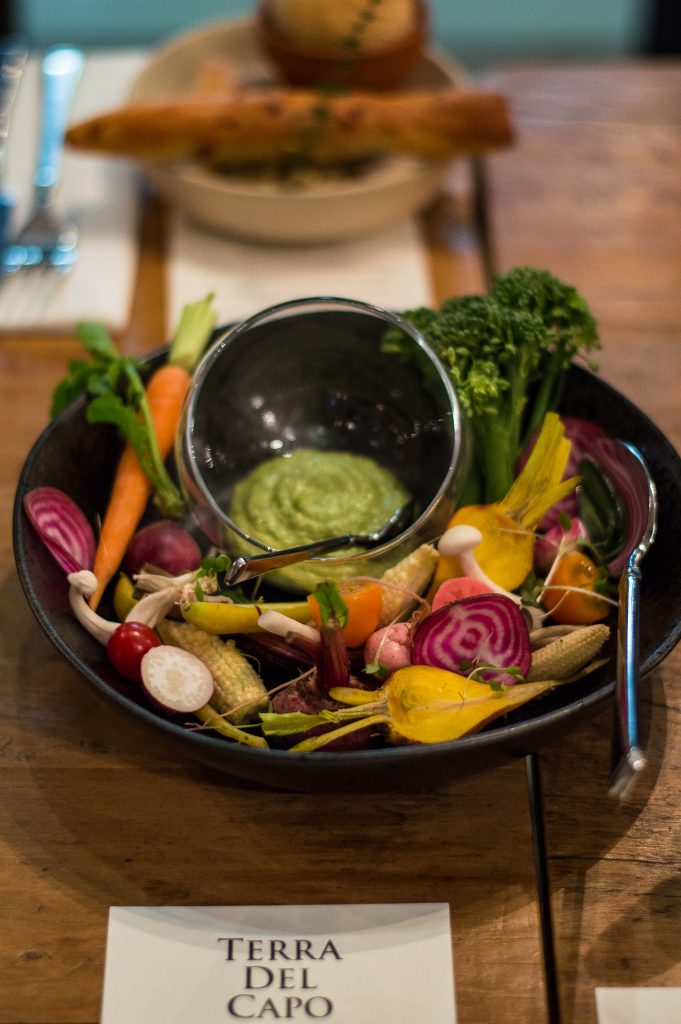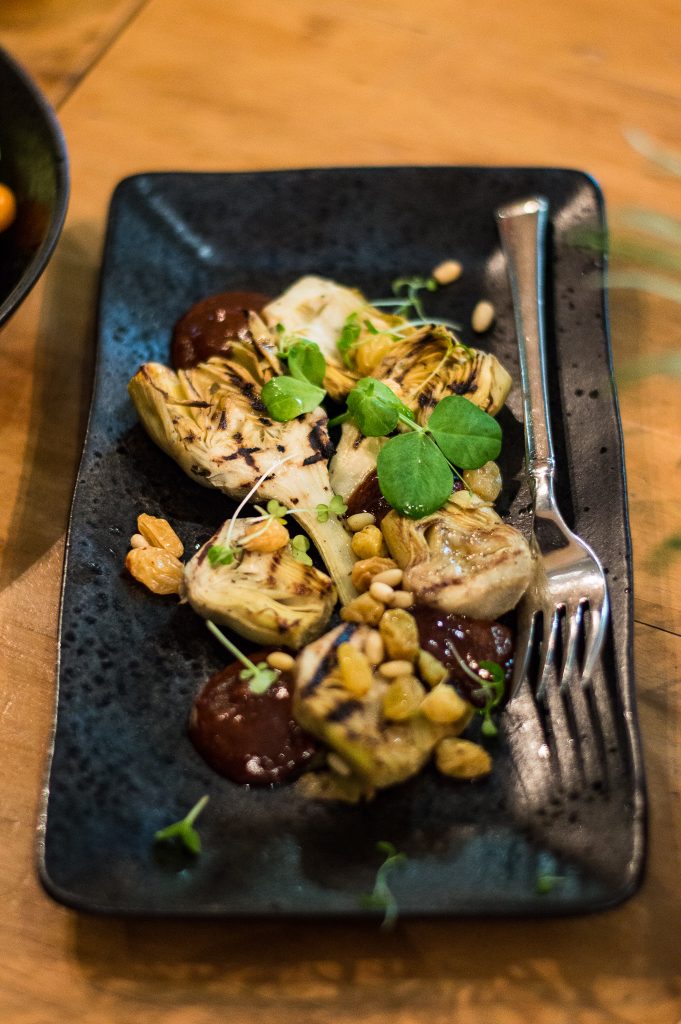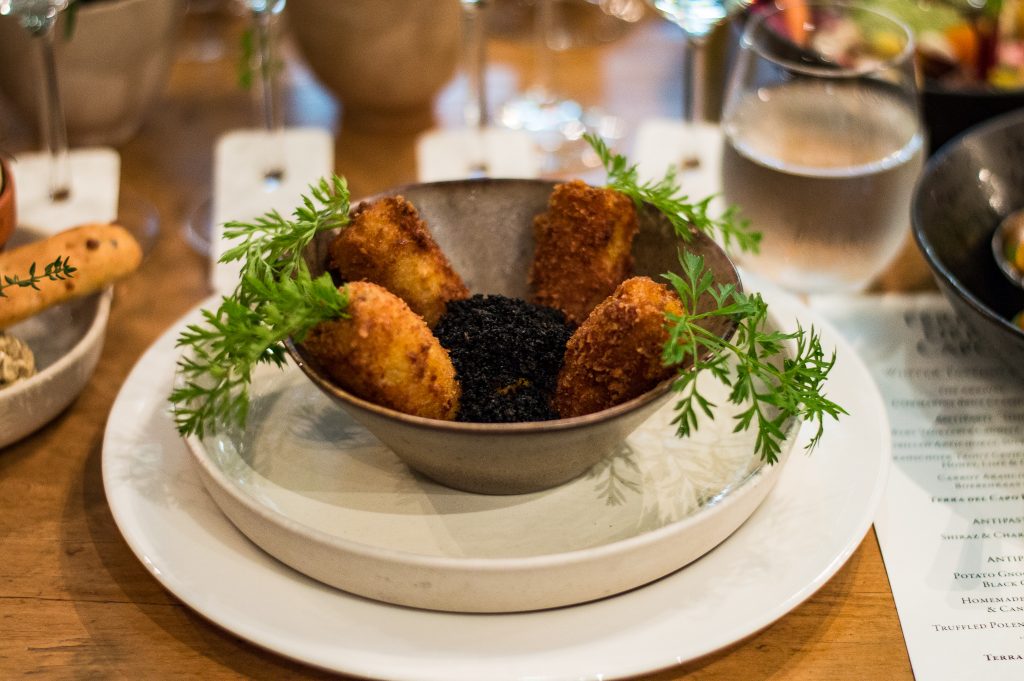 We dived straight into the second round: the Shiraz & Charcuterie pairing. The charcuterie was of the highest quality and consisted of 3 types: two imported from Italy and 1 local. Those pickled lil' onions on the plate just added an extra yes-factor. This amazing pairing can be enjoyed with the bold fruitiness of 3 Shiraz wines from the Protea, Cape of Good Hope and Anthonij Rupert ranges. All this for R120 only. It's a win!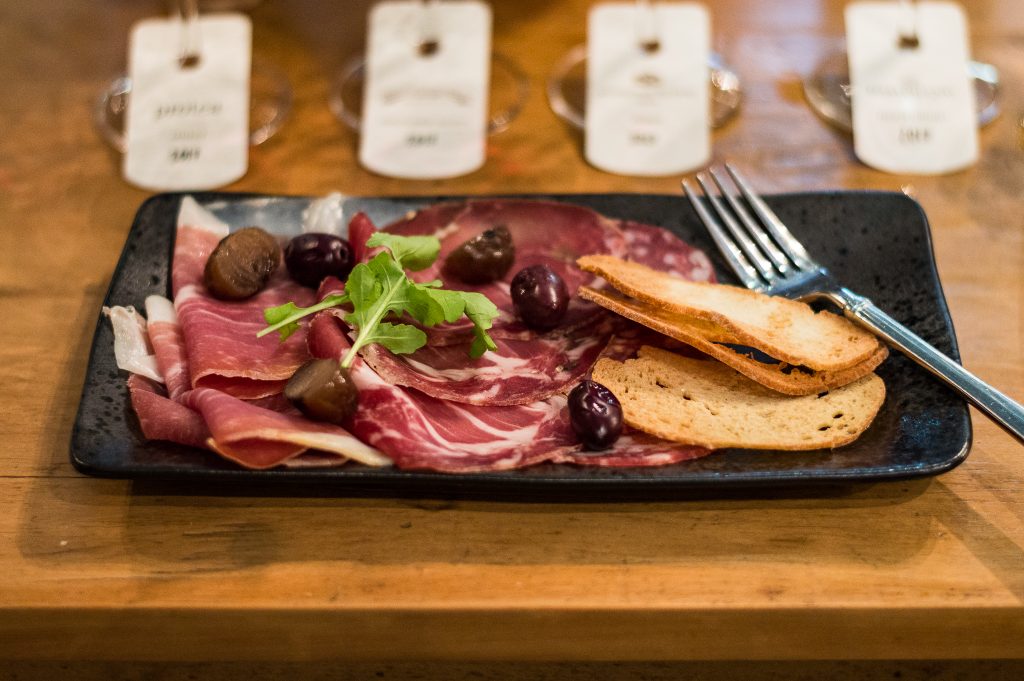 And just when you thought you've been blown away and could practically go home now with a heart and stomach completely satisfied, the third round of tapas arrives: Potato Gnocchi, Guanciale & Black Garlic Butter; Homemade Salsiccia Sausages with Cannelini Al Fiasco (a traditional Italian bean stew); Truffled Polenta Chips with Parmesan shavings and a creamy Aioli and finally, a Mini Lasagne. The latter is not quite anti-pasti but apparently it was a firm favourite on the previous menu and Chef HW Pieterse couldn't resist adding it to the new winter menu. It did indeed pair very well with the Terra del Capo Sangiovese so definitely no mistake on the chef's part. Speaking of the Sangiovese… what a delicious red wine! It's smooth and fruity with some spice and a light aftertaste of cocoa. I was so happy to see that this bottle as well as the Pino Grigio were in our gift bags on our way home.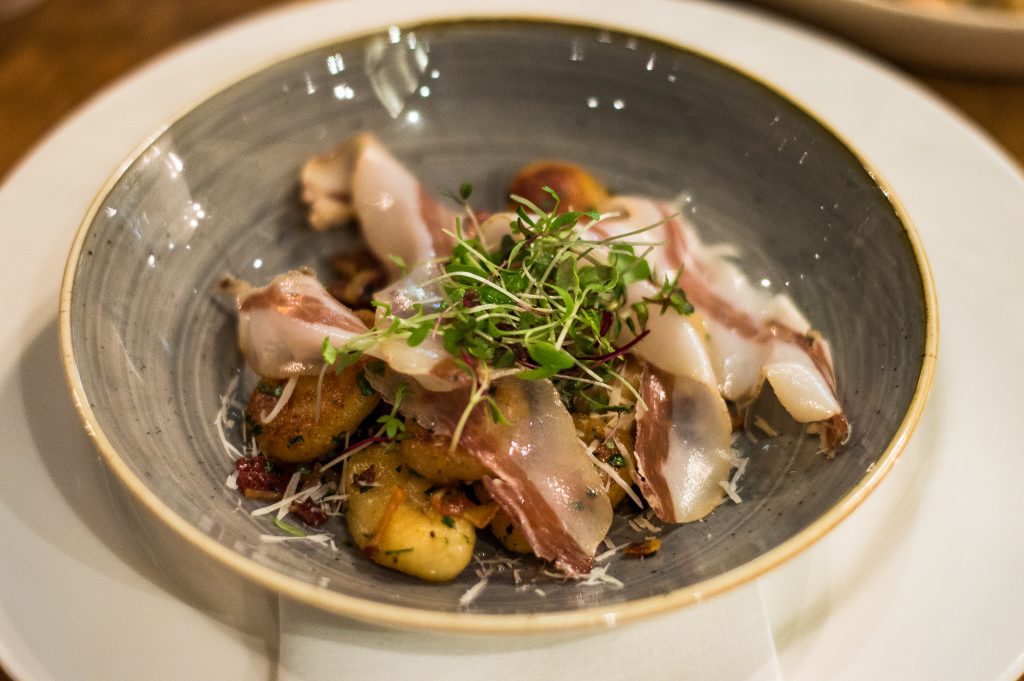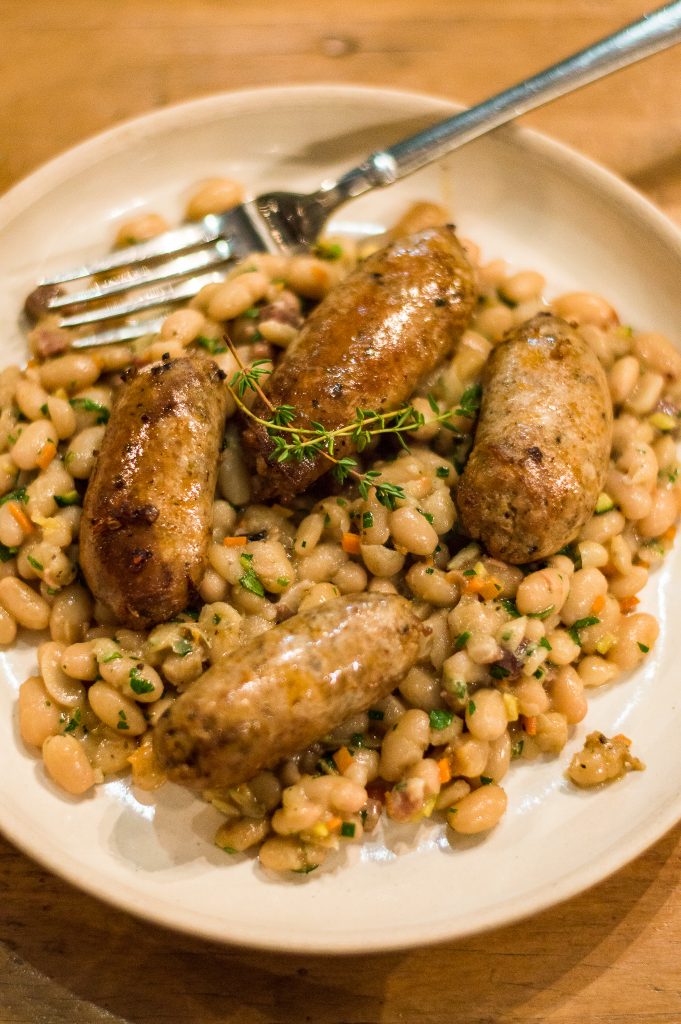 And then what would an Italian feast be without a dolce ending? Not very sweet at all I presume. Seen below is an 85% dark chocolate cream tart topped with a tiramisu macaron, a sweet little raspberry and a beautiful edible flower for an extra pop of colour. Now, real food readers, you know I stay away from sugar as much as possible and I am really not a fan of macarons… BUT, I clearly haven't tasted Chef Cheryl's Tiramisu macaron before. What a piece of art! It was melt-in-your-mouth heaven. True to it's name, a dolce ending to a feast of incredible deliciousness.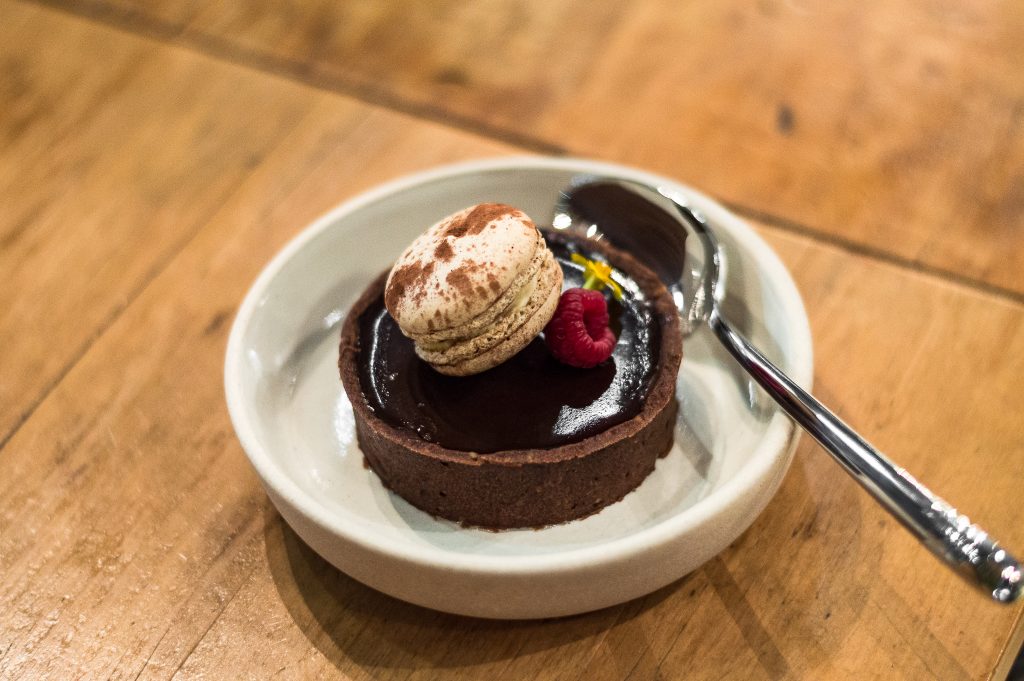 There simply aren't enough words to describe the great wine and the new winter menu at The Terra del Capo Tasting Room. You have to visit and experience the burst of flavours and colours for yourself. I am forever grateful to the team who took so much care in giving us a truly magical day in the heart of the Franschhoek Valley. I look forward to my next visit.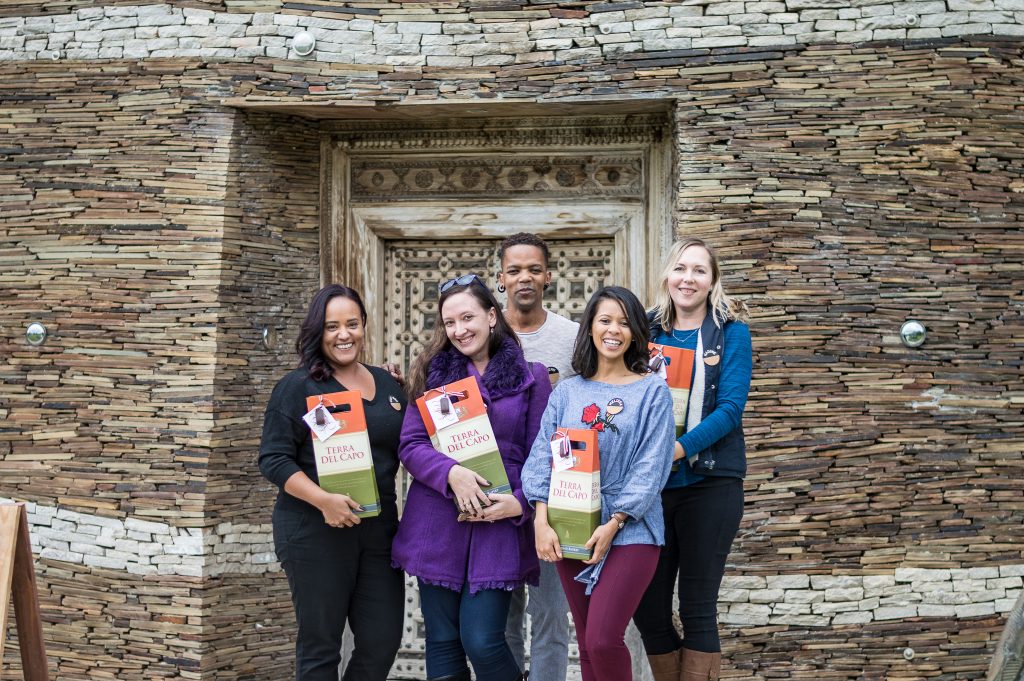 (Visited 694 times, 1 visits today)