Happy (belated) Valentine's Day everyone! I hope each of you had a very special day and spoiled that someone special or even better, got spoiled. But if you didn't, don't worry, I got your back: SWEET POTATO FROZEN YOGURT <3
Before we dig into dessert though, let me give you an update of what's been happening behind the scenes of ATTWF because I know I've been quiet. Apologies!
For those of you have not yet realised, my site has been under construction and has a brand new face. Check it out. What a long process that has been though! SO glad it's over. Or so I think. What do you think?
For the last month I have been doing an online photography course and can happily inform you that I passed with a Distinction. Folks, I received 100% for my final examination – thank you Jesus! I did the course because my husband bought me a beautiful Nikon DSLR for Christmas and shooting in manual has been a dream of mine. So, now, I can finally do that with the knowledge and experience I have gained. Expect some fabulous new food photos, friends.
Work life has increased as I have received so many new private students and still learning the balance-skill, but, I am getting better 🙂 One of my goals for 2016 is to take this blog to greater heights. So friends, tell YOUR friends about us. Pretty please. Follow me on Instagram and Facebook if you're not doing so already.
Now back to this dessert. I know what you're thinking: Sweet potato? Frozen? The idea came a few days ago when a colleague of mine gave me a shortcake bar made of sweet potato all the way from Japan. Delicious I tell you. So if the Japanese can make all sorts of things from this amazing vegetable, surely I can make frozen yogurt with it. And so I did.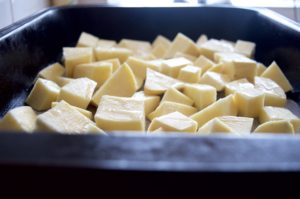 All you need is 2 medium sized sweet potatoes, 2 cups of Greek yogurt, some coconut oil, sea salt, vanilla extract and raw honey to taste. The beauty of the food processor comes in handy for this recipe to make everything smooth and then you simply pour it into a bread dish or any ice cream dish and freeze! C'mon now, you don't have any excuse not to treat those you love to this creamy healthy dessert.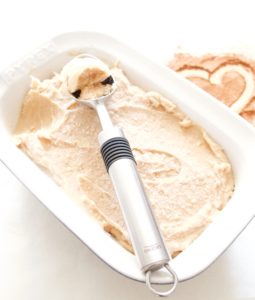 Preheat the oven to 180C.

Place the sweet potatoes in a roasting pan.

Drizzle with oil and sprinkle with sea salt.

Roast for 40 minutes, turning them around 30 minutes into roasting.

Allow sweet potatoes to cool. The refrigerator helps in this case.

Add half of the cooled sweet potatoes to a food processor with 1 cup of yogurt, 1 tsp vanilla extract, 1 tsp cinnamon powder and 1 tbsp honey. Process or blend slowly until smooth.

Remove the mixture and scoop into an ice cream dish or bread bowl.

Do the same with the other half of the ingredients.

Cover the dish with the mixture with cling wrap and freeze for at least 4 hours until set.
The post Sweet potato frozen yogurt for a Sweet '16 appeared first on And then there was food.
(Visited 286 times, 1 visits today)