HAPPY 2021!
I know it's been a while, but I think we all needed some time to process 2020, right?! How are you feeling though? Do you believe 2020 has prepared you for 2021? If so, how? I'd love to hear your thoughts.
As you can see by the subject of this newsletter, I have started a new thing, and I am so excited about it. Sunday Talk has been an idea for a while now – a monthly newsletter (in this case every first Sunday of the month) where I don't necessarily share a delicious new recipe, even though this could be included, but rather some news and amazing ideas pertaining to my lifestyle which I think might be of interest to you.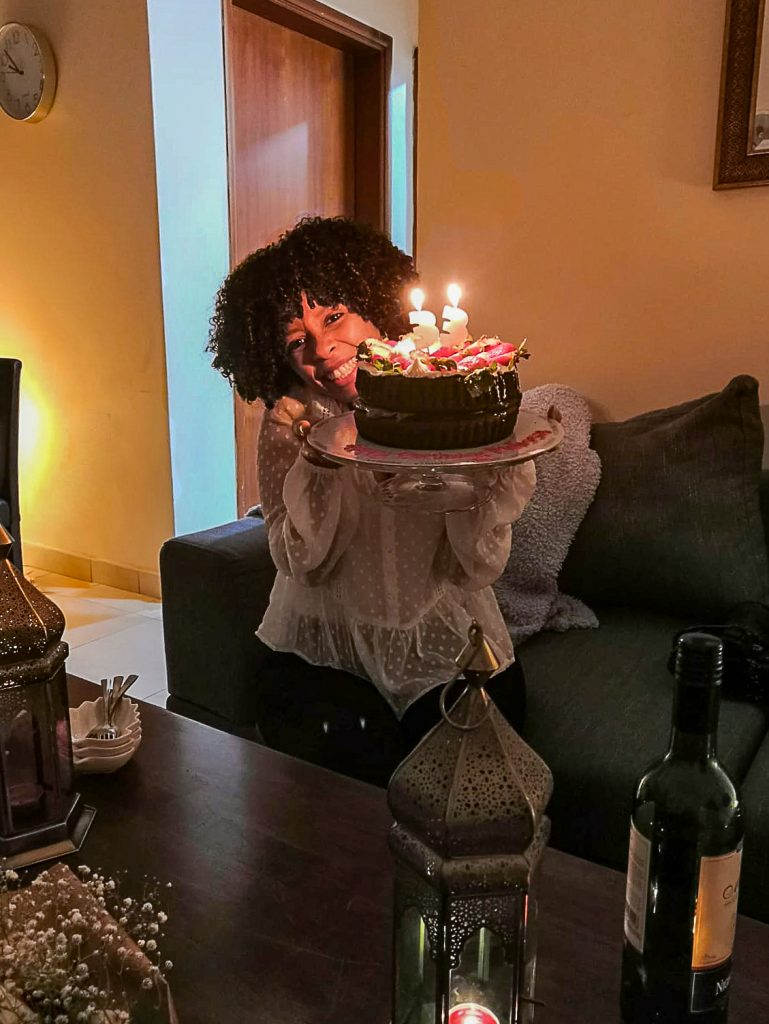 Quarantine birthday
Let's get right into it. I celebrated my very first quarantine-birthday on 13 January 2021. I never imagined a quarantine birthday to be this special! God really showered me with love. Some of you might know that I travelled to South Africa during December 2020 and arrived back in Kuwait on 3 January 2021. At present, a 2-week quarantine period is mandatory when you arrive in Kuwait. To ensure you stay put for the full duration of your quarantine you have to download an application to your phone which requests a check-in (via selfie or voice note) throughout each day. Long story short, I knew my birthday was going to be very different this year and I did not really have a plan to celebrate.
However, I woke up on the 13th of January knowing that it was going to be a good day. Little clues were left for me to make me realise this. And I needed these clues because I was feeling down that week leading up to my birthday. Don't get me wrong, I love celebrating my birthday but it was harder for me this time 'round with my husband being in South Africa. Nevertheless, he made sure to make it seem as if he was right here with me on my birthday. And my friend, Kim, was in on it.
But let's start at the beginning: I woke up feeling extremely grateful for another year added to my life. A birthday certainly is a gift! Whilst having quiet time, Kim came knocking with tea and a schedule for the day. Now she knows I have a full day of teaching on a Wednesday but planned around this. She made breakfast and lunch during my busy day. And after a full day of online teaching, I was escorted to my neighbour's apartment (she isn't in Kuwait yet but we have a key to her apartment), where I could unwind in a warm and tranquil space with tea and yummy treats. (Insert: winter season over here). After spending an hour or so in said neighbour's apartment, my robe and slippers were brought to me and I was asked to get undressed and into that. I was then taken to our apartment where a professional masseuse was standing ready next to her massage bed in our living room which was turned into a beautiful warm spa room – a gift from my husband! I really am not exaggerating when I tell you that hour on that bed was one of the best, if not the best, full body massages of my entire life. The day could really have ended there. But it didn't…
I showered and got dressed into a cute outfit, as I was asked to do, to be invited back to my neighbour's apartment which was now turned into an intimate little restaurant complete with balloons and a beautiful table setup. My two friends who I have been quarantining with put together the most amazing evening. Good food, gifts, a delicious vegan chocolate cake and lots of laughs. I really couldn't have asked for more.
I am not sharing this story to boast, but rather to let you know that even when things don't look the way we want it to look right now, there is always light at the end of the tunnel. And the beauty of that light might just sweep you off your feet.
Goddess cup aka Mcup
This January I started using the menstrual cup! I am so excited about it because I have been thinking about getting one for a long time, but I was a bit scared to be honest and I wondered whether I'd be able to get the cup… up there. But I did. And it is so comfortable. The mere thought of not having to purchase pads or tampons anymore is what motivated me the most because not only will I be saving a lot of money over the years, but I am also reducing waste! And that takes me another step closer to living a zero-waste life. In addition, I asked my Instagram followers about their views on the menstrual cup and I only received positive reviews. If you would like to know more about my experience, you are welcome to comment down below or send me an email. However, if you don't need any more convincing you can purchase your menstrual cup here.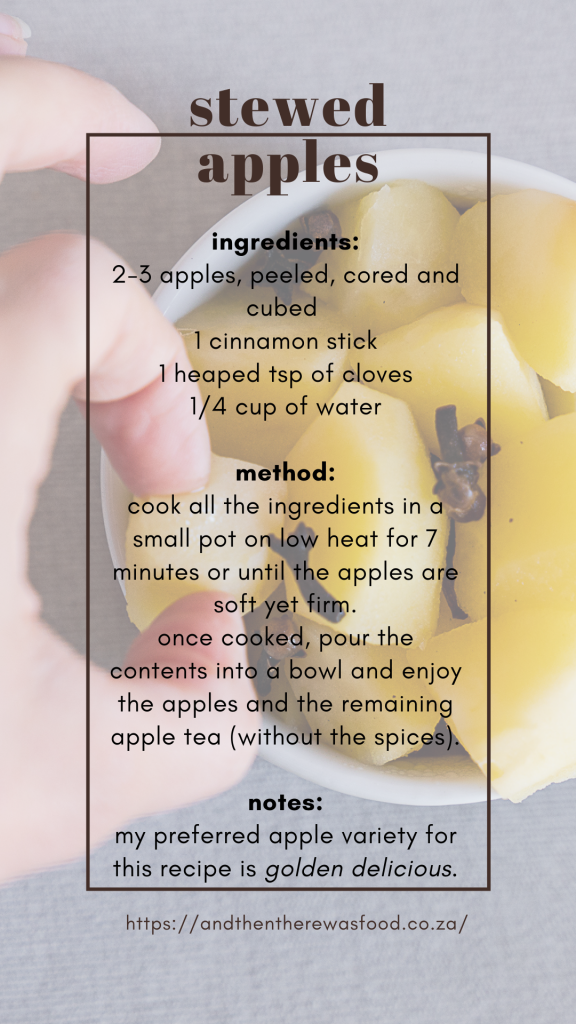 Tea and Stewed Apples
I have a morning routine. One that I absolutely love! One that allows me to get into the day gradually whilst preparing me for a power work day. If you have been here for a while, you have probably read all about my 5-day juice fast in this post. Ever since then (May 2020) we have been making a pot of immune boosting tea once a week to enjoy a cup each morning. It feels so good to greet my tummy with warm tea filled with ingredients that amongst many other benefits enhances my immune system.
Every morning, if the weather allows, I start my day with a 5 km run followed by a shower. Then, I pour myself a cup of immune boosting tea to enjoy while I have some quiet time. This is followed by packing breakfast and lunch for work, getting dressed and then leaving for work.
I normally have my breakfast at work, and most days it is some form of oats. But over the weekend or when I have the opportunity to work from home, I love making stewed apples. It is another amazing way to eat something wholesome which is not too heavy but comes with such amazing benefits. The recipe I have shared above is inspired by Ayurvedic medicine and is said to stimulate regular bowel movements whilst also increasing your alertness. I have definitely benefitted from starting my day this way. And whilst being light, something our stomach needs after resting for 7-8 hours, my stewed apples is very satisfying. The recipe serves one.
I find that having something certain like my morning routine is very comforting, especially during this season we find ourselves in where we are, more than often, caught off guard with sad news or more lockdown rules.
So, if you would like some immune boosting tea to kickstart your morning routine you can purchase a 50g blend for R150 here. Everything Tea has become my favourite online tea shop.
Plant-based
I wondered whether I should write a bit about being plant-based here today. But after receiving some interesting messages on my Instagram account about this term, plant-based, I knew I should. More than talking about why I prefer to live a plant-based lifestyle, I actually wanted to shine light on the term. I think there are many who believe plant-based has the same meaning as vegan but I don't agree. In my dictionary, living a plant-based life means that the most part of my week's food intake is completely meat-free and dairy-free. And for me, this is the case for my entire week most weeks. Yes, being a vegan means you don't touch meat or dairy products. However, when I, on my plant-based journey, feel like having a piece of salmon, I will have a piece of salmon with a scrumptious salad and some potato mash. No guilt. I even brought some delicious biltong with me from South Africa on my recent visit. I mean, are you even South African if you don't eat biltong? Haha, jokes. I will add this though: I always try to make sure I know where my biltong (or any of my meat in fact) comes from.
I have and I am still trying to listen to what my body needs. I do know that I feel best when my day consists of eating fresh and organic produce like fruits, vegetables and grains. I also thoroughly enjoy creating colourful meals with plants because I find there are always new and exciting combinations to be dared.
Furthermore, I choose to live a plant-based life not only for optimal health but also because I know in this way I am taking care of the animals. With an ever growing population, the demand for meat increases. And unfortunately this has resulted in animal cruelty. God has given us a responsibility to the animals: "The righteous care for the needs of their animals, but the kindest acts of the wicked are cruel." – Proverbs 12: 10.
And that brings me to the end of my very first Sunday Talk. I hope you enjoyed hearing more about what I have been up to. Let me know what you think of this new series I have started.
Sending you tons of love through the airwaves,
Mel
(Visited 92 times, 1 visits today)