I am finally sharing my favourite carrot cake recipe with you! A gluten-free, low-carb, refined-sugar-free and moist carrot cake. Friends, don't allow those descriptions to make you question the yumminess of this cake. I promise you, you will love it. Trust me.  I had quite a few orders for this cake already so I know it's a winner.
Before we get to this beautiful creation, can I just give a quick shoutout to Elgin! ELGIN, WOW! The Old Mac Daddy Luxury Trailer Park to be more specific. Hubby and I spent our 4th wedding anniversary there this past weekend since Thursday and I'd like to describe our experience as PERFECT. Please don't tell me nothing in life is perfect, because this time away felt pretty perfect. I think Brendan and I really just needed some tranquility away from the busyness of Cape Town. With us being three quarters into 2016 already, I am sure many of you feel the same way. I am busy with a blog post filled with lots of pictures for you so you can see exactly what I mean with the Wow factor. Elgin is one those places we always pass by on our way to bigger destinations, but once you spend a few days in it's beauty like we just did, you end up not wanting to leave. So watch out for that post.
There is SO much I want to tell you but I am going to try and make this blog post solely about it's focus which is this delicious carrot cake with it's fluffy cream cheese frosting. Please note: 1 layer of this cake is more than enough; it is really filling. The recipe below is for one layer only but you see a two layer cake in this post as I promised the winner of our 2nd Birthday Celebration a 2 layer cake. The winner was announced on Instagram incase you missed it.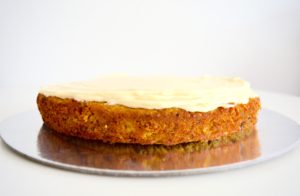 This cake is sweetened with my applesauce but if you have a really sweet tooth add 2 tablespoons of raw honey to the cake mixture. It is really amazing how one's tastebuds change once you cut out refined sugar from your lifestyle. Some people can handle this cake very well with only the applesauce as a natural sweetener while others prefer those extra 2 tablespoons of honey.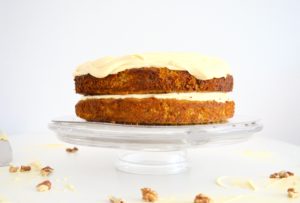 Oh this cream cheese frosting……. to die for! Please let me know how your baking goes in the comment section or reply to this email to place your order 🙂
Preheat the oven to 180 degree celsius.

Line a round cake tin with baking paper and grease the sides with coconut oil or butter.

Beat all the wet ingredients together.

In a separate bowl add all the dry ingredients and mix.

Whisk the dry ingredients into the wet ingredients.

Pour the mixture into the lined tin cake.

Bake for at least 40 minutes or until a skewer comes out dry.

Once the cake has cooled down, add all the ingredients for the frosting to a bowl and beat well until fluffy.

Lather the frosting onto the cake and indulge.
The post Sugar-free Carrot Cake appeared first on And then there was food
(Visited 563 times, 1 visits today)