Smokey Chicken Wings for the win! No, I didn't actually smoke my chicken wings but rather, seasoned them with a lot of SMOKED paprika – a must-have in any foodie's kitchen! There's something about smoked paprika that excites me extremely. It could possibly be the fact that it makes me think of Spain, a country I would love to visit very soon. I believe Spain holds many inspirations for my food brain. If any of you have been, please hit the reply button and tell me about your experience 🙂
Drumsticks and wings must be my absolute favourite part of the chicken as I find it to be juicier (and easier to handle). And for some or other reason chicken wings shouts party in my face. Now there's an idea for your next party, friends. And a very easy one may I add.
I allow the chicken wings to rest in a salt water solution as I find it makes the chicken more tender BUT the chicken then also absorbs the salt which adds loads of flavour to the entire wing (not just the skin). For the dressing, I combine the rest of the ingredients and give it some standing time to allow the smoked paprika to infuse the olive oil. The honey in the mixture allows for some great caramelisation. As it bakes in the oven, your kitchen will fill with smoky sweet aromas that takes you far far away and then you come to your senses and realise that you are still in your little old kitchen.
We enjoyed these chicken wings with a quick and easy warm zoodle salad which I hope to share with you very soon.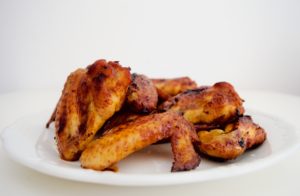 Add the 3 tablespoons of sea salt to the water and allow to dissolve.

Add the chicken wings to the water solution and allow to rest for 30 minutes maximum.

In the meantime, add the rest of the ingredients to a small bowl and mix well. Allow the paprika to infuse in the mixture.

Remove the chicken from the water solution and pat dry with a tea towel.

Preheat the oven to 200C.

In a large oven tray, place a sheet of non stick baking paper.

With a pastry brush, coat each chicken wing with a layer of the smoked paprika dressing and place on the baking tray.

Bake for 30 minutes on one side and then for another 8-10 minutes on the other side.
The post Smoky Chicken Wings appeared first on And then there was food.
(Visited 297 times, 1 visits today)