Hello everybody! I AM still here. The last few days have been super busy with ongoing examinations (internal and external), concerts and prize givings! I am counting down the days till school holiday (22 to be exact) so I can spend muuuuuch more time cooking, baking, creating and sharing some yummy recipes.
Sunday, was my very first time preparing a WHOLE chicken! I've been missing out right?! I mean, it says 'perfect Sunday lunch' all on its own. I think my delay in preparing one is due to the mindset of having to stuff it in order to enjoy it, but there ain't no need for that.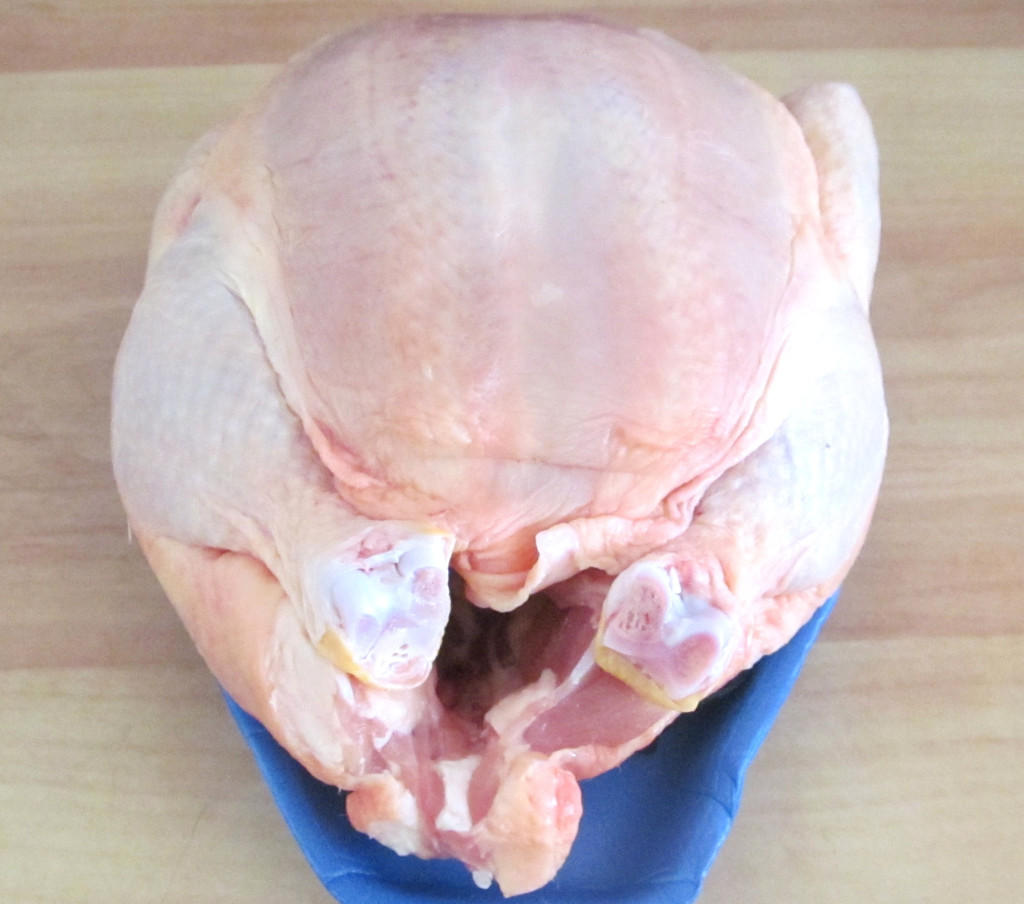 A naked whole chicken must be one of the cutest things on my cute-list! I couldn't stop taking pictures of this creature, but don't worry, I'm only sharing this one with you 🙂 To be honest, roasting this whole chicken somehow got me all excited for Christmas. I cannot wait to get busy with delicious recipes for our Christmas lunch with the family.
I took this easy recipe from one of my favourite cookbooks about all things chicken, Food Lovers: Chicken
and played around with it. All you basically need is 3 ingredients to make the honey & mustard dressing, cover your chicken with it and roast! Eeeeeaaasy!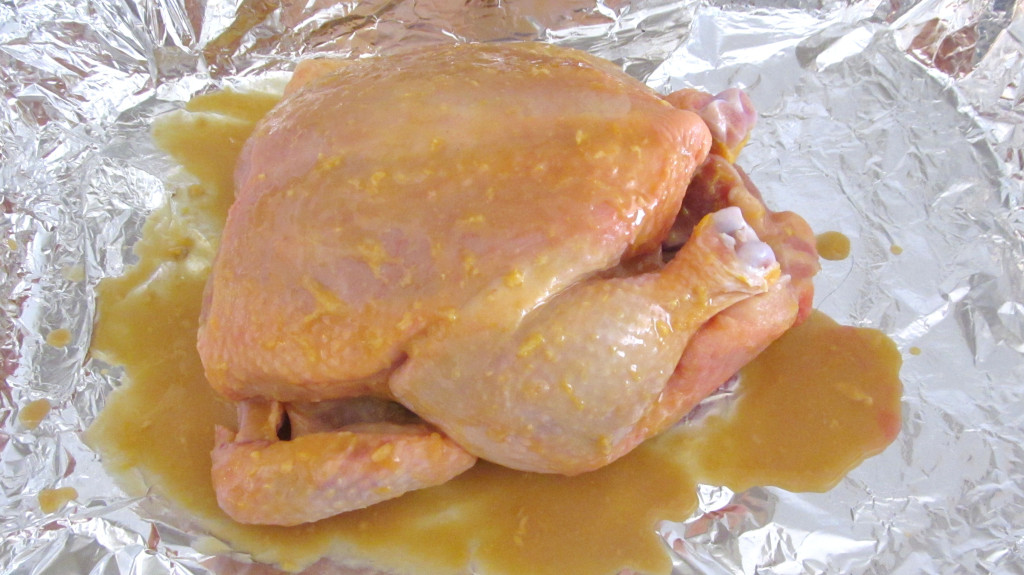 To start off and to make cleaning easier, I placed a sheet of foil at the bottom of my roasting pan before adding the raw chicken, after the chicken soaked in some salted water for a few minutes just to give it one final cleanse. Then I pierced it a few times with the fork because we really want the chicken to soak up the sauce.
To make the dressing for the whole chicken, I used 1/4 cup of mustard and honey each and added the juice and zest of one large lemon. I then mixed it well and used my one hand to cover the whole chicken with the sauce. You can also use a pastry brush if you don't like to get your hands dirty. After the whole chicken has been covered (I even poured some sauce into the chicken's behind!), it gets placed in the refrigerator for at least half an hour. Once ready to roast, I preheated my oven to 180 C and added some sweet potatoes to the the roasting pan as well (the sweet potatoes LOVE the sticky honey and mustard dressing), but you can add any roasting vegetables along side the chicken and then bake for 30 minutes until the chicken is done. With the left over honey and mustard dressing, I kept basting the chicken, opening the oven door at 10 minute intervals to get all the sauce in and on there. After 30 minutes of cooking, I turned the heat up to 200 degrees and roasted for a further 10 minutes to give the chicken its beautiful golden brown colour.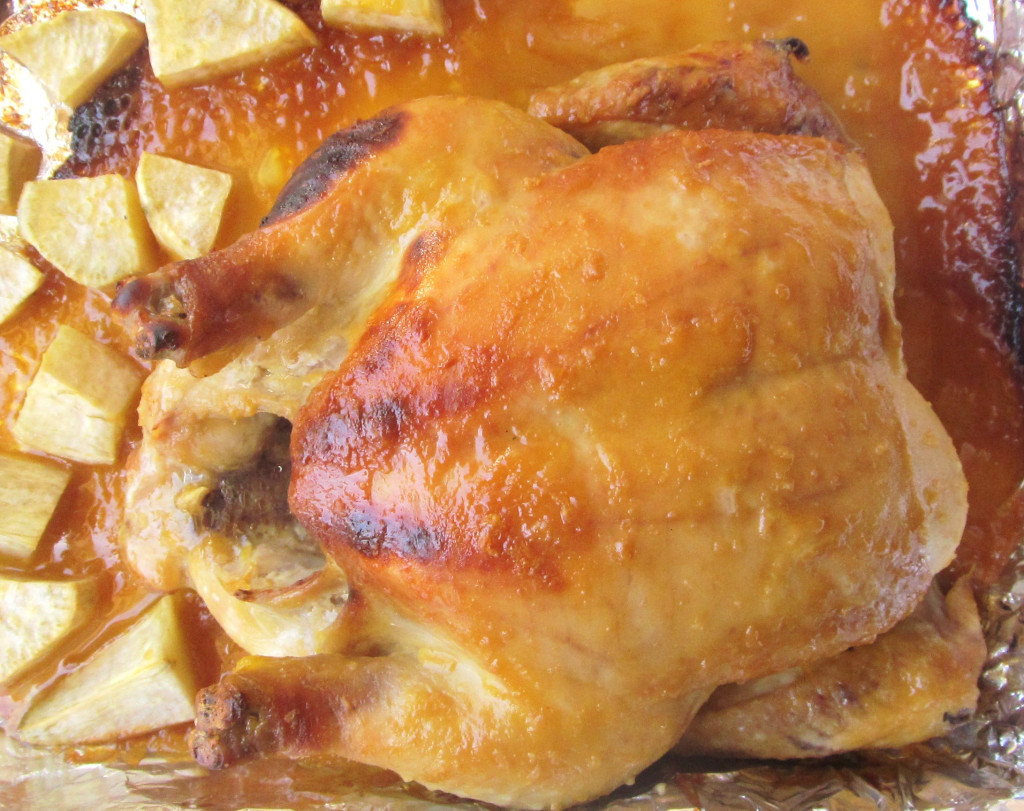 SIMPLE STICKY HONEY & MUSTARD CHICKEN
Prep time:
Cook time:
Total time:
Ingredients
1 whole free range chicken
sea salt
1/4 cup honey
1/4 cup mustard
1 big lemon
Instructions
Rinse the whole chicken well by allowing it to rest in some heavy salted water for a few minutes.
In the meantime, place foil in the roasting pan (this makes cleaning a breeze!) and make the honey and mustard dressing by mixing the honey, mustard, juice and zest of a whole lemon together.
Remove the chicken from the water, place on the foiled pan and pierce a few times with a fork.
Season the chicken with salt.
Rub some of the dressing over the chicken, cover well and place the chicken in the refrigerator for at least 30 minutes. Keep the remaining dressing for basting.
When ready, preheat the oven to 180 C.
Place the chicken in the oven and allow to cook for at least 30 minutes, basting at 10-minute intervals.
After 30 minutes, turn up the heat to 200 C and allow to roast for a further 10 minutes (basting again) to get that beautiful golden roast colour.
Remove from the oven and serve wholesome veggies.
(Visited 145 times, 1 visits today)