I am so sO SO excited to share my very first restaurant review with you. My extreme excitement is due to many reasons but let me mention two of them: 1) Today's restaurant was A-MA-ZING. The words wow, oh-my-word and WOW! were continuously on my lips, and, 2) I believe you, my fellow readers, need to know about the real food restaurants that are out there and that are on the rise. Let's help each other eat good food that is nourishing to our temples.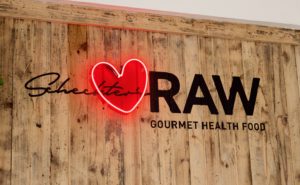 Scheckter's RAW Gourmet is a fairly new raw food bar situated in Seapoint, Cape Town. My husband and I decided to pay them a visit this afternoon since it was such a lovely warm Spring day. Upon arrival we were greeted by the friendliest faces. The restaurant is cosy and intimate with fresh fruit and books playing an integral part of the decor. The menu is to the point and explains exactly what you can expect in each dish. For Scheckter's RAW Gourmet "raw" means "natural, authentic, honest, plant-based, cruelty-free and nutrient dense food".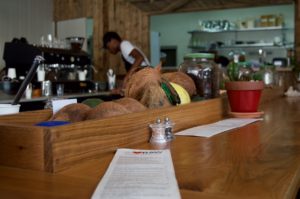 Meals and drinks at Scheckter's are (obviously) raw but also vegan, vegetarian and organic but don't allow those words to scare you. After one visit, we really cannot wait for our next one. The food we had today was packed with flavour and power because as some of you may know raw food has so many great benefits for the body.
To kick off our lunch date, I asked about the cold pressed juices and was encouraged to try their new flavour, Black Magic. The ingredients in this juice was: activated charcoal, probiotics, apple and lemon. One word: WOW! Absolutely delicious and just what my taste buds were yearning for. I know some of you are thinking, CHARCOAL??? Friend, do yourself a favour and read about the many benefits of activated charcoal.  Here's a quick did you know: Well, did you know that activated charcoal is used in water filtration? Fascinating right?!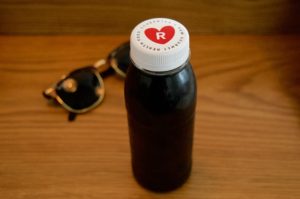 Hubby had the Snickers Smoothie to drink which is high in protein and made of cashews, vanilla, organic lucuma, organic mesquite, organic coconut oil, almond milk, organic cacao powder, organic peanut butter, dates, pea protein and cooled down with crushed ice. He LOVED it (and so did I because husbands have to share with their wives 🙂 ). Even though that jar was so filling, after lunch he wanted another one but (just like me) the friendly waiter believes you cannot have the same thing twice without giving something new a chance. And so he (we) gave the Kashew King Smoothie a try. Another winner, but Snickers remains our favourite.
To eat, I had the Organic hemp & flax Thai red curry and Brendan had the Raw Zucchini pasta with a sunflower seed, lemon and avocado pesto. Friends, we CLEANED our plates. It was THAT good. The first thought that entered my mind post lunch was, who needs meat when you have this! Did I mention the beautiful presentation? I probably don't have to, see for yourself.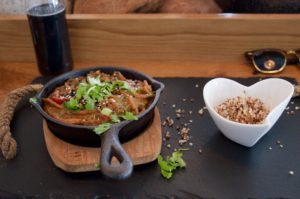 The dessert menu offers cakes and treats that are sugar free, dairy free, gluten free, raw and organic. We were so full though that we couldn't fit dessert in BUT we could totally take our dessert home as they have a refrigerator filled with some of their beautiful desserts to go. What a bonus right?! So we opted for the very attractive Snickers bar and as soon as I got home I got started on it and boy oh boy, I totally understand why they call it a Snickers bar. YUMMEEEEEE is too weak a word to describe this piece of heaven.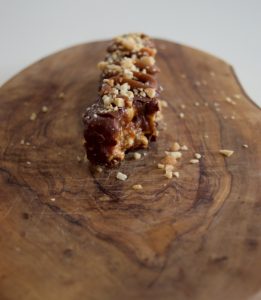 Guys, this was seriously love at first sight for me and no, I am not getting paid to do this review but I really just want you to go there and experience it. You need to go there. It'll change your life forever. Trust me. Go. Take me with you? They are open Tuesdays to Sundays, 07h00 to 16h00.
The post Scheckter's RAW Gourmet appeared first on And then there was food.
(Visited 300 times, 1 visits today)