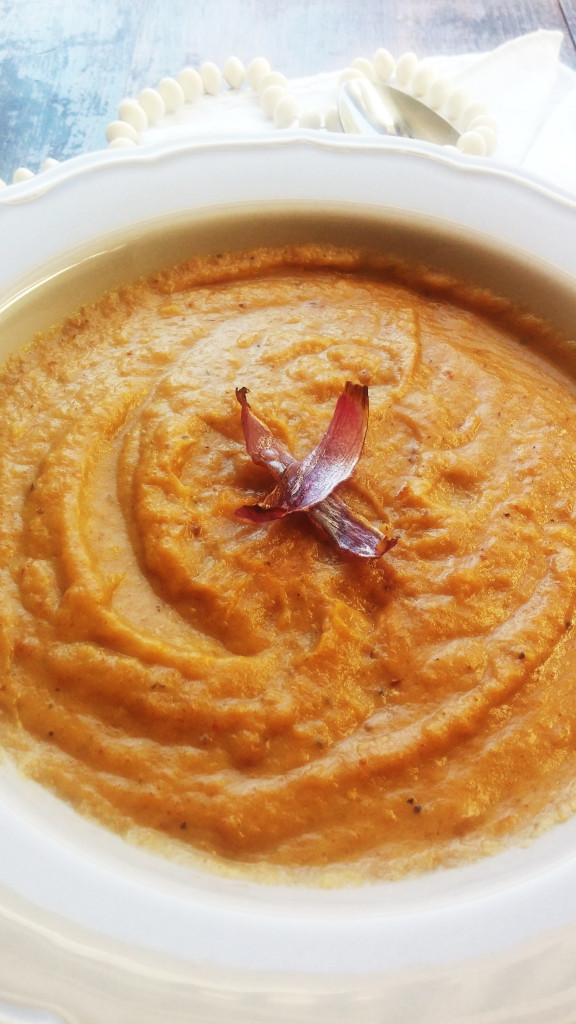 Hello to you! And hello to this deliciously creamy roasted sweet potato soup! I can promise you, I have never ever seen my husband enjoy as much soup as he did this one. I reckon it's definitely worth sharing  then. 'Cause sharing good things with you, is what I love to do.
Before I do that, let me just thank you for your loyal support. I know I have been rather quiet the last few days, but my full time job has really had the best of me lately. And and and… I cannot wait to become a full-time blogger; one of my many dreams.
So, with the definite chill in the air, its soup time. Yay! I love making big pots of soup, so that I can freeze it in different containers and have ready for any spur of the moment.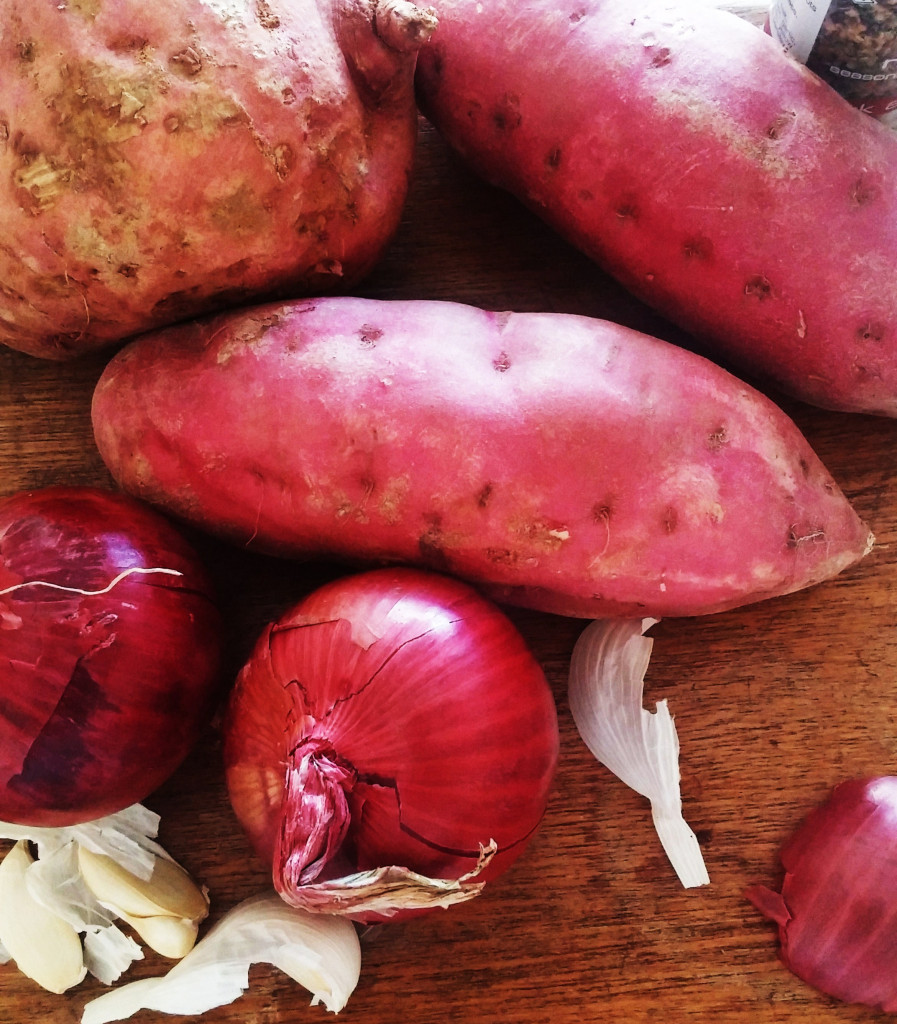 Lately I've been having a thing for roasted sweet potatoes. I don't know why, but they just hit the spot. I simply rinse the sweet potatoes, cut them in half lengthwise, drizzle some Parmesan infused olive oil over it and sprinkle it with my new favourite Steak and Chops spice, the Natural brand that I buy at Dischem. These spices have no junk in them as you can hear in the name. Do yourself a favour friend…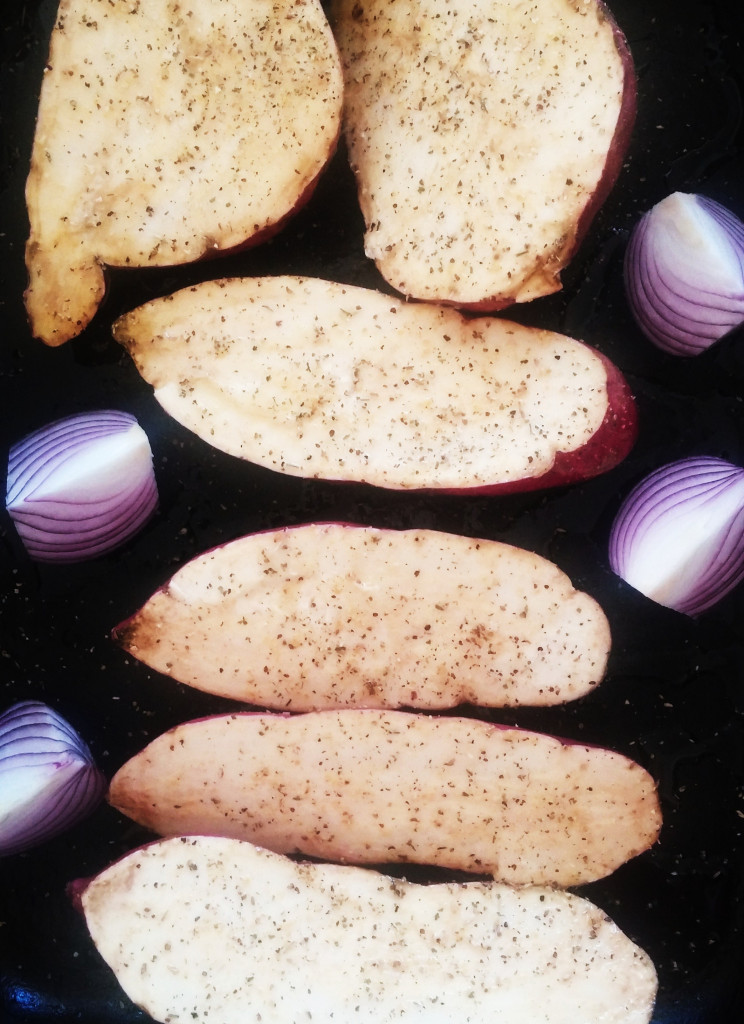 Due to the fact that I roast the sweet potatoes and the purple onions for this recipe, it cooks much faster. I still prefer doing it in my slow cooker simply because it's bigger and cooks better. Once the onions are roasted, I place them in the food processor to get it very fine and then I add everything to the slow cooker except the cream and the cheese. This I stir in at the very end and give it a few more minutes of slow cooking and voila! Winter yum!
ROASTED SWEET POTATO SLOW COOKER SOUP
Author:
Prep time:
Cook time:
Total time:
Ingredients
3 large sweet potatoes, rinsed
1 purple onion
2 tbsp olive oil
2 tbsp steak and chops spice
3 garlic cloves, chopped
2.5 cups water
3-4 tbsp steak and chops spice
1 tsp cayenne pepper
1 cup fresh cream
3/4 cup cheese
1/2 purple onion (optional)
Instructions
Preheat the oven to 190C.
Cut the sweet potatoes in half (lengthwise) and cut the onion in quarters.
Place the sweet potatoes and onions in an oven dish, drizzle with the tablespoon of olive oil and season with 2 tablespoons of steak and chops spice.
Roast in the oven for 30 minutes; remove the onion quarters 20 minutes into the roasting process.
Place the onions in a food processor and process until very fine.
Add the fine onions, garlic, water and spices to the slow cooker. By now the sweet potatoes should be nicely roasted; allow it to cool and remove the peel. Add the sweet potatoes to the slow cooker as well and cook on high for 1 hour 30 minutes.
With a wooden spoon, stir very well half way through with the aim to mash any big chunks of sweet potato.
Once the 2 hours are done, add the cream and the cheese. Allow to cook for a further 30 minutes.
For garnishing: slice the onion thinly and roast in the same oven pan used before until crispy and place on your bowl of creamy sweet potato soup.
(Visited 158 times, 1 visits today)