Good food lovers! It's been a while. And with a while I mean: a full month. Ouch! That sounds too long ago since I've written to you. But I know many of you who follow me on Instagram, have been in the loop of things.
We are currently in South Africa and making the most of our holiday here by spending quality time with our family and friends. And if for this reason other things take a backseat for a while, then I'm okay with that.
Last week Brendan and I spent a couple of days in Franschhoek – one of my absolute favourite destinations in the Western Cape. And I think I should put some of those moments in a post since there were so many good-food-situations, but today's post is focused on a restaurant I got to review and had the privilege of dining at with Brendan. (My husband's second cousin is the head chef at this fine establishment). But I promise this review will not be biased at all.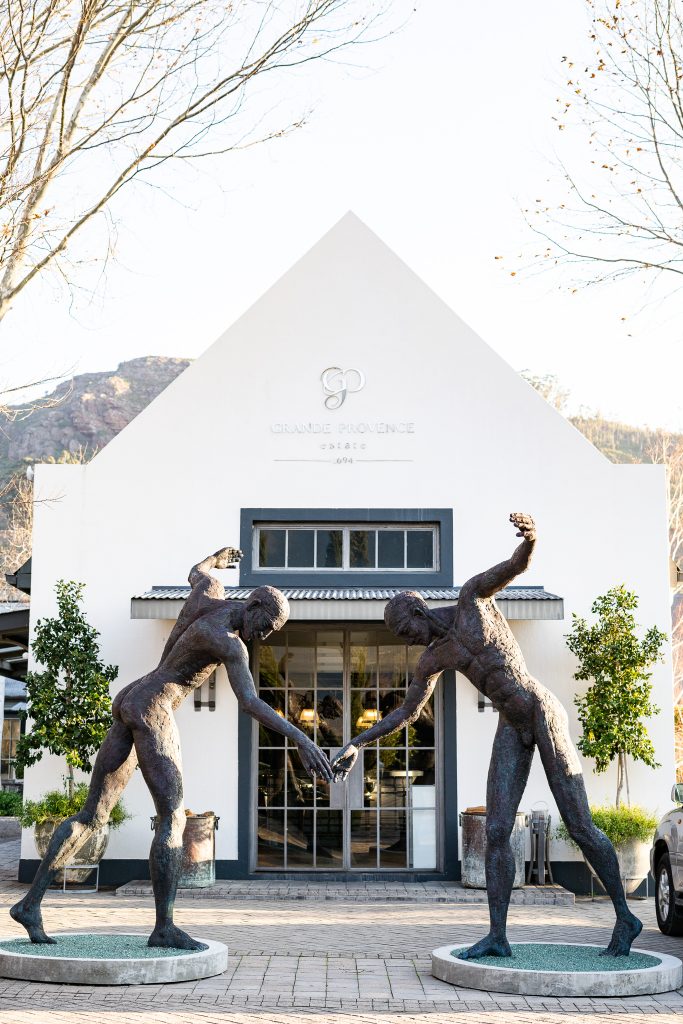 Grande Provence Estate has been around for 325 years and is situated in beautiful green Franschhoek Valley. For the history lovers, you can read more about the estate's bygone days over here. As a point of interest (and with us approaching women's month), I thought it is of great importance to mention that both the interior and the landscape of Grande Provence was designed by women!
The garden that leads to the restaurant takes one's breath away with its amazing sculptures, water features and perfectly cut greenery. A work of art!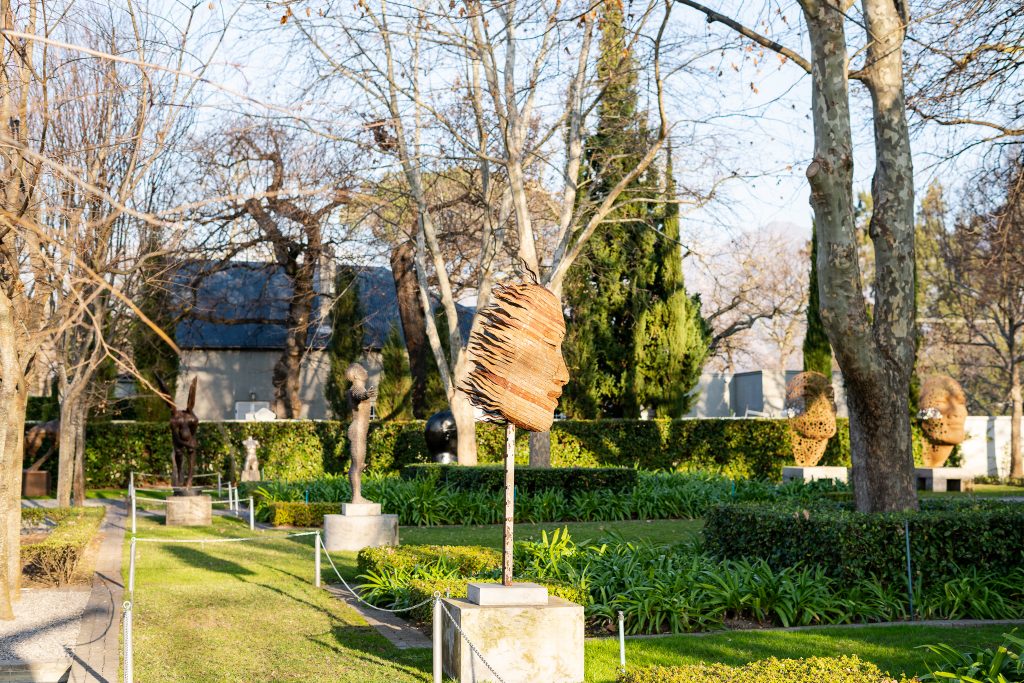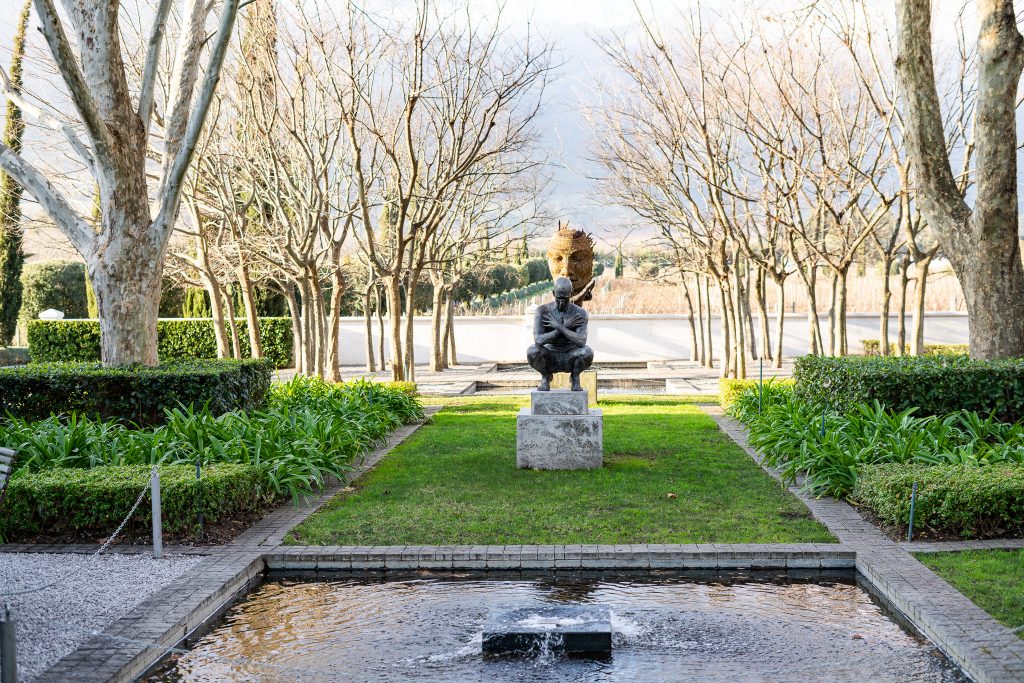 But while daydreaming in the magnificent garden, the expectation in me was high for a creative menu. And boy oh boy did Chef Marvin pull out all the stops.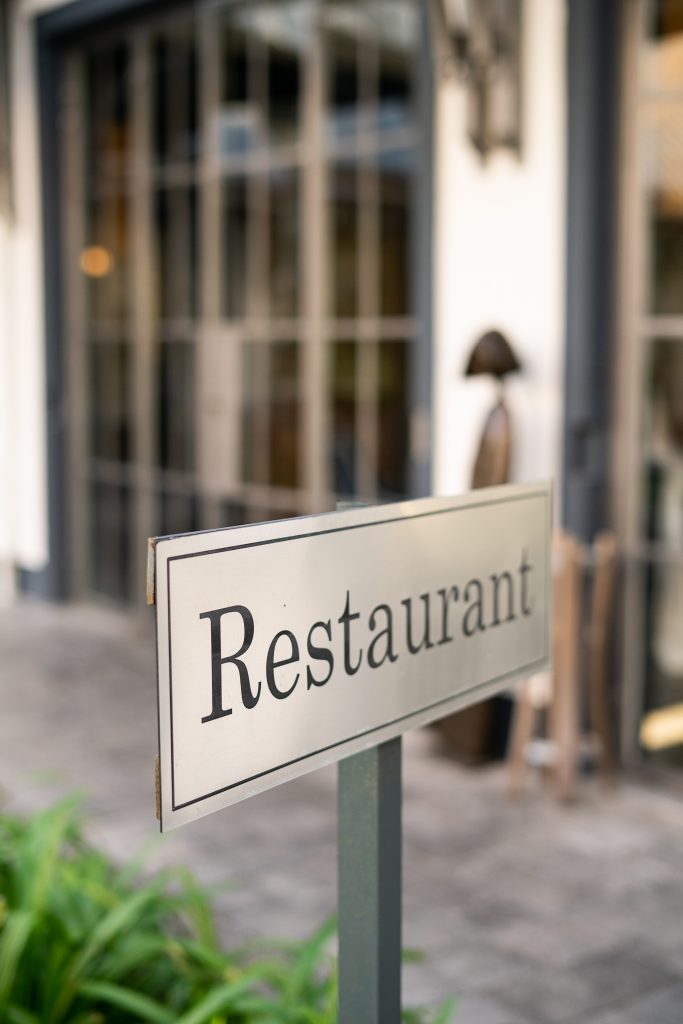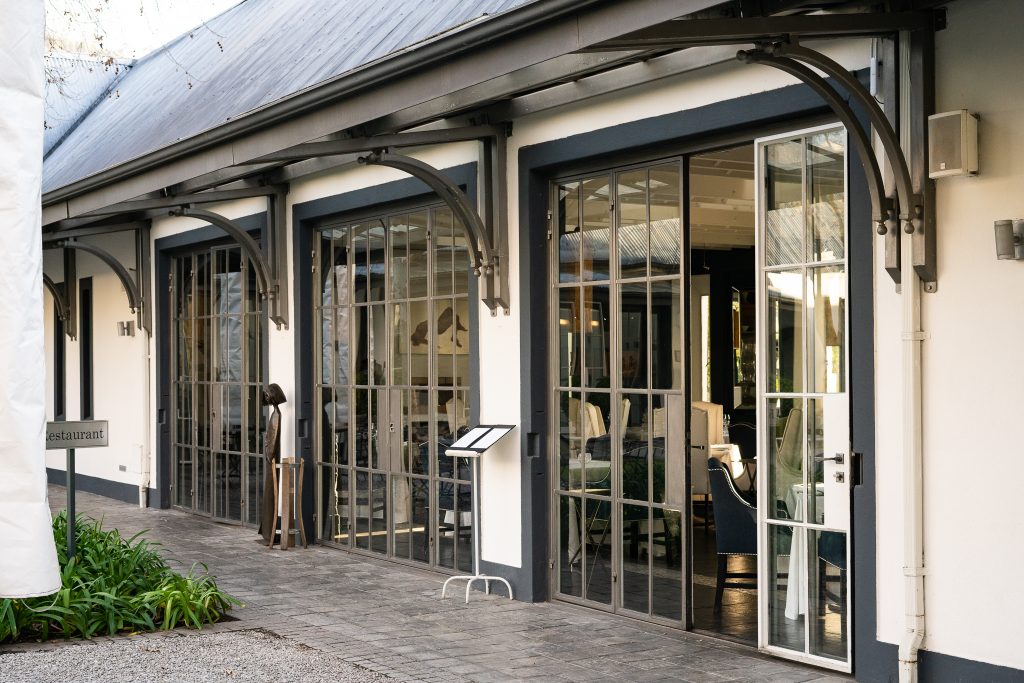 We were greeted by warm smiles and freshly baked bread accompanied by a homemade bean hummus and herb butter. What would a visit to any restaurant be without the famous table bread. Side note: I only indulge in table bread if it's homemade and if I suffer from extreme hunger pains.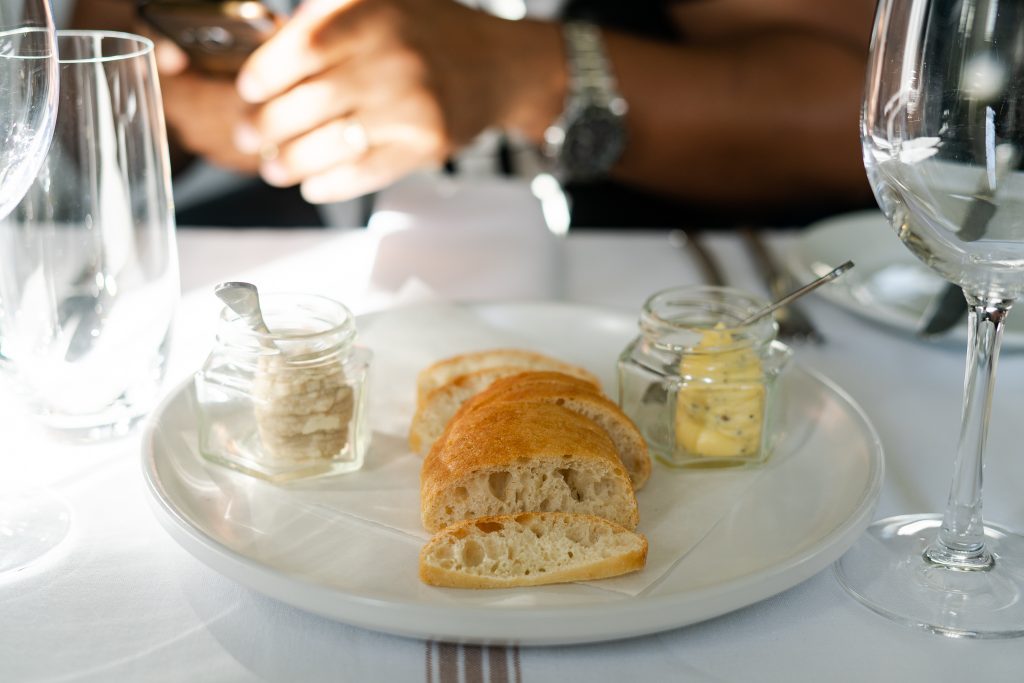 Marvin Robyn is a humble, yet tall, 30-year old chef from Stellenbosch. He was very excited to introduce us to a few plates he has been playing around with in the kitchen with the help of his right-hand man, Brad Soules.
The first plate put together by these chefs were 6 pieces of yumminess laid out on a bed of dried chickpeas: bobotie samoosas, pulled pork scotch eggs and biltong churros. Each one of these were absolutely perfect, potent with flavour.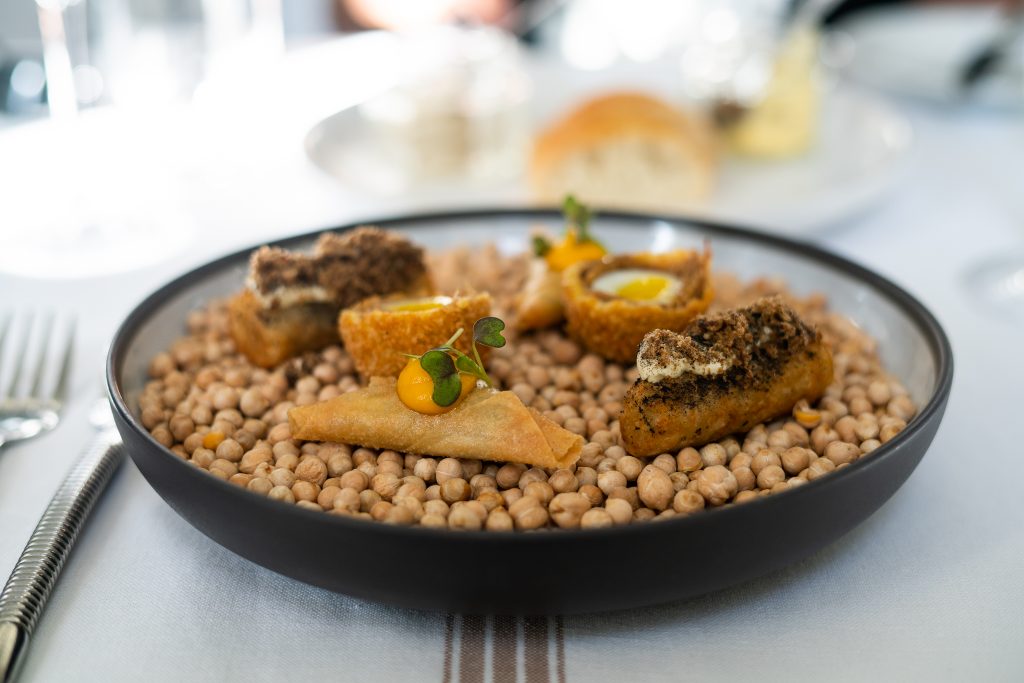 The next plate was also beautifully plated: oysters with a twist. These came with kimchi and sweet mayonaise. My husband – not the biggest oyster fan – thoroughly enjoyed these. The sweet and tangy flavour explosion with the freshness of the ocean was a perfect match.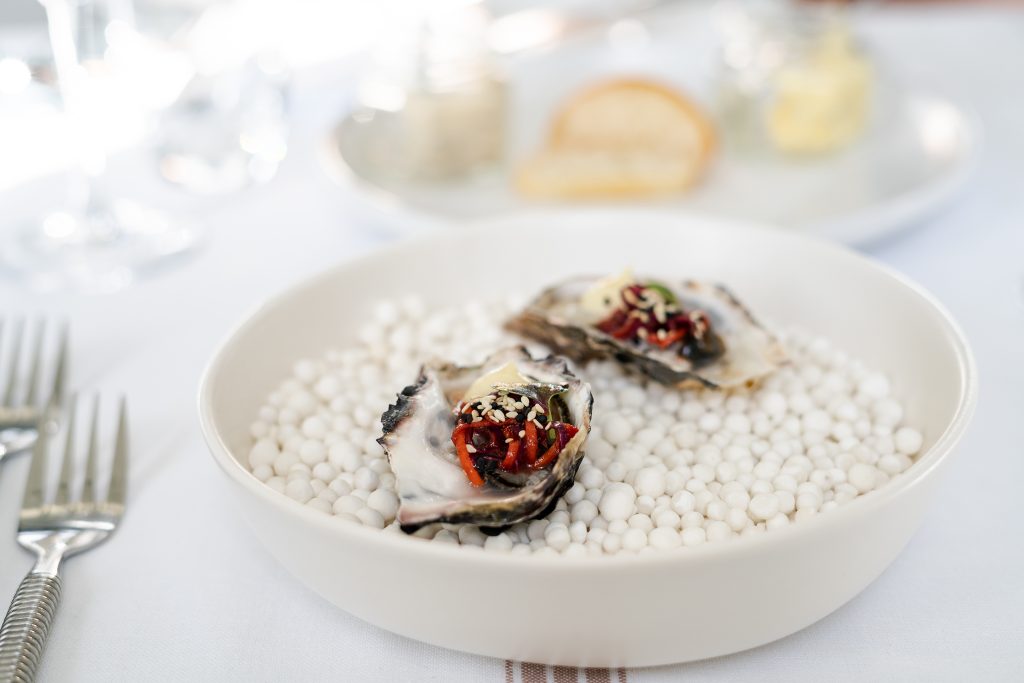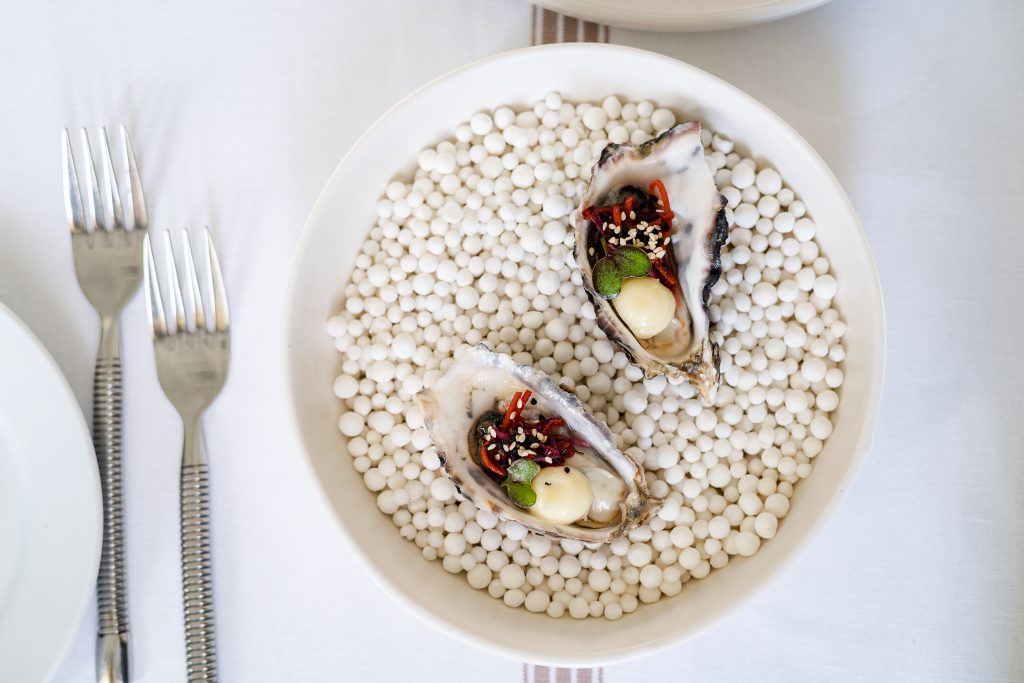 Up next we enjoyed a colourful Mediterranean plate. According to Brad, heads were scratched about this one for the winter menu since it shouts summer. But Franschhoek's winter is blessed with so many summer-like days (like the one we had on Thursday) that they came to the conclusion to keep this on the winter menu. What we have below is a light salad with mozzarella, tomato granita and a delicious lemon dressing.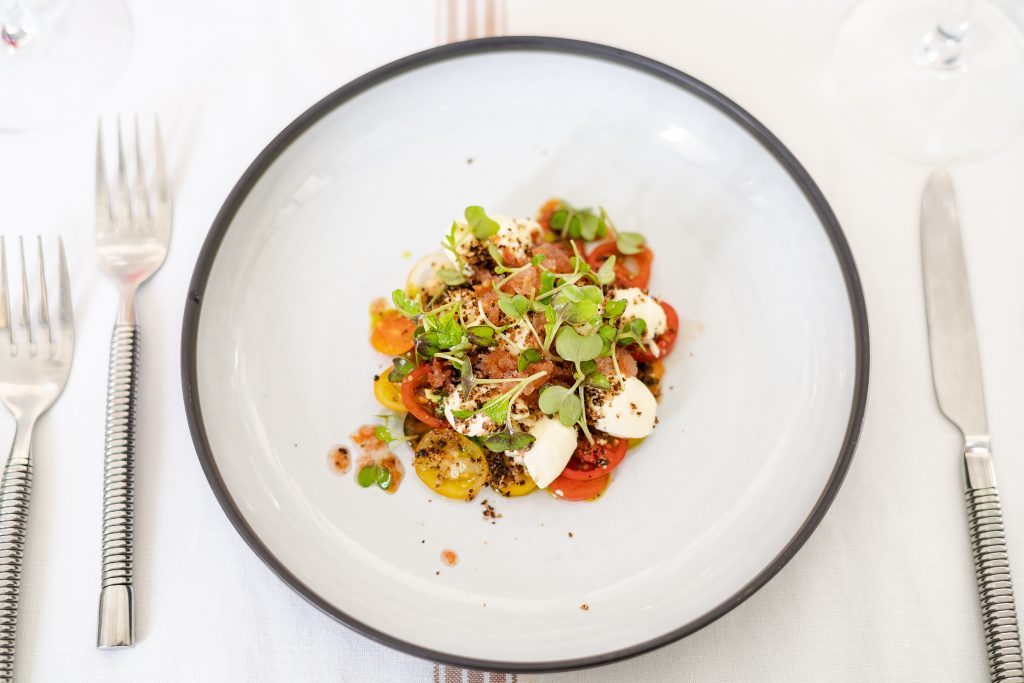 The following three dishes were heavier; filled with protein. First up we had a chicken breast on a bed of creamed spinach with curried pickled onions (I mean just listen to that), stewed apricots, gingerbread jus and carrot puree with onion dust. Once again, chef Marvin brought his sweet and sour combination in perfect harmony on this plate with the tender pieces of chicken fillet.
After this we had a creative take on pap & vleis: beautifully cooked springbok with a chakalaka crust and a honey and buchu jus. The pap was set mieliemeel (brilliant!) and the vleis… need I say more?! Just look at that picture.
And finally (at this point we couldn't really eat anymore) we shared a plate of neatly cut ribeye steak on a bed of caulimash with blanched asparagus, grilled leeks, biltong and onion dust, and honey jus. We enjoyed everything on this plate but if there's one thing I would have preferred a bit different here it would be the caulimash. Being a caulimash lover, I prefer mine a bit stiffer than what we had here. For me this was too thin, but nonetheless delicious.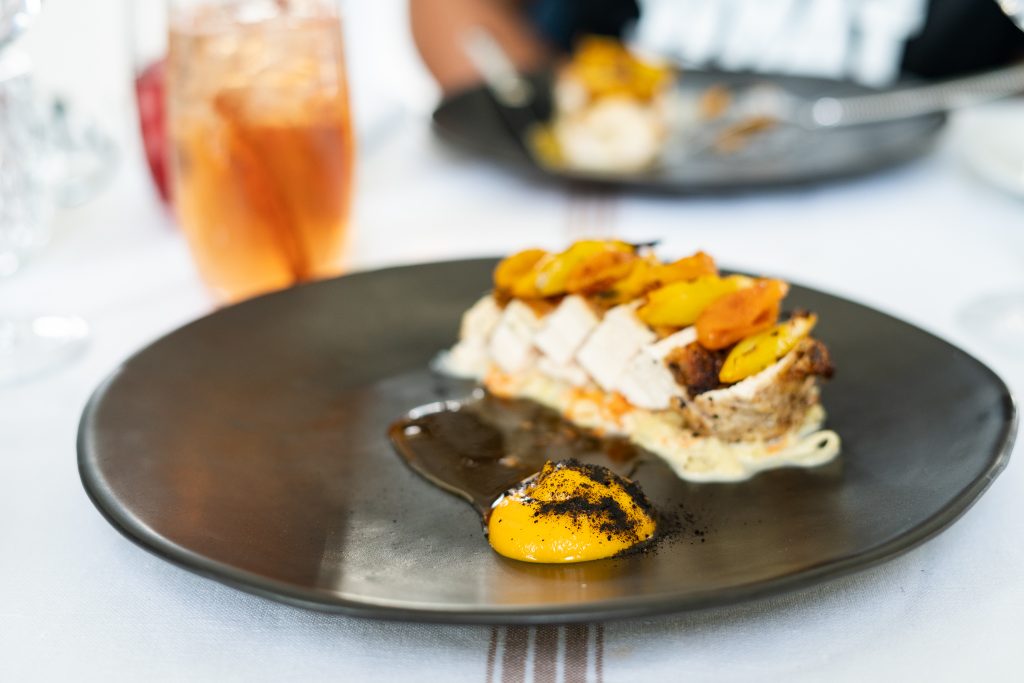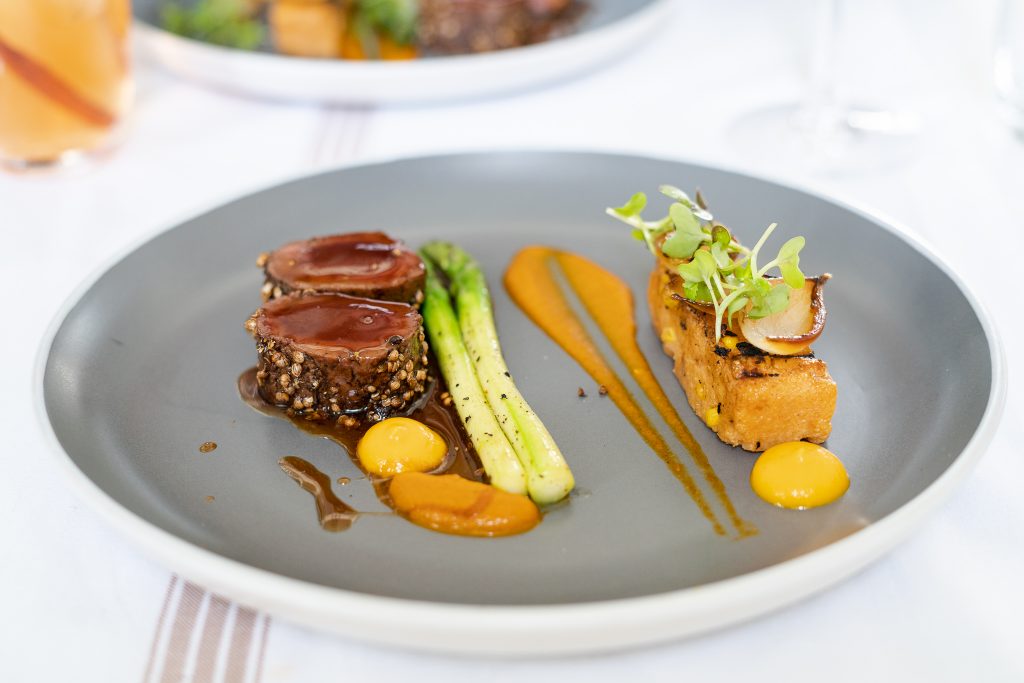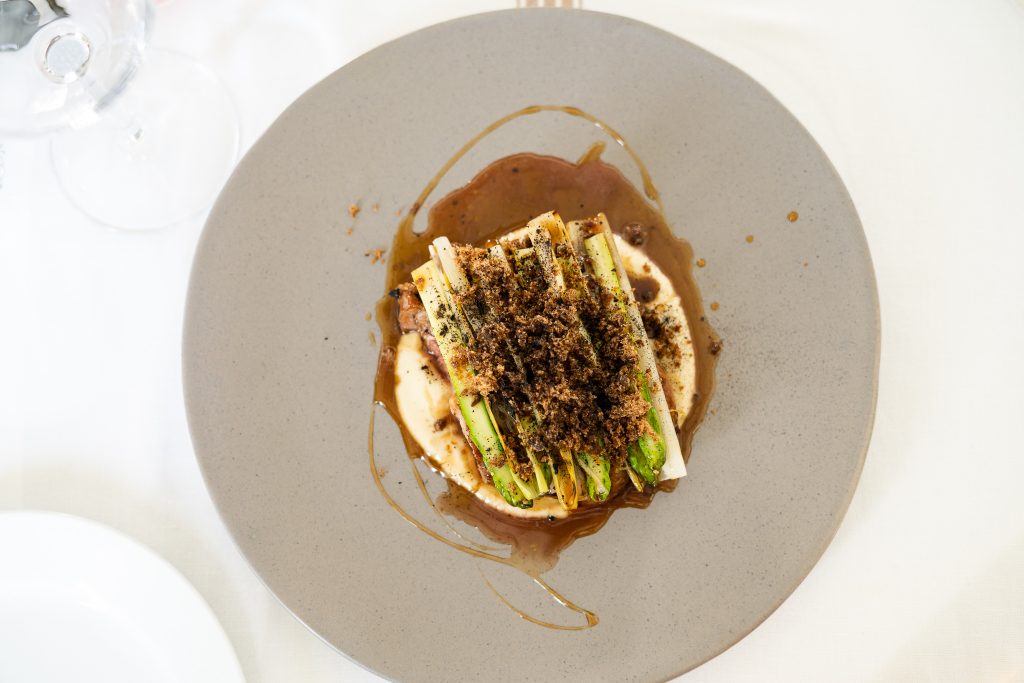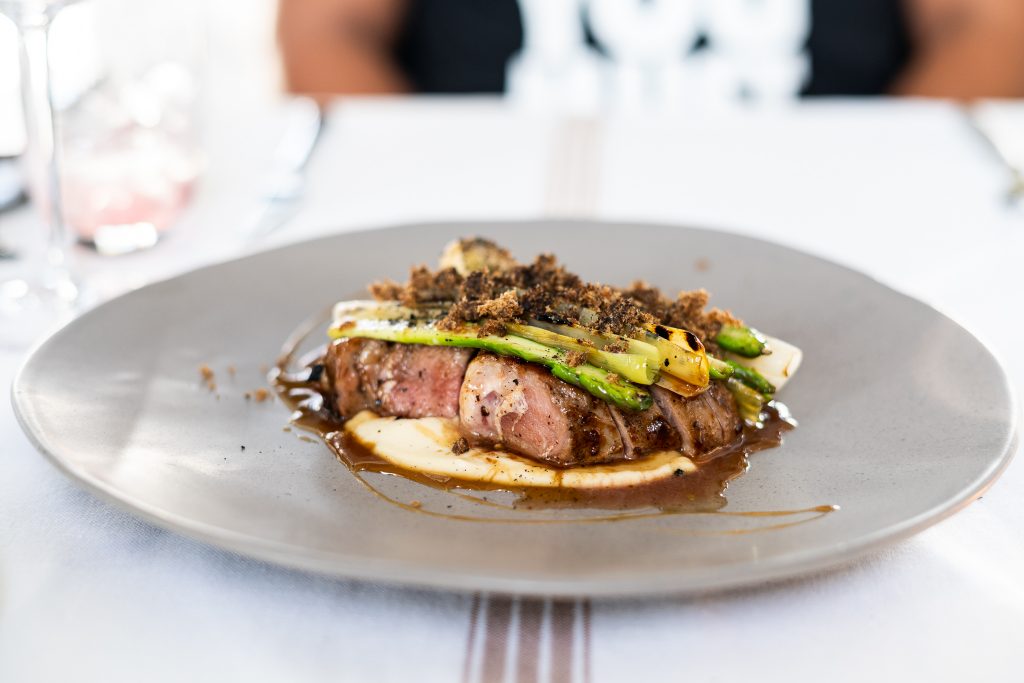 By the time we got to dessert, I seriously couldn't fit anything into my body anymore (and clearly not into my brain either) because whilst writing this post, I realised I never captured the dessert on my camera. But thankfully I captured it on my cellphone, so please lower your expectation of the following two images.
Dessert was a (plated!) crème brûlée with naartjie ice cream and a chocolate crumble. I have never had a crème brûlée unramekinned – is there even such a word? This shows once again how these chefs are not afraid of taking risks and being different. Dessert was delicious and the perfect sweet ending to a mind-blowing feast.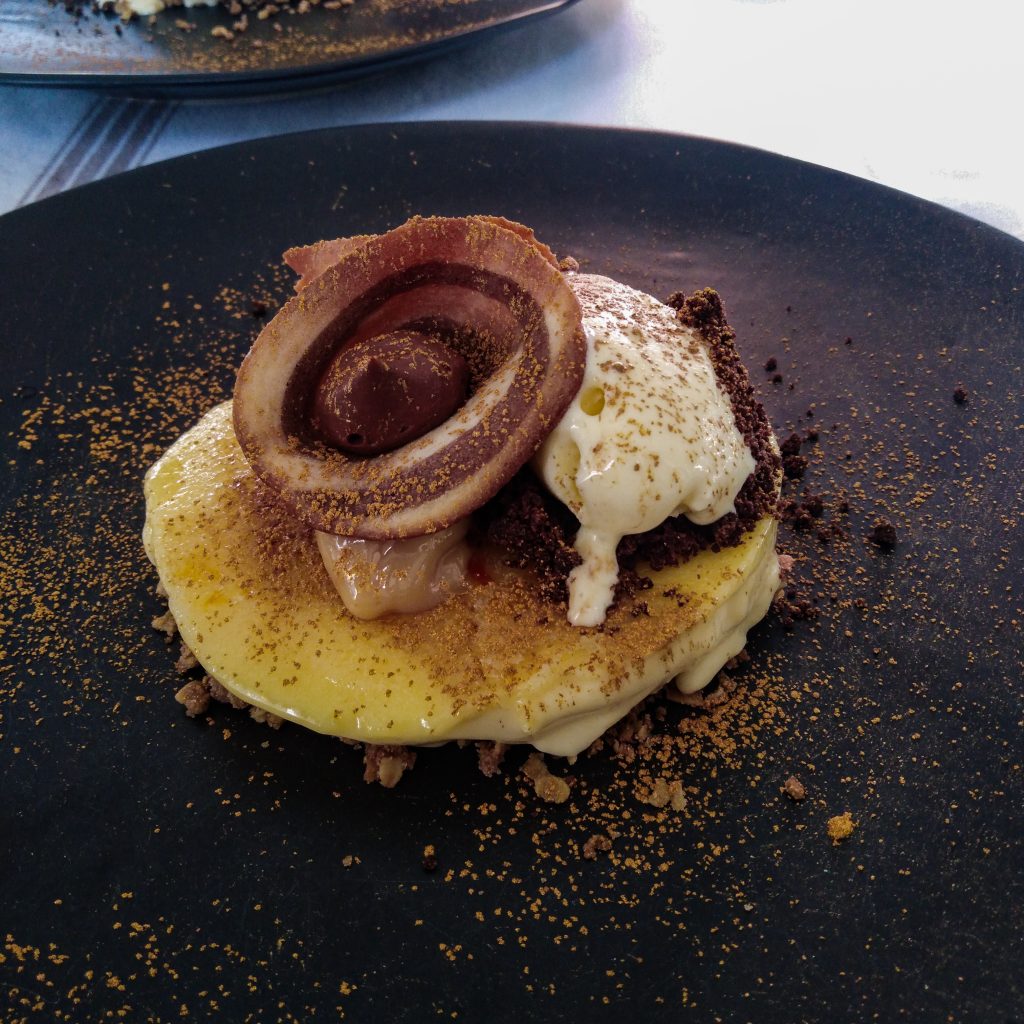 So, the next time you find yourself in Franschhoek, be sure to visit Grande Provence. I think they are blessed with a fine head chef. Not only is chef Marvin super creative but his commitment to South African heritage is obvious and admirable.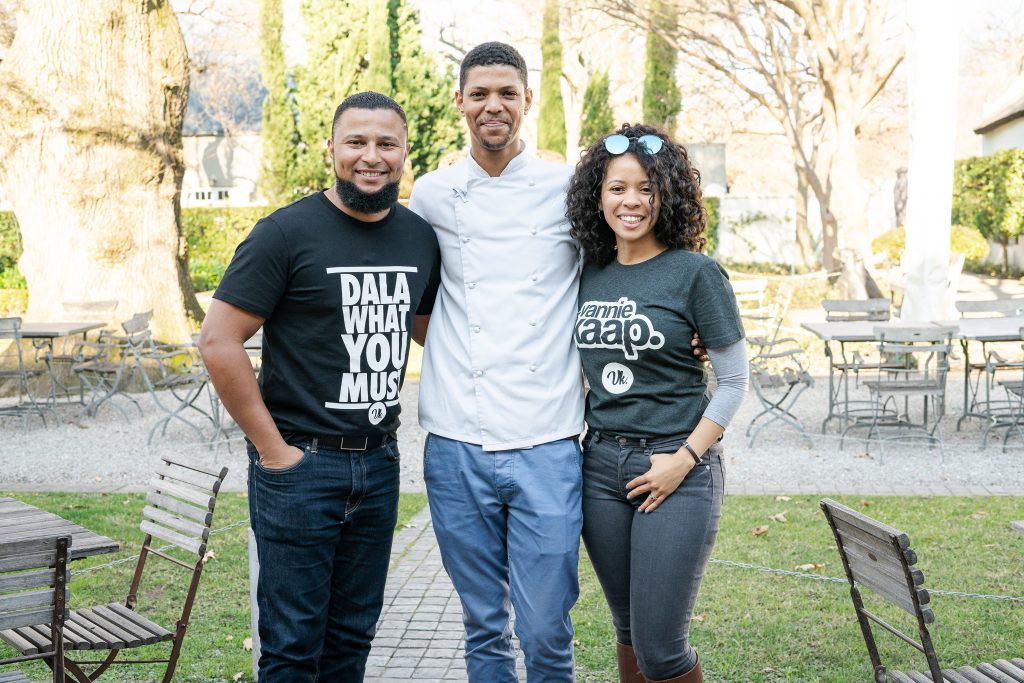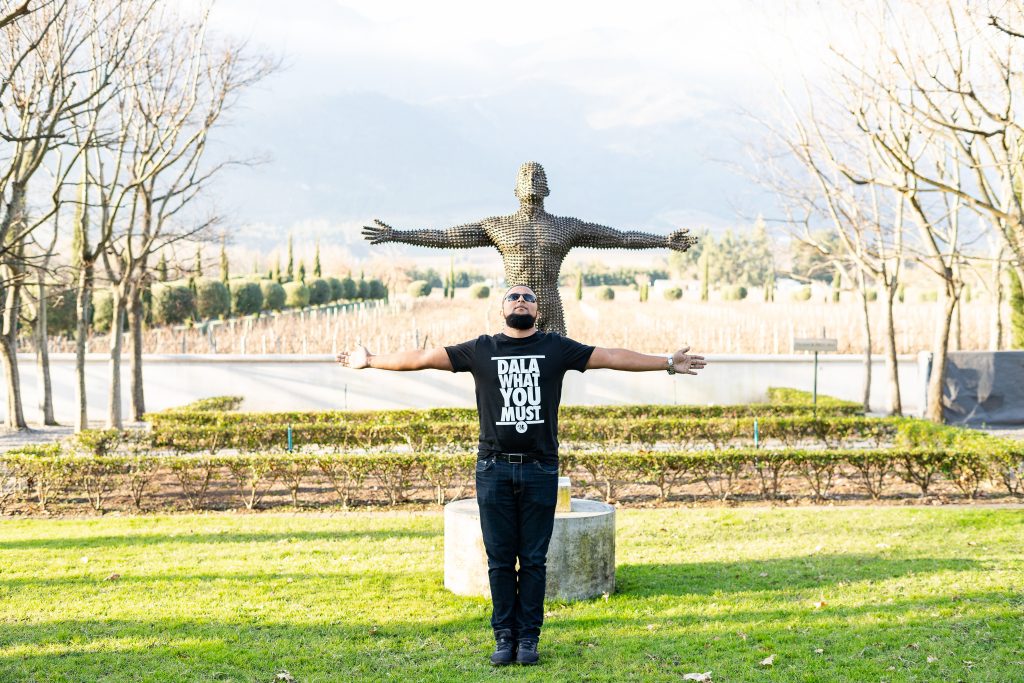 (Visited 367 times, 1 visits today)