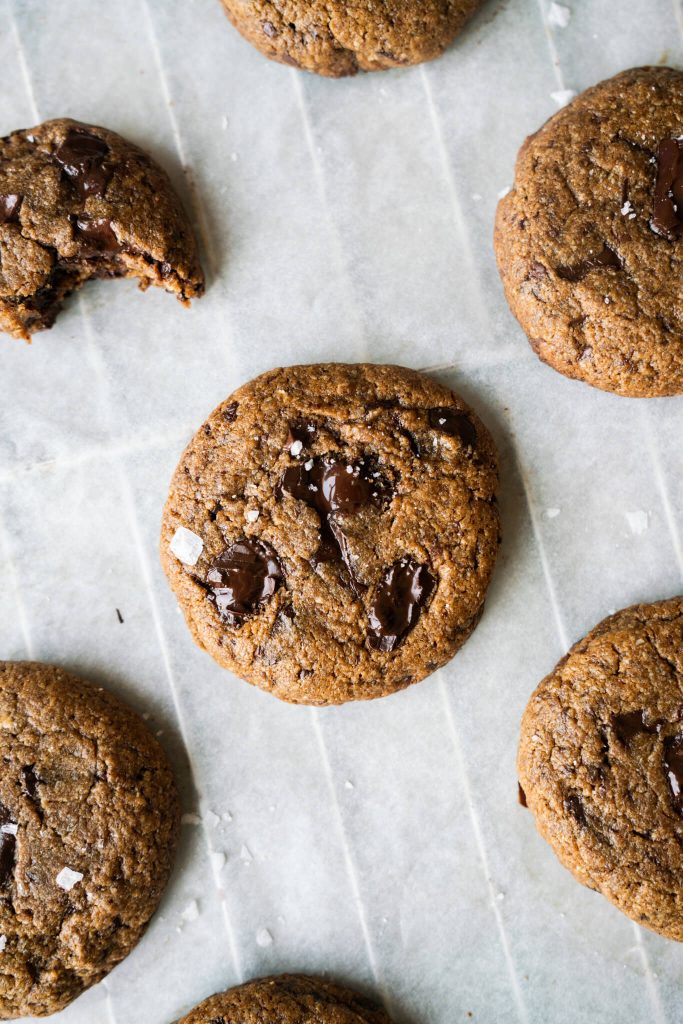 Yeah, I said it! And do you know why I can say it? Because the original recipe isn't mine. How's that for humility? Haha! These amazing choc chip cookies are actually known as Tahini and olive oil chocolate chunk cookies (vegan) on the original creator's blog. But, in true And Then There Was Food fashion, I made changes to the recipe to suit my cookie-needs. And it worked! With our current Covid-19 situation, I blessed a few of my neighbours with some of these cookies and they absolutely loved it. So, if you'd like to know exactly how I made my cookies, please carry on reading. But if you'd like the original recipe (which I haven't tested as is), then click on the link above. I am pretty sure it's amazing!
I have 3 main reasons for putting a few twists on the original recipe:
Sugar! This recipe asks for 1/2 cup of sugar and 1/2 cup of brown sugar. For those of you that have been around for a while, you would know that unrefined sugar isn't something you'd find in my pantry. I prefer to use natural sweeteners such as raw honey, pure date syrup and actual ripe fruits. More recently though, I've incorporated organic coconut palm sugar into certain baked goods such as these cookies. And for this recipe, I use 3/4 of a cup thereof. The added bonus of the coconut palm sugar is that it adds a delicious caramel flavour to baked goods.
Instant espresso powder. I have never been and I don't believe I ever will be a coffee drinker. Did you know this about me? Due to this reason, I completely omitted this ingredient from my choc chip cookies. If you're a coffee lover you're obviously welcome to add it. The original recipe includes half a teaspoon of espresso powder.
All-purpose flour. Also known as plain flour; another item you won't find in my pantry. My "all-purpose" flour is oat flour at the moment. And I make this myself by adding whole grain oats to my nutribullet and pressing a single button. Within seconds, I have as much oat flour as I desire.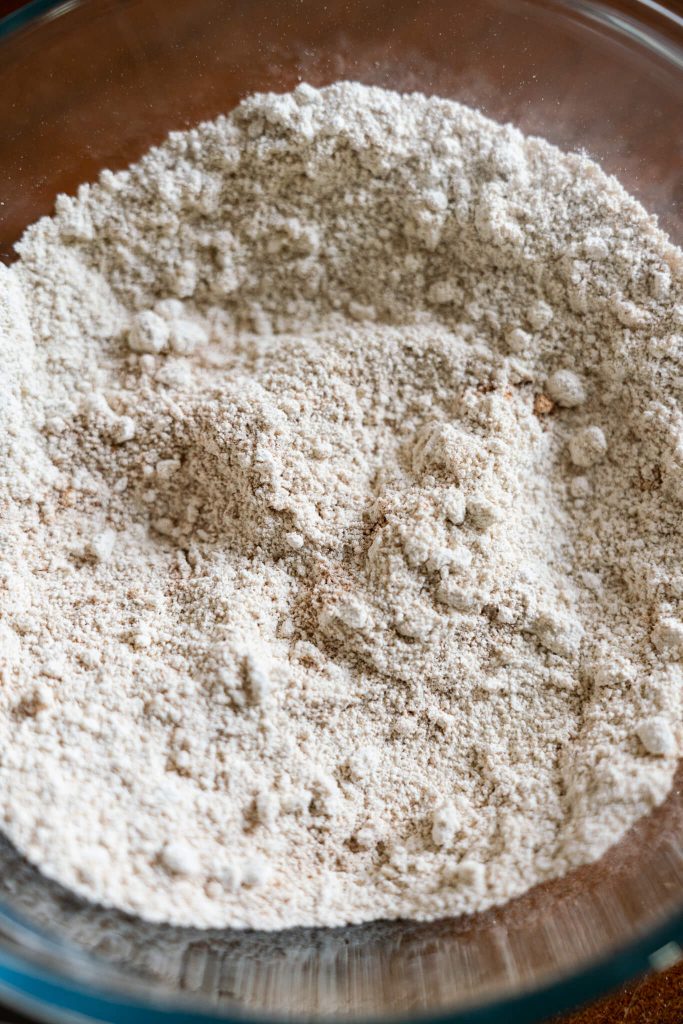 Those are basically all the changes I've made to the recipe. I also found that by using my 1/4 cup measurement tool to roll the dough balls, I managed to get 11 cookies only, not 12. (UPDATE: I have made this recipe numerous times since and I always get 12 cookies. The recipe has been updated with this number).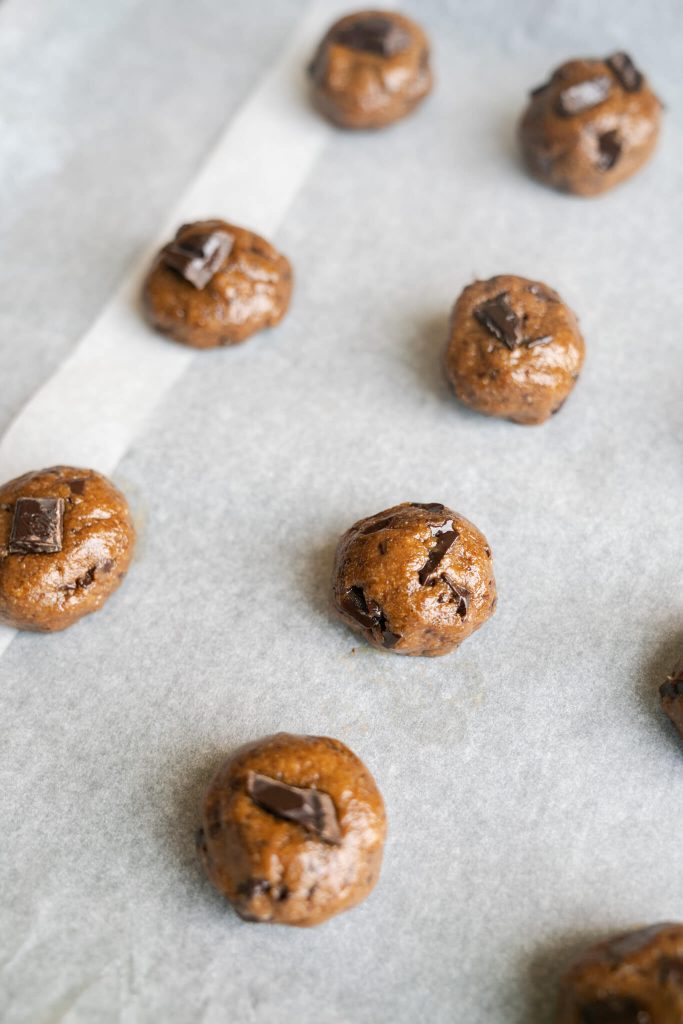 Now, let me lead you to the recipe with this tip: make sure you use the best darn dark chocolate you can find to chop up and add to your cookie dough. I used a dark chocolate with a minimum of 70% cacao. These are the things dreams are made of, people.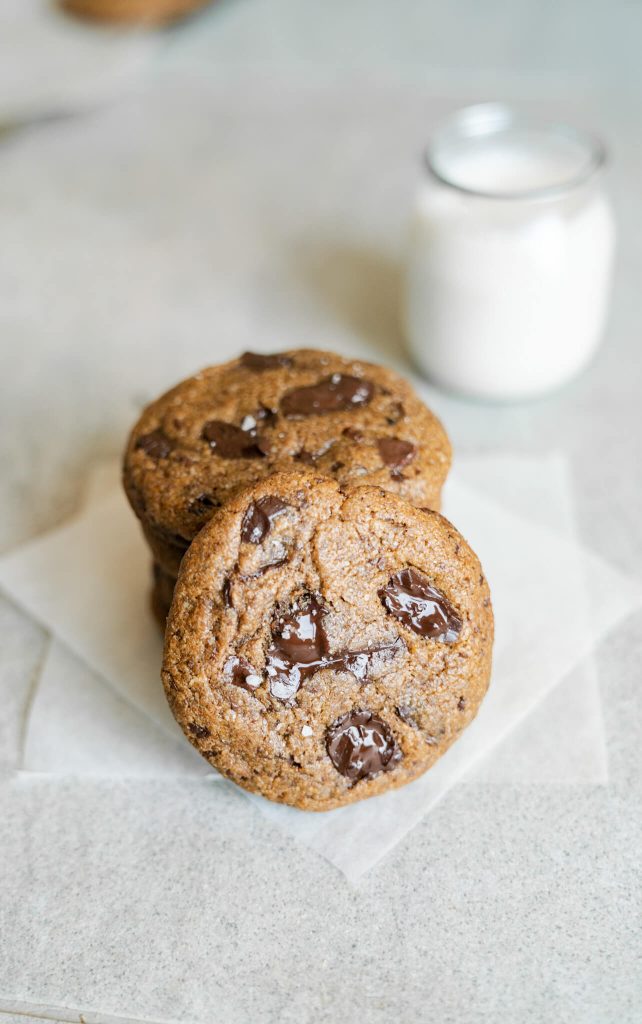 (Visited 194 times, 1 visits today)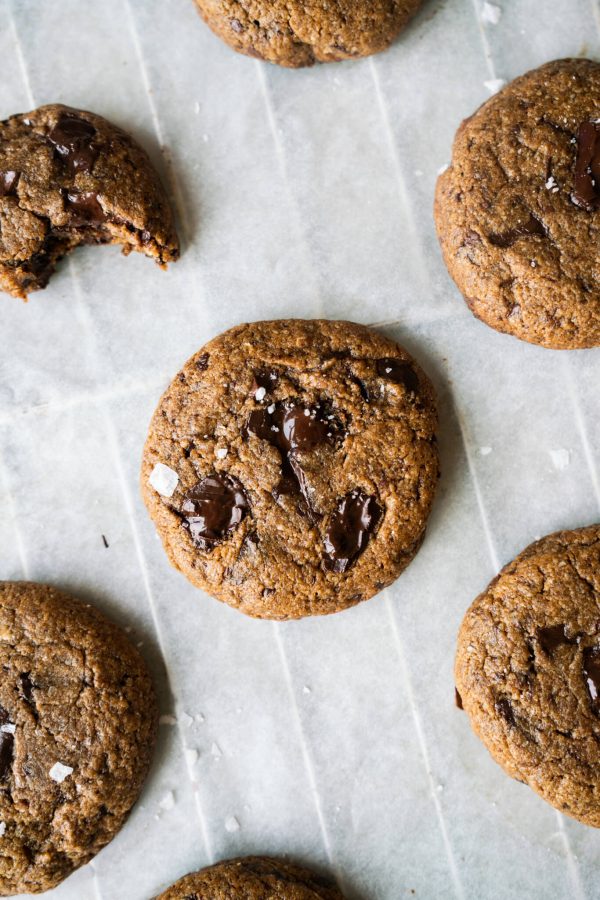 | | |
| --- | --- |
| | |
Mix the ground flax seeds with the orange juice and set aside for 5 minutes.

Add the olive oil, the tahini, the coconut palm sugar, the orange juice mixture, the vanilla extract, the cinnamon and the salt to a bowl and mix with a whisk for 1-2 minutes until the sugar is almost dissolved.

Combine the flour and the baking soda in a small bowl and add it to the wet mixture. Mix gently with a spatula until almost combined. Add 120g of the chopped chocolate and mix gently. Cover the dough and refrigerate it for at least 4 hours.

Preheat the oven to 185°C (365°F) and line your oven tray with baking paper.

Divide the dough into 12 equal pieces (I used a 1/4 cup measurement tool) and roll each piece into a ball. As you roll each ball, lightly press some of the remaining dark chocolate pieces on the top of each ball. Transfer the dough balls to the oven tray, leaving a distance of about 7cm between each cookie and sprinkle with some sea salt flakes.

Bake for 11-12 minutes. The cookies will look slightly underdone in the middle but once you remove them from the oven they will settle and the edges will crisp up. However before they do completely, DROP the oven tray on the counter for the cookies to deflate and settle. You'll achieve the look we all aim to see in the perfect cookie. (I loved this tip from the original recipe!)

Allow to cool for 5 minutes and transfer to a rack to cool completely before enjoying.