Mac and Cheese without the cheese? I know, I know. But stay with me please. There's definitely macaroni – whole wheat – naturally. But with regards to the cheese… What if I told you that the amazing yellow cheese-looking sauce you see pictured above has all the flavour and all the texture but has more nutrients than your average cheese sauce? And that there is actually no dairy involved? Do I have your attention yet?
But, before I get into the how, what, and why, let me take it back a few weeks real quick. Remember when I did that juice fast? If you haven't read that post yet, you can find it here. Since then I have been so much more mindful of how my body responds to different foods during the course of the day. In the mentioned post I spoke about the bad headaches I have been suffering with and how I didn't experience any of that pain during the fast. Post fasting, I couldn't wait to get to my usual egg-filled breakfasts again. I made these amazing mini quiches which many of you also made and loved. I made omelettes and had boiled eggs with creamy avocado on sourdough etc… And then suddenly I got those headaches again. Not as intense, but they were definitely there. I am not saying the eggs (animal product) caused it, but it definitely lead me to reading more about what our bodies really need to flourish and function at optimal level. And I was reminded of why I started this blog and how I got to the name, And Then There Was Food. It was inspired by the Word of God which I seek my daily guidance from. So, I went back to the bible as my primary source of information.
Then God said: "I give you every seed-bearing plant on the face of the whole earth and every tree that has fruit with seed in it. They will be yours for food. And to all the beasts of the earth and all the birds in the sky and all the creatures that move along the ground – everything that has the breath of life in it – I give every green plant for food." And it was so. God saw all that he had made, and it was very good. [Genesis 1: 29-30].
I have read the scripture above many times before but this time I wanted more from it. This lead me to reading through many other scriptures related to food, cross referencing between different translations and searching the world wide web to bring me to the place where I am right now: a place of wanting to eat the way that was intended for us, a place where I continue to eat whole foods, but in addition a place of making my lifestyle more plant-based. And since that decision, I have actually only been desiring a plant-based diet. And I feel great. Finding local farms that focus on growing pesticide-free foods and ones that do deliveries here in Kuwait (thanks to lock-down) also made this decision a whole lot easier. I am not saying I won't eat animal meat or dairy products again, but I am not craving it right now and I want to stay mindful of what my body wants to function well.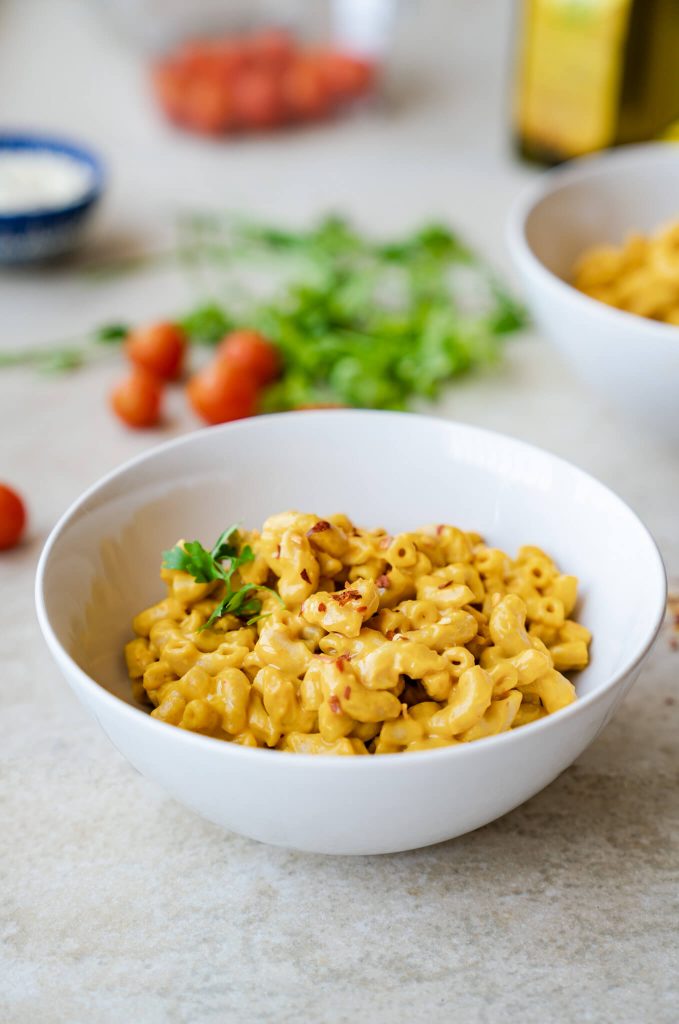 Due to these changes, or rather, forward thinking, I find myself becoming more and more creative in the kitchen. I find it so enjoyable (God knows we need something to keep us entertained during lock-down) to play with vegetables and plants in a way I have not done before. And today you get to reap from that creativity as I share this delicious, creamy, cheesy sauce made from vegetables and spices, with you.
To start off with this easy yet delicious recipe, I soaked a few raw cashews. This is the key to making your cheese sauce ultra creamy. Do this at the beginning of the recipe so that it soaks long enough while you prepare everything else.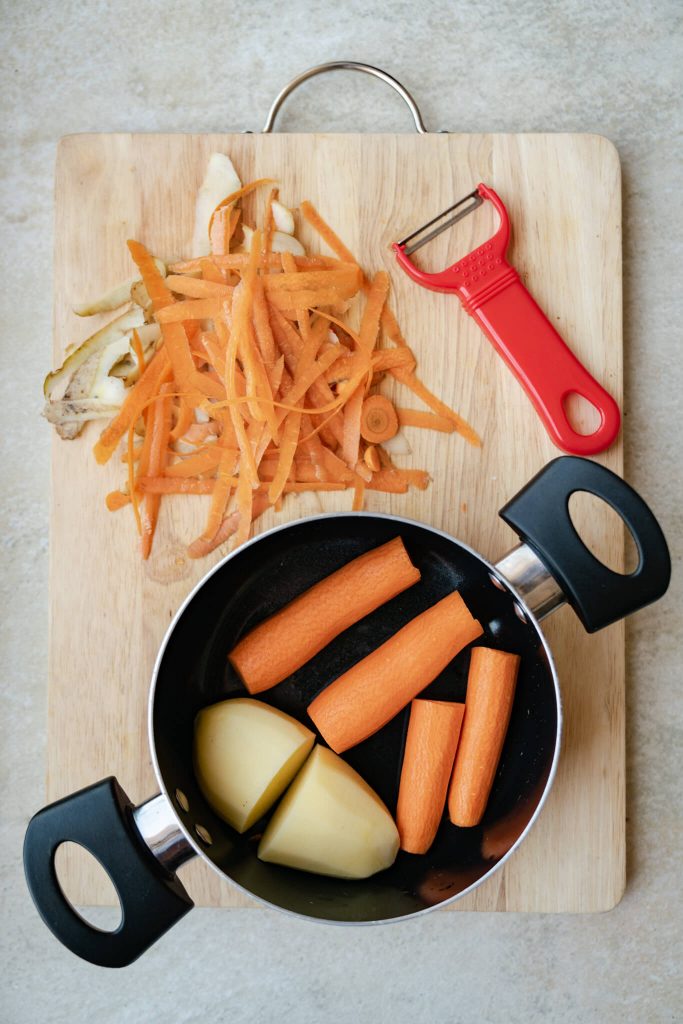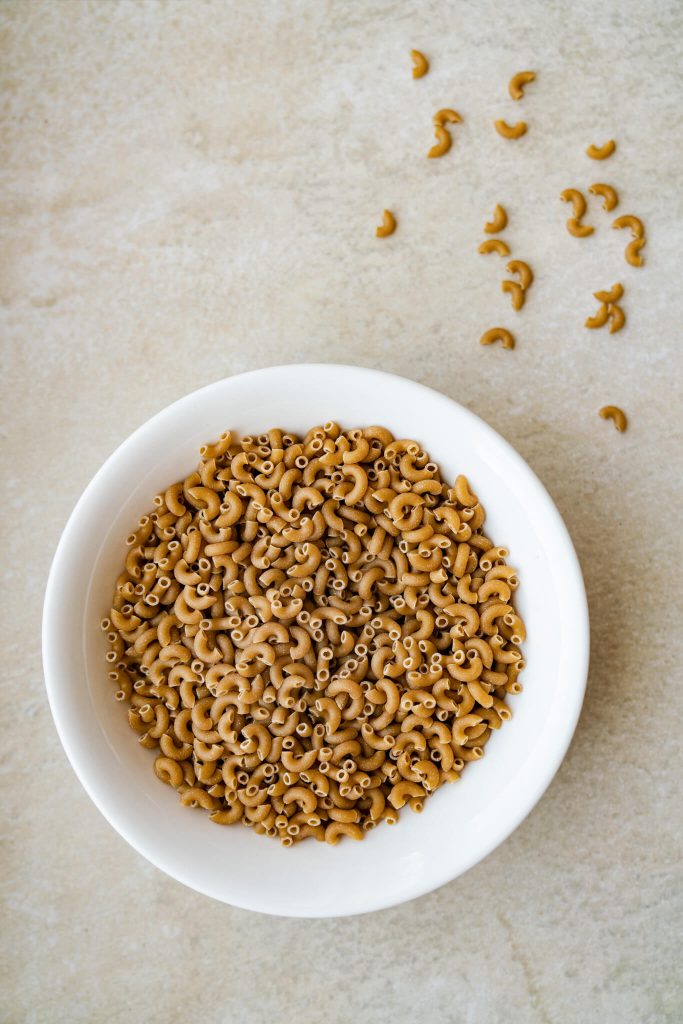 Next, I peeled the carrots and the potato, added it to a pot with water and salt and brought the heat up to boil, and then back down to allow the ingredients to cook slowly. I did the same with my whole wheat macaroni and cooked the two pots side by side for more or less the same time.
Then, when the potato, carrots and raw cashews were tender enough, I added it to my Nutribullet (you can use any blender or food processor) together with the seasoning ingredients and some of the water in which the potato and carrots cooked, and blended it all together. Depending on the type of blender you have, make sure your ingredients are cooled before adding it, or ensure your blender has some way of allowing steam to escape. I blended these ingredients until smooth and creamy. Definitely taste the sauce at the this step and adjust the seasoning as desired.
Finally , I added some olive oil to a large pan, added my pasta to it and poured the cheese sauce over it. With the gentle heat from the stove plate, I folded the sauce through with a spatula and allowed everything to heat up gently to have it ready for serving. If need be, you could add more of the water left over from the potato and carrots pot to thin your cheese sauce. To serve, I love adding fine cashew nuts, fresh coriander and crushed chili flakes. The possibilities are endless though.
And that's how easy it is to make this ultra creamy plant-based Mac and Cheese dish, folks. The magic ingredient for that cheese flavour is obviously the nutritional yeast. Make sure you have plenty of it in your pantry. It is SO good on popcorn!
PS. If you make this recipe, please tag me on Instagram or Facebook. I'd love to hear your thoughts. Even better yet, I'd love to hear what your little ones think of this Mac and Cheese. (I know you're looking for more ways to get nutritious veggies into their growing bodies).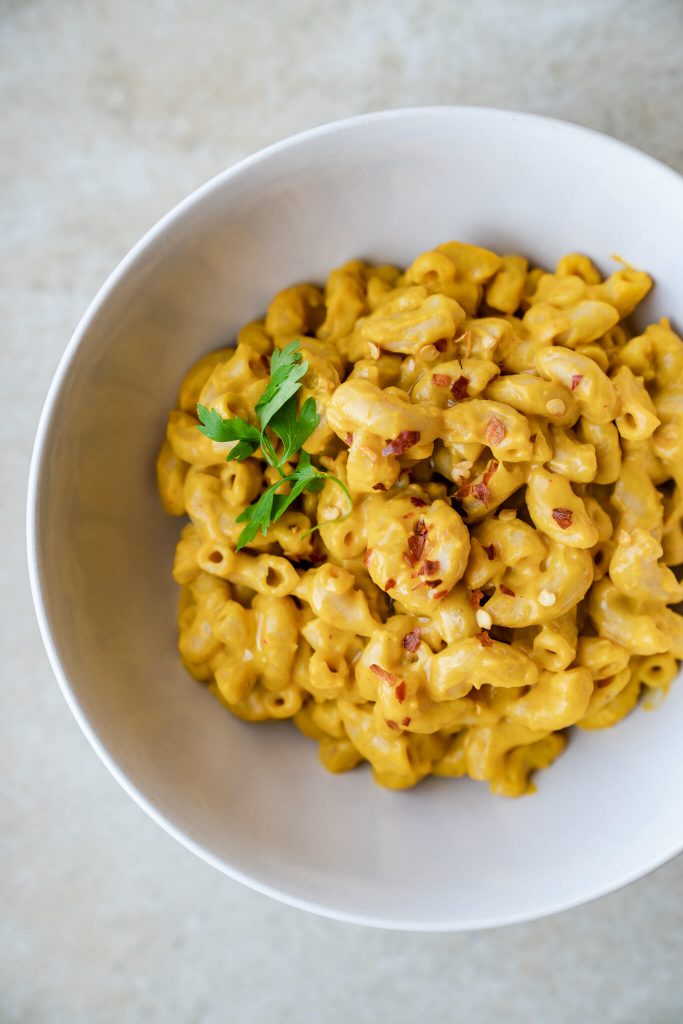 (Visited 259 times, 1 visits today)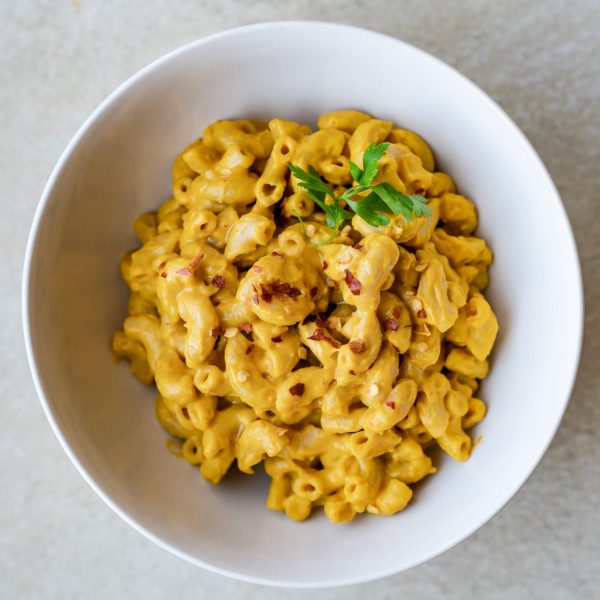 | | |
| --- | --- |
| | |
Place the cashews in a small bowl and cover with filtered water to soak.

Peel the potato and the carrots, slice in half and place it in a medium sized pot. Cover the potato and the carrots with water, add some salt (about a teaspoon) and cook until tender. About 20 minutes. Do not discard the cooking water.

In another pot, add your macaroni and cook according to the packet's instructions. For me, the potato-carrots and macaroni cooked side by side. Once tender, rinse the pasta and set it aside.

Rinse the soaked cashews well and add it to a blender or a food processor together with the cooked potato and carrots, nutritional yeast, and all the seasoning ingredients. In addition, add half a cup of the cooking water and add this to the mix as well. Blend until smooth.

Drizzle a large pan with 2 tablespoons of olive oil, add the pasta and pour the cheese-looking-smelling sauce over it. If needed, add more of the cooking water to your desired consistency. Allow the heat to work through the pasta gently as your fold the sauce through all the macaroni.

Serve and top with your choice of garnish. I like to add fine cashews (that Parmesan-feel), fresh coriander and crushed chilli flakes