NOTE: This recipe is an update from my very first tomato sauce recipe on this blog; my blog which is now almost 3 years old! And Then There Was Food (ATTWF) has gone through a few changes since then and so I thought giving this ol' favourite a fresh look on the blog would be fitting.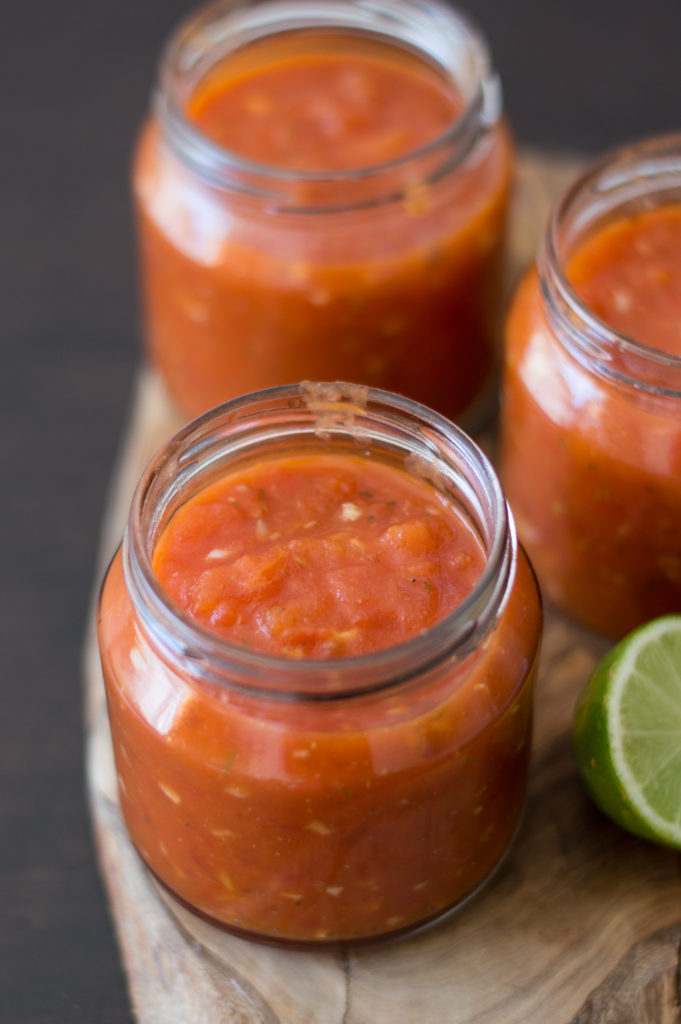 In saying that, can you believe that my food blog, my baby and my absolute joy, will celebrate it's 3rd blog-iversary next month. I actually thought of giving away THREE jars of my healthy tomato sauce in celebration… what do you think about that idea? If I ran a little competition on social media, would you enter it? I promise you it's yum. You can leave your feedback in the comment section below. I am flying to Johannesburg next week to spend some time with my best friend which means I won't be home as we enter Spring (aka And Then There Was Food's birthday). Your celebratory ideas and feedback are therefore more than welcome.
The plan really wasn't to update this post from the old one, but as I took a few pictures while preparing the sauce this weekend, I just felt they looked SO much better than the old ones. I mean we're talking 3 years back. We're talking newbie to the blogging world. We're talking professional-photographer-now-and-not-quite-one-back-then.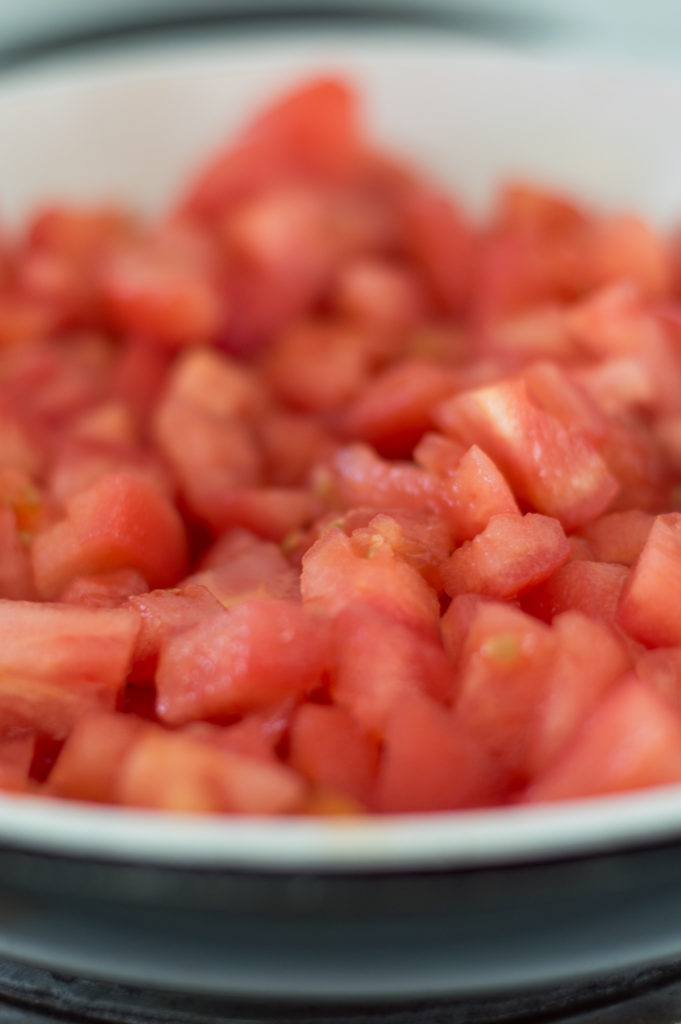 So, shall we enter the saucy part of this post with the same line as we did the old one? Here goes: My husband LOVES tomato sauce. He did back then and he still does right now. We recently had to cater for our home group. We bought the yummiest boerewors (this coming from someone who doesn't really enjoy sausage) and decided to set up a DIY Boerie Station. I didn't have  any tomato sauce at the time and unfortunately we had to run to the supermarket to buy some (time constraints these days). The brand we bought was the closest to healthy but with a few boeries leftover the following day, I decided it was time to stock our refrigerator with our favourite sauce again.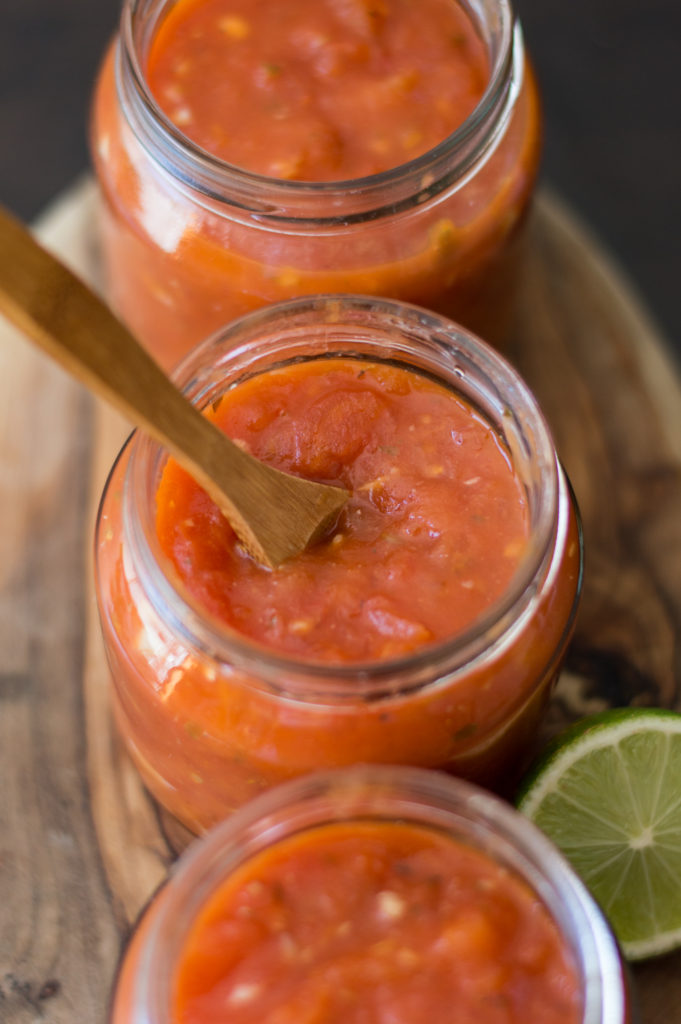 The process is everything but a process as you'll see in the recipe below. Quick and easy. I prefer this tomato sauce somewhat-smooth-somewhat-chunky. And for this reason I did everything in the pan on the stove top. If you're a smooth person, then you can strain your sauce (to remove the seeds) and blend it until smooth.

(Visited 338 times, 1 visits today)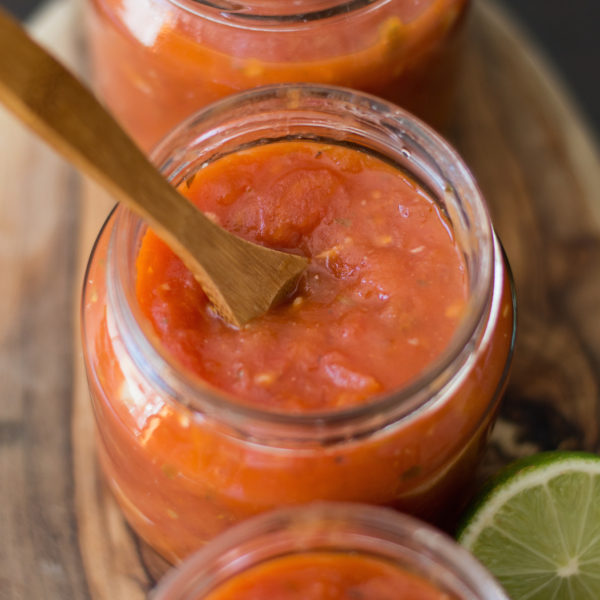 | | |
| --- | --- |
| | |
Place the tomatoes in a bowl and cover with boiled water. Allow it to sit for a minute and then remove the tomatoes from the water one by one as your remove the skins. Dice the tomatoes once skinned.

Add a pan to medium heat and add the olive oil.

Once the oil is warm, add the tomatoes, garlic, lime juice and vinegar. Allow this to cook slowly for about 10 minutes.

Mash the contents of the pan together with the back of a wooden spoon and add the honey, coriander and sea salt. Sprinkle the tapioca flour in the centre while mixing through rapidly in order to avoid lumps. Continue mashing your sauce until you have reached the desired consistency.

Once your sauce has thickened, allow it to cool before jarring it.

Refrigerate your sauce and keep it for up to a week.
If you prefer your sauce very smooth, you can strain it to remove the seeds and then blend it until smooth.
Since the sauce lasts up to a week in the refrigerator, you can try to freeze it in smaller portions in ziplock bags. I have never needed to do this because like I said, my husband LOVES tomato sauce.