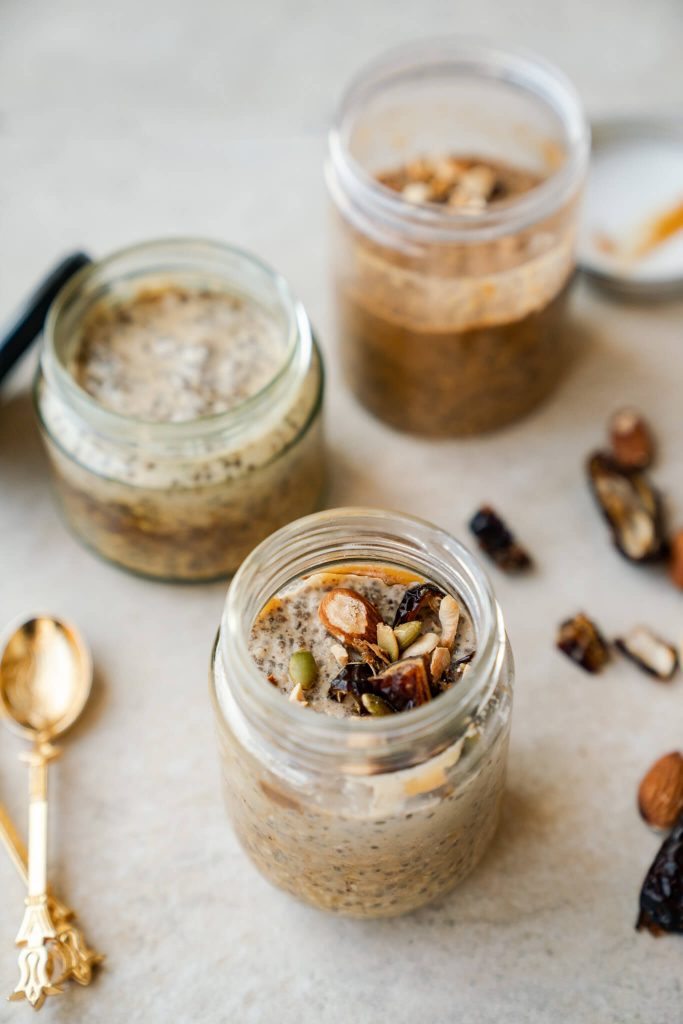 Let's start this post off with the words of one of my friends who gets surprised with a jar of overnight oats ever so often: "those oats are my favourite breakfast treat, sherbet". A treat it definitely is because it looks and feels like pudding in a jar. This Flavours of the Middle East Overnight Oats is creamy with all the deliciousness of the Middle East like tahini and dates. (Did I mention tahini?) It is easy to make and gets better and better the longer you leave it in the refrigerator.
Overnight oats is something I make quite regularly BUT I used to make it with rolled oats. There's nothing wrong with that. When you look at recipes of overnight oats on the web, using rolled oats is the norm. But as I continue to seek and try my best to stay as close to the natural form as possible with my food, I tried making the same with steel cut oats a few weeks ago. And I haven't turned back since; it tastes better than overnight oats made with rolled oats.
Steel-cut oats is the real deal. It is the closest thing to the oat groats as it is in fact the oat groat cut into smaller pieces with a blade. This makes steel-cut oats coarser and chewier than any other type of oats. Steel-cut oats also contain more fiber than other types of oats (win!) and are lower on the glycemic index. The latter fact makes it therefore a better early morning option than a bowl of fruit and yogurt which will spike your blood sugar levels.
FUN FACT: Before oats was cultivated and processed for human consumption, it was used as feed for animals.*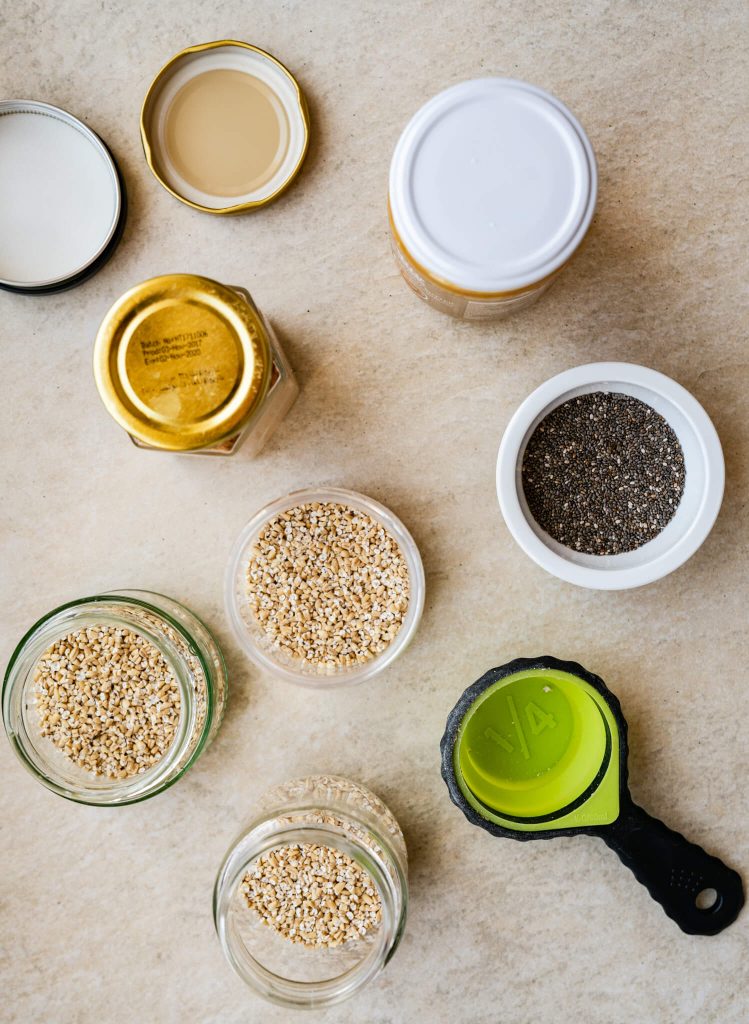 Now that you know a bit more about why I prefer steel-cut oats over rolled oats, let's get into making these jars of deliciousness so you can get it to your refrigerator.
Since we just stepped out of #PlasticfreeJuly I am positive you have a few empty jars close by. Get them sterilized and ready.
Pour half a cup of almond milk in each jar, as well as 1 tablespoon of tahini and 1 tablespoon of date syrup. Mix well.
Add a quarter cup of steel cut oats, quarter teaspoon of ground cinnamon and 1 tablespoon of chia seeds. Mix through until everything is well combined, close the jar(s) and refrigerate it for at least 12 hours or until set.
And that's it! Can breakfast get easier? All you need to do once it's set, is add some chopped dates, nuts and seeds, and dig in. Hi Middle Eastern Overnight Oats.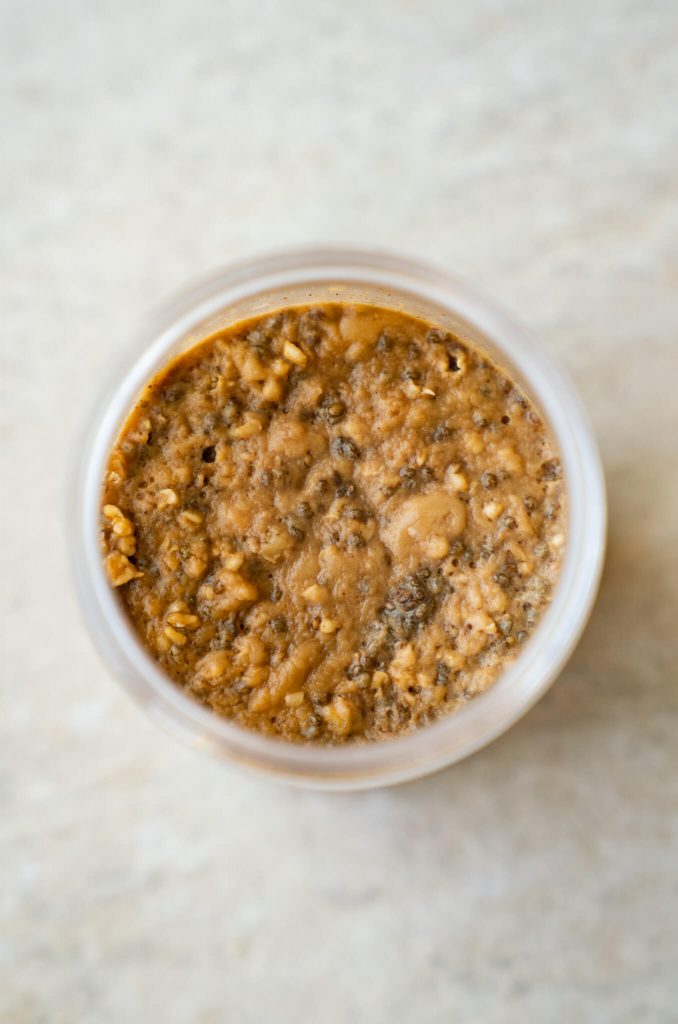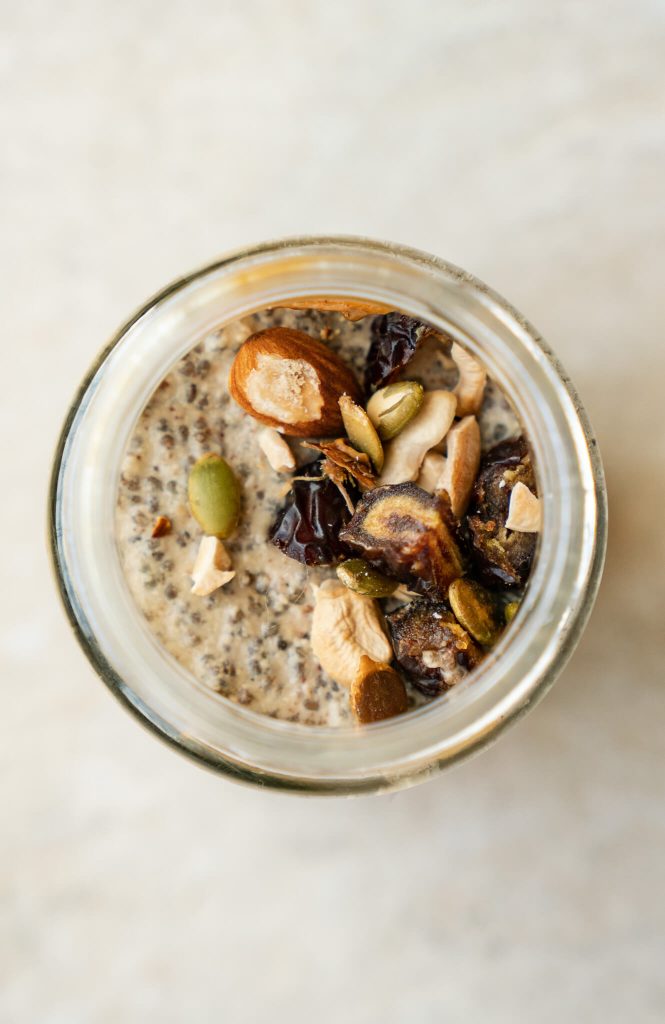 With rolled oats you don't need as much time for the soaking as you do for steel-cut oats. The word 'rolled' tells us that the oats have been flattened (and steamed) which makes absorption easier. Steel-cut oats on the other hand is more dense in texture and therefore needs a bit more time to soak up the liquid and become chewy. This is why this recipe is so great to prepare over the weekend; this way you can just grab a jar come Monday morning (or in our case, Sunday morning) and head to work.
If you are planning to make this recipe, please be so kind to tag me on Instagram by using the hashtag #andthentherewasfood or leave a comment on this post on my website. I'd love to see your creations and hear from you.
Happy eating.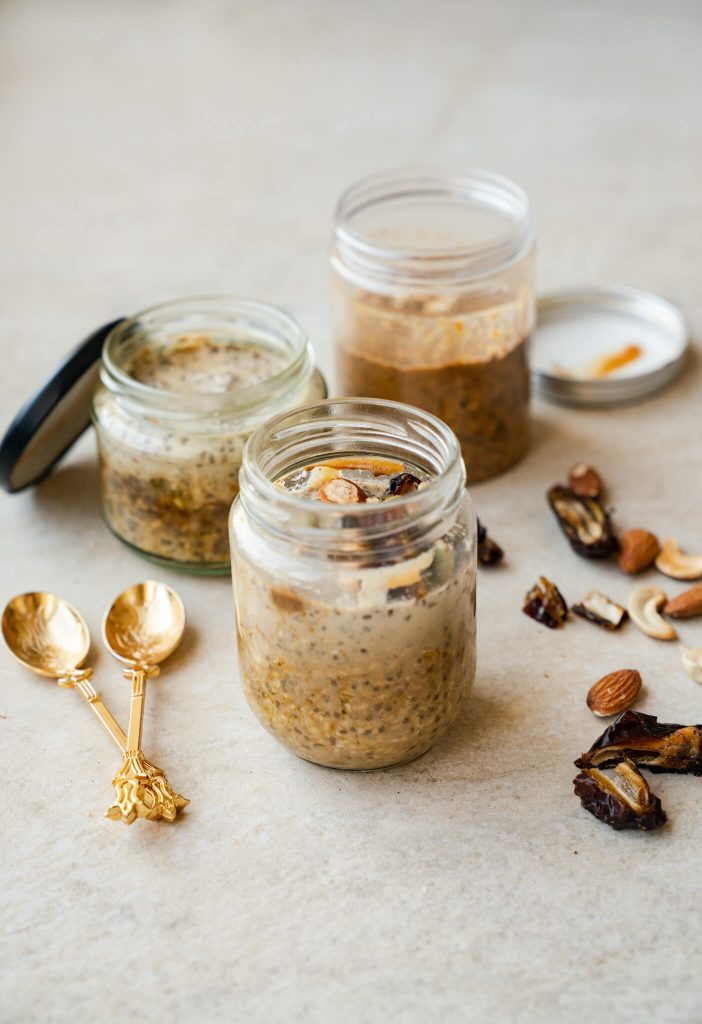 * https://www.bobsredmill.com/blog/healthy-living/what-are-the-benefits-of-steel-cut-oats/
(Visited 335 times, 1 visits today)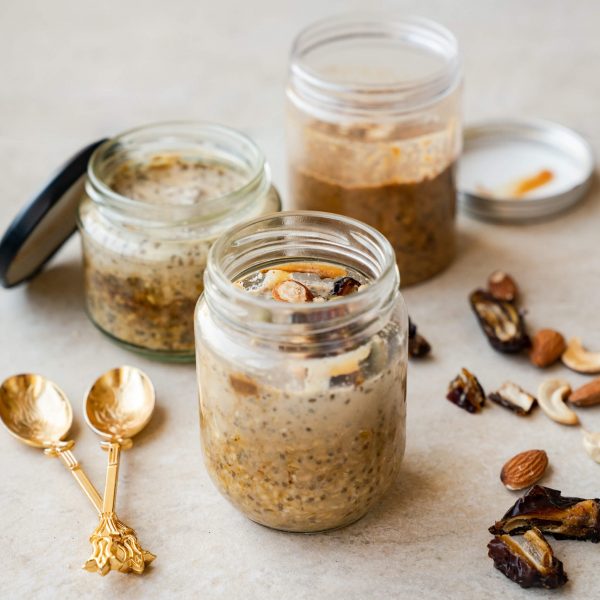 Mix the wet ingredients (milk, date syrup and tahini) well into a mason jar. Make sure the date syrup (if ingredients are very cold) is well incorporated.

Add the oats, the chia seeds and the cinnamon, and stir through.

Cover the jar and refrigerate for at least 12 hours.

When ready to eat, top with chopped dates and chopped nuts.
MILK: For this recipe flavour, almond milk is my milk of choice. But you can use any other milk. Just know that it might change the flavour profile. 
RATIO: For my overnight steel cut oats, I keep the ratio at 2:1 -  milk:oats. With this basis, as well as the tablespoon of chia seeds, you can use any other flavour profile instead of these Middle Eastern flavours. Try berries, coconut chunks and flakes etc. 
TIME: The oats will become chewier as it soaks up the liquid. I prefer to eat it after a full day of soaking in the refrigerator.