It's about time
Many of my friends and family have already asked for my Red Lentil Soup recipe and I actually can't believe it wasn't on the blog yet. I make this soup often because it is so easy to make, super affordable and really flavourful (despite the handful of ingredients). I bet you have most, if not all, the ingredients at home already: dried red lentils (dhal), 1 large onion, 4 garlic cloves, 3-4 carrots, vegetable stock, turmeric and the star of the show, cumin powder.
My love for Dhal soup and plants
I fell in love with dhal soup whilst living in Kuwait; you can order it at most restaurants over there. It has become one of my favourite plant-based meals. Some of my friends and family still wonder why and how I maintain a plant-based lifestyle. Allow me to make the short answer known here: Kuwait made me do it. Eating well, which I'm a big fan of, is quite expensive in Kuwait because most foods are imported. I couldn't bring myself to eat Kuwaiti meat – the only meat I really enjoyed was the New Zealand lamb which came at a higher price tag, naturally. Therefore, to save on expenses whilst living in the Middle East, I tried my best to purchase mostly local fruit and vegetables which is cheaper than the imported goods. But the variety of produce in this case is not huge, so my creativity had no choice but to step up its game.
Now, 4 years later, back in Cape Town, plant-based living makes me so excited because we have so much more to offer here in terms of local produce. In addition, I can now confidently say my creativity with plants have grown. In addition, I feel great when I eat a lot of fruit and vegetables throughout the week. My husband enjoys this kind of eating too. Okay, maybe he doesn't have much of a choice as I make most of the food during the week. But nonetheless, I get regular grateful smiles from him.
My method for cooking this dhal soup
I start by adding olive oil to a large pot on medium heat. Sometimes I use coconut oil; sometimes I use a combination of both. To that I add my chopped onion, fry it a little until translucent and then I add crushed garlic. 
Next, I add 2 tablespoons of cumin powder! I love this stuff; I believe it's the x-factor for dhal soup. I also add a teaspoon of turmeric for colour (but also because it's such a powerhouse spice). I allow the spices to become fragrant and then I add 6 cups of vegetable stock. I love the Kallo range. 
Once the stock is in, I add the cubed carrots as well as the dried red lentils. Then it's time to bring the pot to a boil and as soon as that happens, I turn down the heat and allow it to simmer it until the lentils are soft. This takes about 20 minutes but I do keep my eye on it and use a wooden spoon to avoid the dhal from burning to the bottom of the pot – once the lentils are mostly done, I add a cup or two of water; this is optional and up to you; consistency of soup is a personal choice so you can decide how thick or thin you'd like it. 
Finally, I add salt and black pepper to taste. When I'm ready to serve this soup, I squeeze in fresh lemon juice or place a few lemon slices in a bowl alongside some warm baked bread.
In conclusion
Since arriving in Cape Town mid June, I think I have already made 3 or 4 pots of this soup – that's how much we love it. It's the perfect meal for the cold winter we're currently experiencing. I hope you and your family will love it too.
PS. I am SO excited about the upcoming Sunday Talk on 7 August. In order to avoid missing out on some exciting news, make sure you are subscribed to the blog as this newsletter only goes out to my subscribers and won't be live on the blog.
(Visited 41 times, 1 visits today)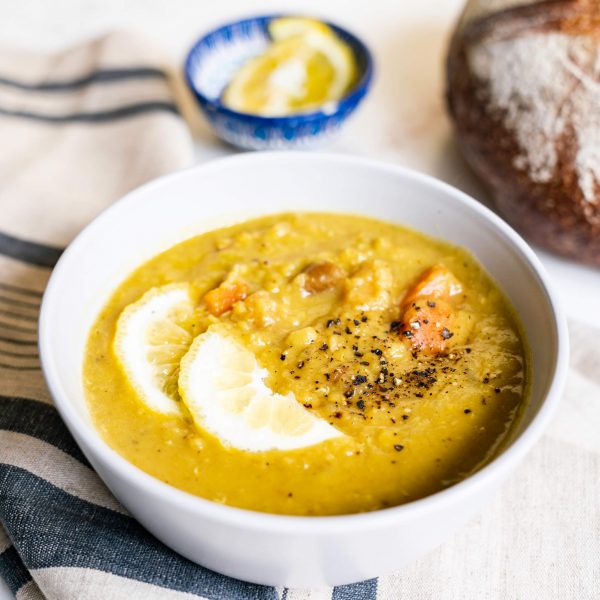 | | |
| --- | --- |
| | |
Add the oil to a large pot on medium heat. Add the onion and fry it until translucent. Add the garlic and stir through.

Add the spices (cumin and turmeric). Allow it to become fragrant in the pot and then add the vegetable stock.

Add the carrots and the dried red lentils. Turn up the heat, bring the pot to boil and once boiling, turn down the heat and allow it to simmer until the lentils are completely soft/mushy. I keep an eye on it and use a wooden spoon to avoid the dhal from burning at the bottom of the pot. Once the lentils are mostly done (about 20 minutes), add a cup or two of water based on the consistency you'd like.

Add salt and black pepper to taste. Serve with fresh lemon slices and baked bread.