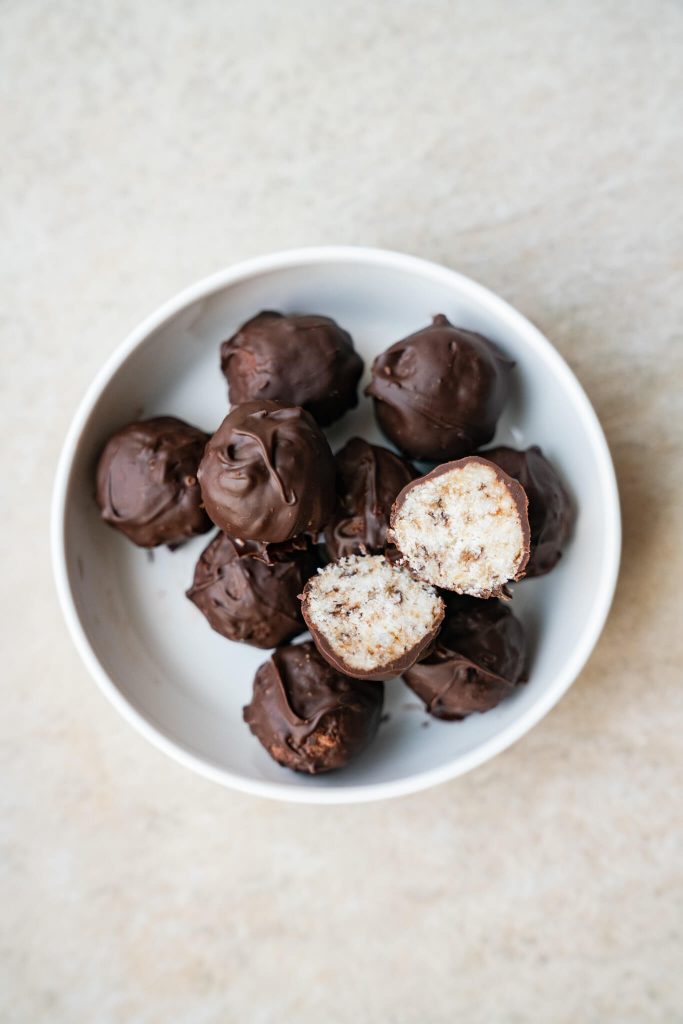 Friends, I cracked my first coconut! Tough, but I persevered with the tools I had. Maybe, just maybe, with persevere I also mean, I took out some lock down frustrations on my coconut. But then there were smiles. There was coconut water. There was flesh, and there was shell. It was a glorious day. And, then, coconut milk was created, Piña coladas were had and I was left with desiccated coconut which lead to… DARK CHOCOLATE COCONUT TRUFFLES!
I really have a new found respect for coconuts. Since coming to Kuwait I've noticed coconuts way more than I did whilst in South Africa, but I have always feared buying them as I didn't know how to look for the perfect coconut nor how to open one. That hard brown shell was intimidating, man. And then, recently, after buying cans of (expensive) organic coconut milk, I looked at the fresh coconuts one more time and there he was… an uncle sent from heaven to help me establish the sound a good coconut should make when tapped. So we tapped. This said uncle brought the first 2 coconuts to my ear and tapped. I heard the sound! You had to be there, my friend. I bought 3 coconuts that day. It was a good day.
I came home and cracked my first coconut. That is also the day I realised just how much a coconut has to offer. There's the water; I used this in my smoothies. Then there's the flesh; I used this to make coconut milk. And might I add, the flesh of 1 coconut gave me almost 2 cups of delicious sugar-free coconut milk. And then once I milked the milk (ha ha) out of that flesh, I was left with desiccated coconut which I used to create these delicious truffles. Going further, there are the hard shells, which are now waiting to be groomed into beautiful bowls. Can someone say, no waste? This is my kind of living. In addition to all this sustainable joy, making my own coconut milk is going to save me so much money!
Now, onto these easy yet delicious natural fat balls containing only 5 ingredients. And if you don't like chocolate, you can omit the last step, leaving you with 4 ingredients. Did I mention no baking is required?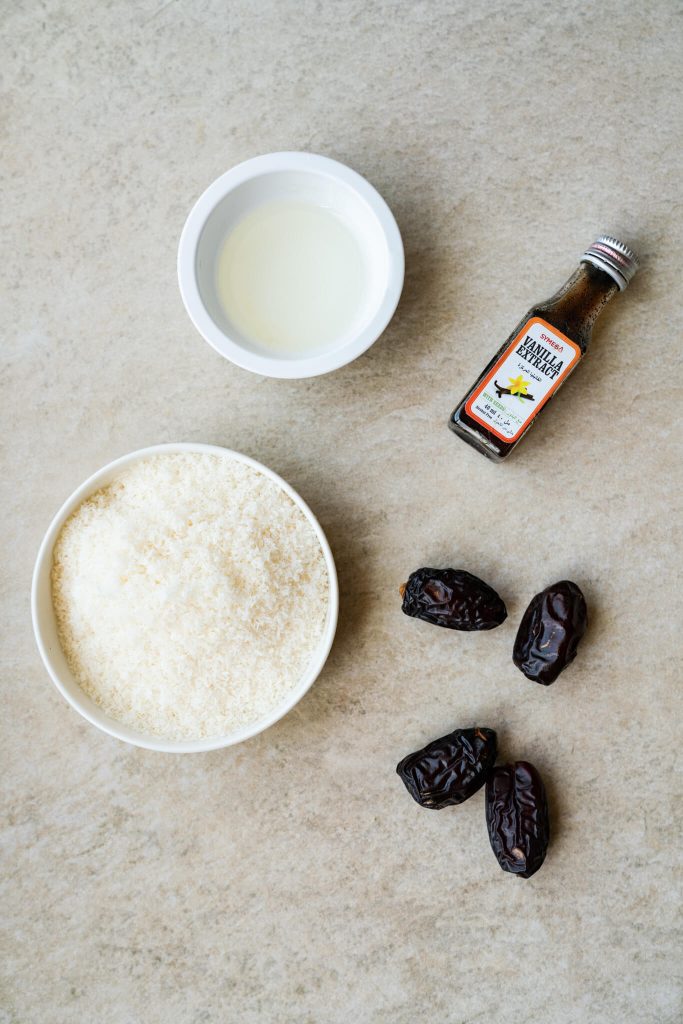 STEP 1: Place all the ingredients, except the dark chocolate, in a blender and blend until well combined. Make sure that the soft dates are well broken down and incorporated into the mixture. (We are blessed with amazing dates here in the Middle East but I know you can get your hands on good dates in South Africa too).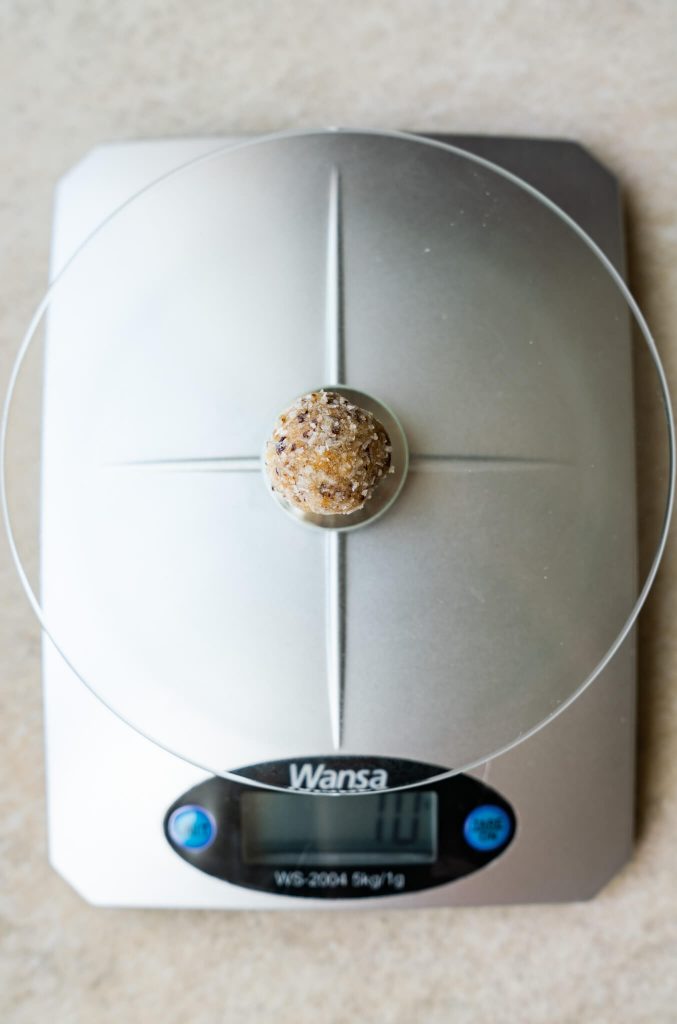 STEP 2: Once well combined, place the mixture in a bowl and roll about 10 grams between your palms into a small ball. I used a scale to make sure my balls are more or less even, but there is no right or wrong here – your balls, your size. With my suggestion, you should get 10 balls.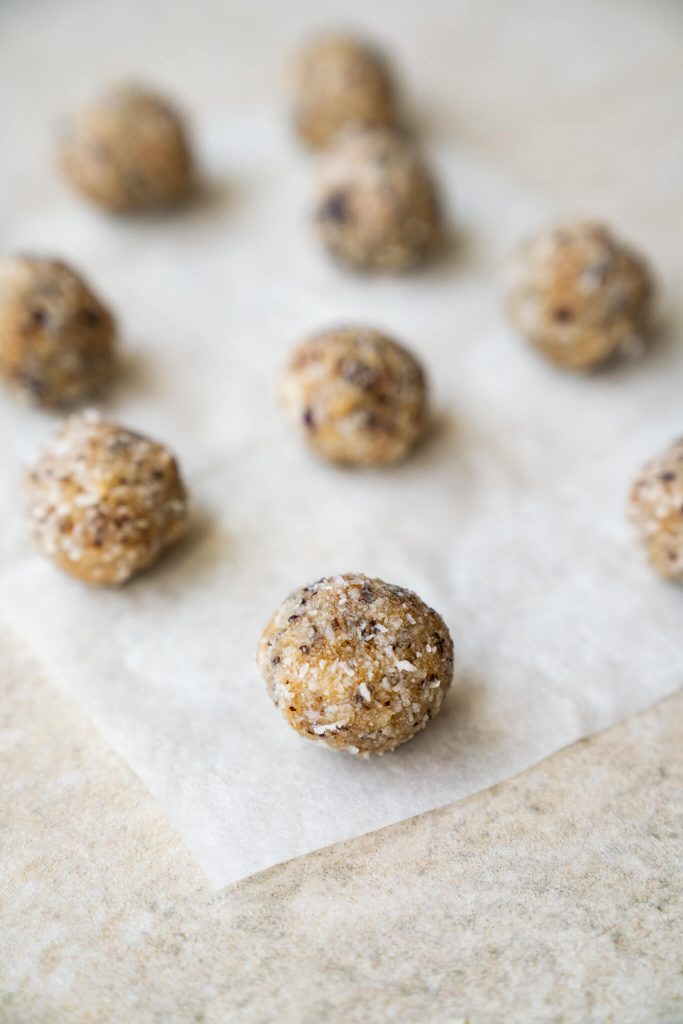 STEP 3: Refrigerate the balls for at least an hour to set. This will give the coconut oil time to harden into the balls again.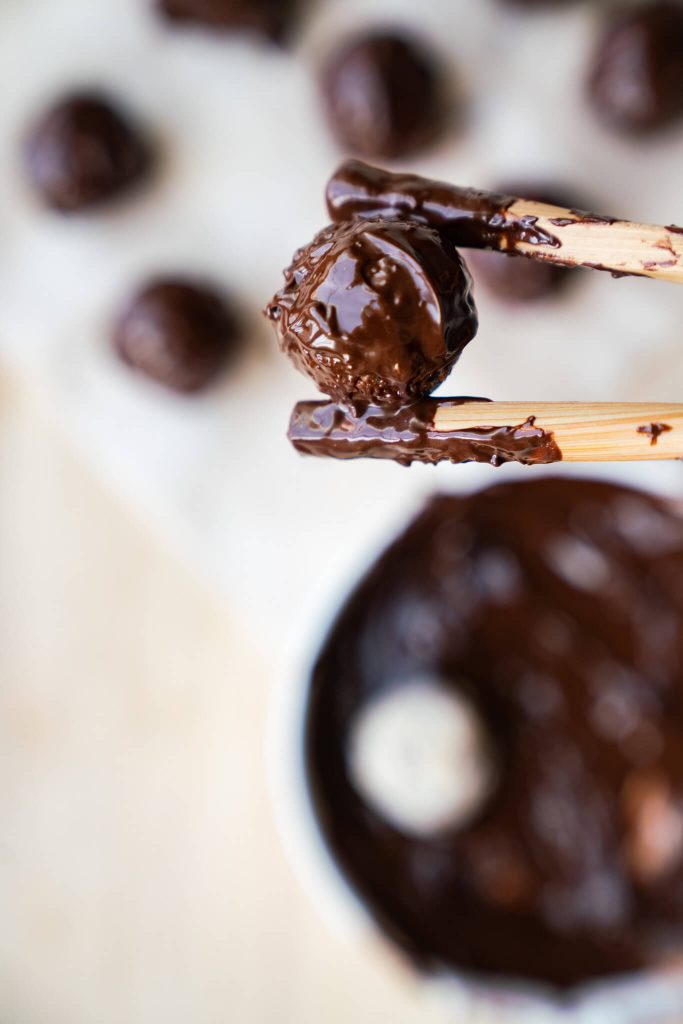 STEP 4: After melting your chocolate in the microwave (you only need 20 to 25 seconds), dip your coconut balls into the chocolate. I used chopsticks to roll the balls and to lift it out of the melted chocolate. Once this step is complete, refrigerate the truffles until the chocolate is set. As mentioned before, if you're not into chocolate, you can omit this step. Also, try to find a good (dairy-free) chocolate with at least 60% cacao.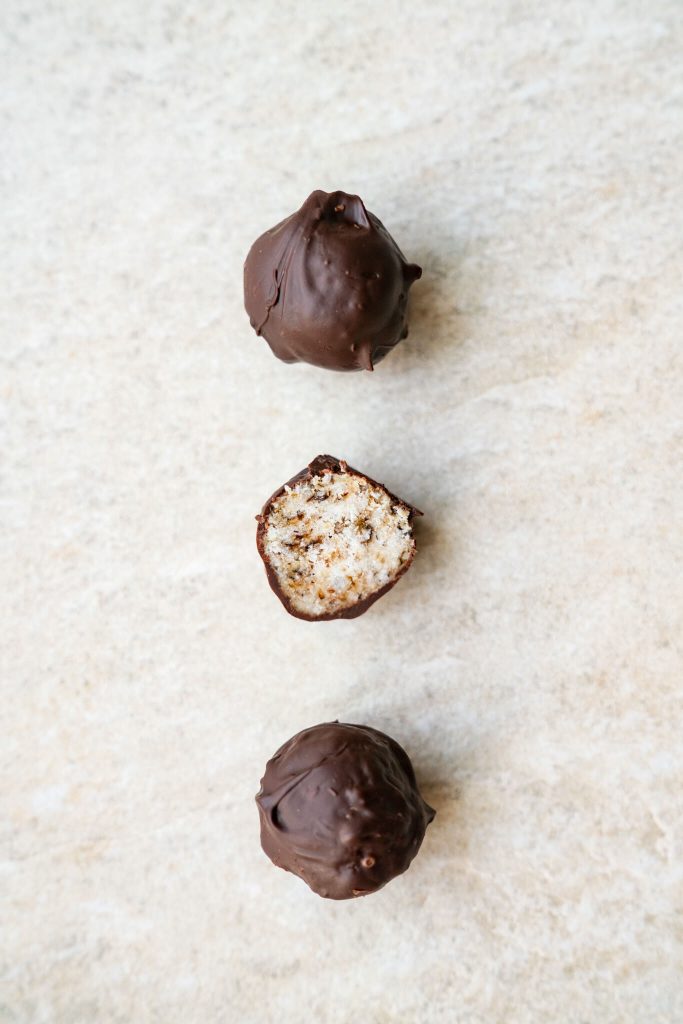 And that's it, friends! Easy, no-bake goodness that is not only delicious but also a very healthy treat option. I hope you enjoy these dark chocolate coconut truffles as much as we do.
(Visited 200 times, 1 visits today)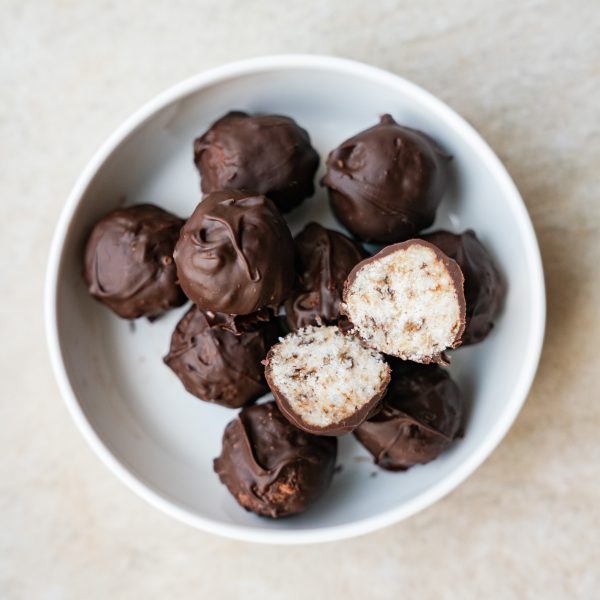 | | |
| --- | --- |
| | |
Place all the ingredients, except the chocolate, in a blender. Blend until well combined. Place the mixture into a bowl and bring it together with a spatula.

Take between 10 and 10.5 grams of the mixture and roll it between your palms to form a ball. Place the ball on grease-proof paper and repeat the process until all the mixture has been used.

Cover the balls and refrigerate it for at least 1 hour.

Place the dark chocolate in small microwaveable bowl and microwave it for about 25 seconds. Stir through making sure all the chocolate has melted. Optional: add half a teaspoon of coconut oil to the chocolate if you would like a runnier consistency. Remove the coconut balls from the refrigerator and dip each ball in the melted chocolate. I used chopsticks to roll the balls in order to prevent chocolate fingers. Once all the balls are covered, refrigerate it for an hour or until the chocolate is set. Et voila!