How are those new year's resolutions coming along? It seems I'm already slacking on one of mine. BUT, right now, I'm feeling pretty chuffed with myself because I got so much done this week and I made the most delicious low-budget meal which I cannot wait for you to dig into.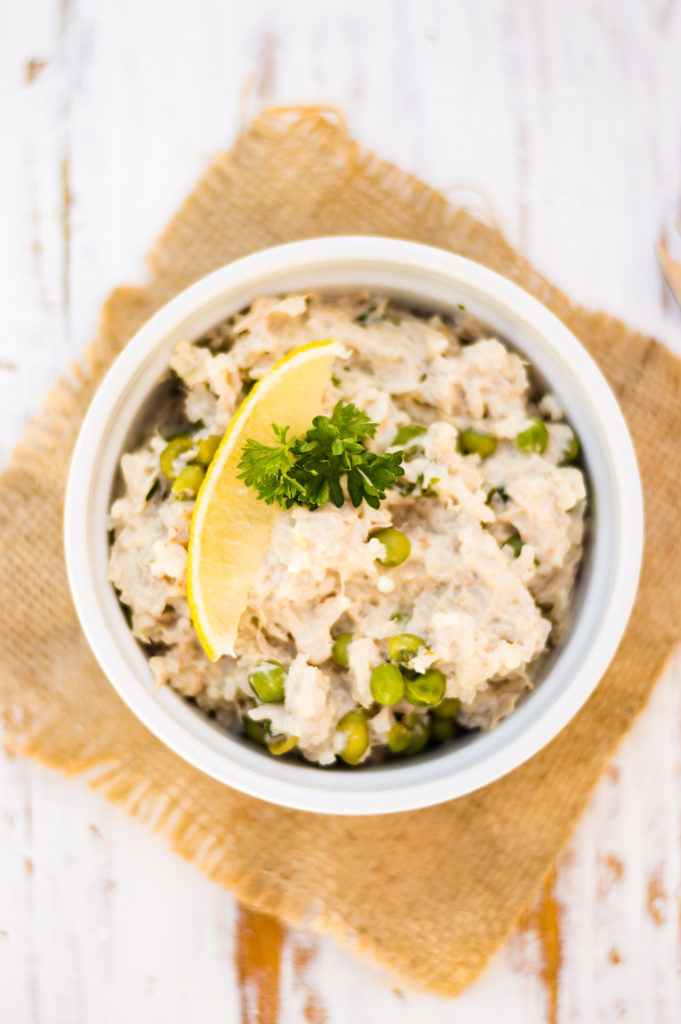 But first, more important things. Those of you who follow me on Instagram might have seen this picture of me on there. I'm not going to say much about it since you can read all about it over there, but I really just want to reiterate the following as it captures the drive behind this blog:
I make and eat real food. This means, I choose my ingredients and products wisely: if it's store bought, I make sure to read the ingredient list and check that each product does not contain more than 5 ingredients. Beyond that I think we're dealing with a lot of junk like added sugars, preservatives, additives etc.
I support local markets (Cape Town is blessed with some amazing markets).
I make my own organic compost with the waste from all my eating and cooking.
Those are a few of the things I mentioned on this post but I wanted to stress it again to show you that it's not difficult to live with a heart for this planet. With the current water crisis we find ourselves in, I am so much more aware of living a life that is pleasing to the gift God has given us – life on planet earth.
Now, we have just recently left January behind, a month that feels like a year to many people after all their holiday expenditure. And if, like me, you've just recently started your own business, budgeting is super important. I am learning so many lessons in this new season of my life. For one, it ain't always easy but the rewards are so amazing. For those who are still finding their feet into 2018, you're gonna love what I've cooked up for you. This meal can be done in under 20 minutes AND it won't break the bank. In addition, it's really good for your body and your tastebuds.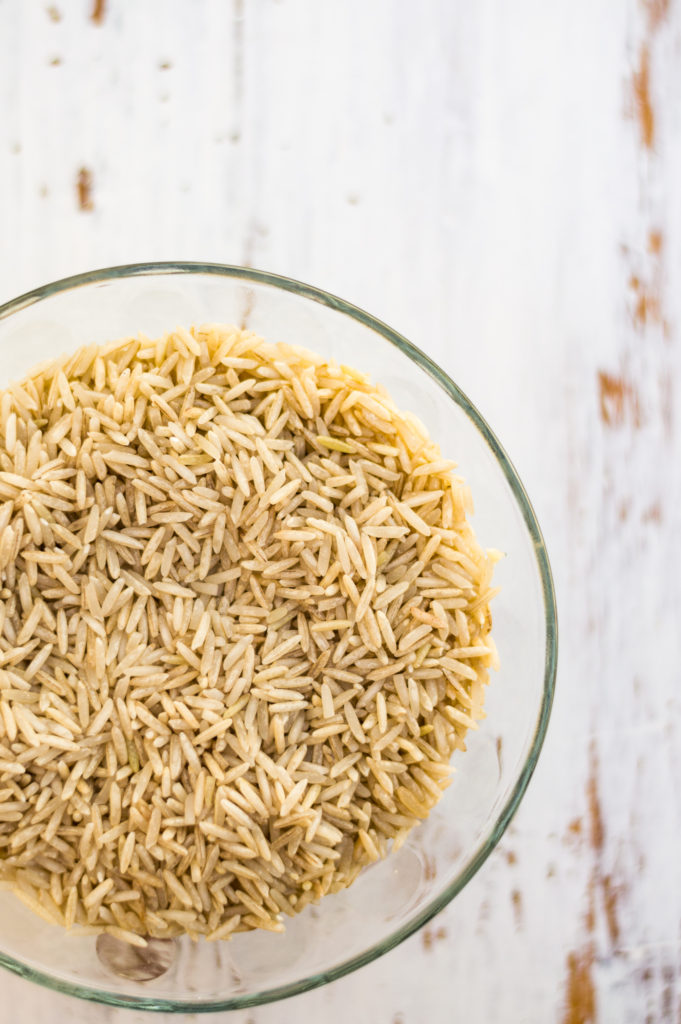 One of the main ingredients in today's meal is rice. Now just stop for a minute and answer this: how do you feel about rice?
As a child I hated rice because the only option (thanks to mom, bless her heart) was white rice. So I didn't know about all the other amazing, healthier options. Consequently, as a married woman, rice never entered my home… until recently.
My husband brought massive crayfish tails fresh from the ocean a few days ago and we hosted our family and made a huge crayfish pot on the fire. Rice was one of the ingredients of that creamy pot because I wanted a hassle-free one-pot wonder. And I quite liked it because I felt good about the rice I bought after doing some research. I don't see myself making many rice dishes (who knows though) but when I planned this easy meal I knew the leftover rice had to be used for it. And here we are: a delicious creamy rice dish filled with protein and one that fits into a balanced diet.
Another ingredient which I've never bought before is peas. FROZEN PEAS. I seriously disliked peas as a child. Gosh, I seemed like a fussy child now that I think about it. I couldn't handle the mushy texture of the peas. I suppose that was just how it was prepared for us back then. But in preparation for this meal, I envisioned the popping green colour of the peas with the neutral  tones of the tuna and the rice so I gave it a fresh chance. There was and is no need to thaw the peas and adding it to the hot pan with the other ingredients allows it to keep it's beautiful green colour and pop in your mouth with that first wholesome bite. I am definitely including more peas in future recipes. By the way: you should know that I avoid canned foods wherever I can so try to buy a good quality bag of frozen peas for this recipe instead of canned peas. The nutrients are so much more in the frozen version.
If your rice is pre-cooked, this recipe is a one-pan-wonder. Another water-saving-win!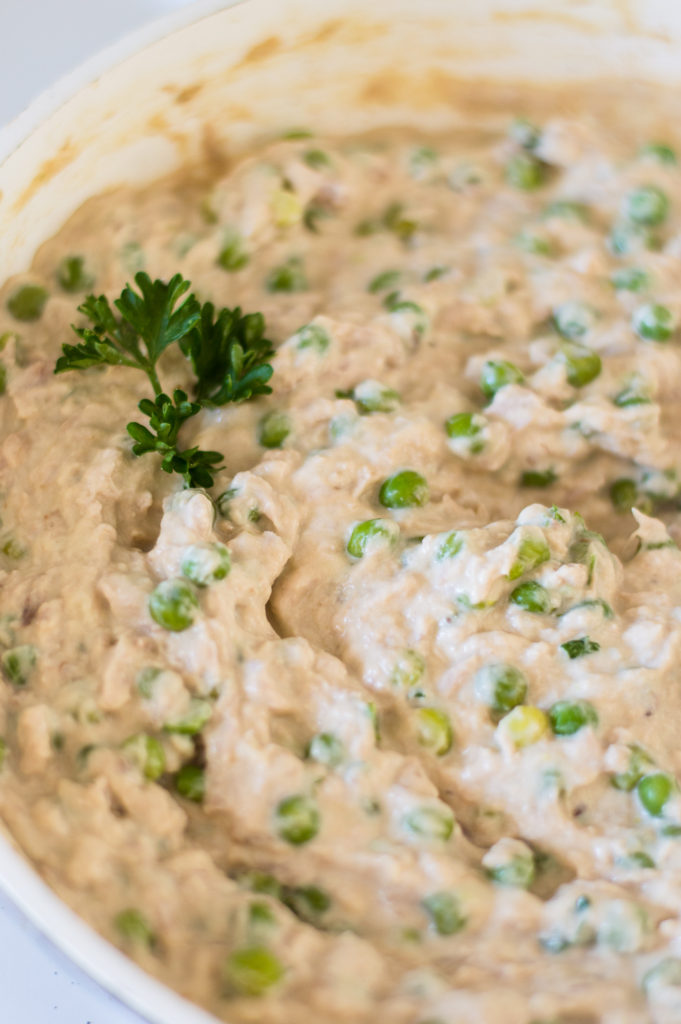 DISCLAIMER: I don't get any commission from the link used in this post. I just wanted to share it with you as it's much cheaper at this store than the one I normally buy from. And I care about you and your lifestyle. Happy Thursday!

(Visited 1,388 times, 1 visits today)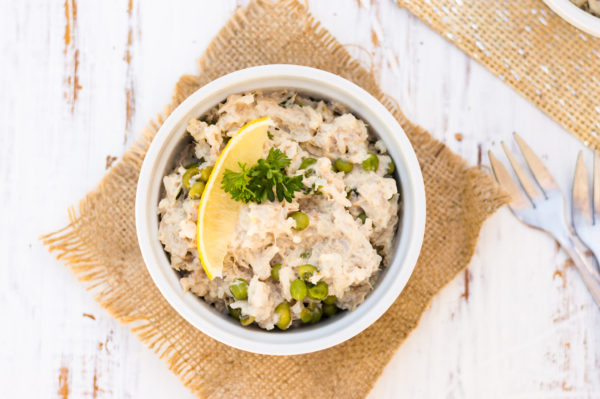 | | |
| --- | --- |
| | |
Cook the rice according to the packet's instructions. My brand cooked for 20 minutes. I also added 1 teaspoon of salt to the water.

While the rice is cooking, add the olive oil to a large pan on medium heat. Add the garlic and allow the flavour to come through.

Add the peas and the tuna and allow to fry for a minute. We don't want mushy peas.

Add the rest of the ingredients (sour cream, lemon juice and parsley) and stir through until well combined and cooked through. About 3 minutes. Add salt to taste.

Once the rice is cooked, drain well. Add the rice to the tuna mixture and stir through. Et voila!