Yesterday my UCOOK! box was delivered to my workplace and even though it's been a tough day, I couldn't wait to dig in and choose which recipe to cook. The recipe cards that come with your box of ingredients state how long your ingredients for each recipe will stay fresh. My Mustard pork fillet recipe card stated "cook within 3 days" so we postponed Meatless Monday and had a juicy pork fillet on wilted spinach and grilled aubergines instead. This was topped with a delicious honey, mint, and crème fraiche dressing which took less than 1 minute to put together.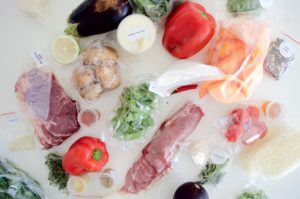 This week I will be sharing the recipes from my UCOOK box with you to show you just how easy and convenient this service is. All the ingredients are packed and sealed beautifully so there's hardly any thinking necessary. And how beautiful are these easy-to-read recipe cards?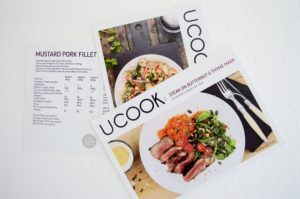 The estimated preparation and cooking time for this recipe is 40 minutes but I think I got away with 35 minutes. I don't know about you but I can be very indecisive at times… many times. Even though I plan the week's menu for us at home, I still end up questioning the ingredients and menu item for each night on that very afternoon. However, due to time constraints this week, having a menu prepared by top chefs with all the ingredients in the right quantities, will save me a lot of time this week. That alone excites me! So if you're in the same boat as I am, Get cooking! and enter that <– competition. I want you to have a stress free Christmas season :)Simply sign up for 1 week's menu via the link, have the recipe cards and ingredients delivered to your door and share your favourite recipe with us on social media by tagging us. That's it!
Preheat your oven to 220 degrees.

Place your chopped aubergine, sliced chilli and chopped rosemary on a baking tray and rub with a generous glug of olive oil. Place in the oven for 20-30 minutes, until cooked through.

Rub your pork with wholegrain mustard, a drizzle of olive oil, and salt and pepper. Sear off the pork fillet in a hot non-stick pan until golden (about 2 minutes per side).

Remove it from the pan, and place it in the oven (alongside your aubergine) to cook for about 8-10 minutes. Slice open to check it is cooked to your preference. Remove and allow it to rest for 2 minutes. Don't wash the pan from the pork just yet!

In the meantime, mix the honey, mint and crème fraiche together to form the dressing. Season with salt and pepper.

With about 6 minutes to go, place the pan from the pork back over low-medium heat. Add a drizzle of olive oil and the spinach. Cook until the spinach has wilted, shifting it around the pan occasionally, about 3-5 minutes. Season well. Plate up the wilted spinach.

Slice up your pork fillet and serve it alongside your grilled aubergines on top of the spinach. Top with your yummy mint dressing and enjoy.
The post Mustard pork fillet with grilled aubergine, wilted spinach & minty crème. appeared first on And then there was food.
(Visited 278 times, 1 visits today)