Why is the word risotto in quotation marks? I can just hear some of you already. The answer: because I am not a rice girl, but I felt a bit Italian last night 🙂 Since a very young age, I just didn't have a big liking for rice. Seriously, I don't understand it's purpose. Sorry rice lovers! But then there's cauli-rice —> Cauliflower pulsed to the size of rice grains. It looks like rice and has so much more nutritional value. Now there's a purpose. Hmmmm.
I had dinner at 21:30 last night! Guys, life is busy but so exciting at the moment. I cannot wait to share all the exciting news with you! Here's one for now: I took a leap of faith and registered my photography business. Yay! Just like my food, I am in love with NATURAL light and raw beauty. Watch this space guys.
So last night, being a Thursday, was (or rather should have been) a hubby-cooks-night as you know. But, that man is working too much at the moment and so I took on the dinner task; the one I planned for him to make due to the ease thereof. SUPER EASY! and SUPER YUMMY!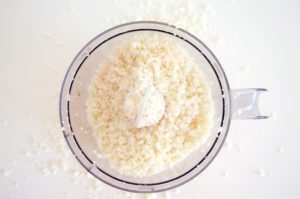 As you know, risotto is an Italian rice dish which takes patience to prepare due to the hardness of the risotto rice grain. But if you are on a mission to live your best life like I am at the moment, time can become very limited. So, to my friends who don't have a lot of time on their hands right now, this dish is for YOU! You can thank me in the comments below 🙂
All you need for this wonderful dish is cauli-rice, mushrooms, an onion, almond milk (cow's milk will work as well), garlic, tapioca flour, salt and pepper and LOTS of mature cheddar cheese. I used Wyke. Everything goes into one pan and within 20 minutes you are sorted and in love with my version of a mushroom risotto.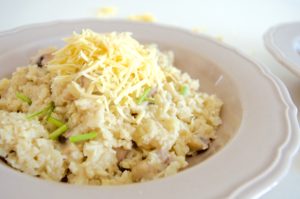 P.S. You have a VERY good chance of winning a month's worth of UCOOK if you enter our competition! I ordered the menu for next week which will be delivered to my work on Monday on my way home with all the ingredients I need. How convenient? I cannot wait to share those recipes with you. Join me 🙂 Get cooking

Add the butter to a large skillet or pan on medium heat and allow to melt.

Add the onion and fry until golden.

Add the mushrooms and the garlic and fry until golden and fragant (about 3 minutes). Toss around with a wooden spoon to brown all sides.

Add the cauli-rice and fry for 3 minutes, stirring it through with a wooden spoon.

Mix the almond milk and the tapioca flour well and add it to the skillet with the rest of the ingredients. Allow to cook for 5 minutes.

Add the cheese and stir through. Seriously, the more cheese, the better 🙂

Season with salt and pepper and enjoy.
The post Mushroom "Risotto" appeared first on And then there was food.
(Visited 307 times, 1 visits today)