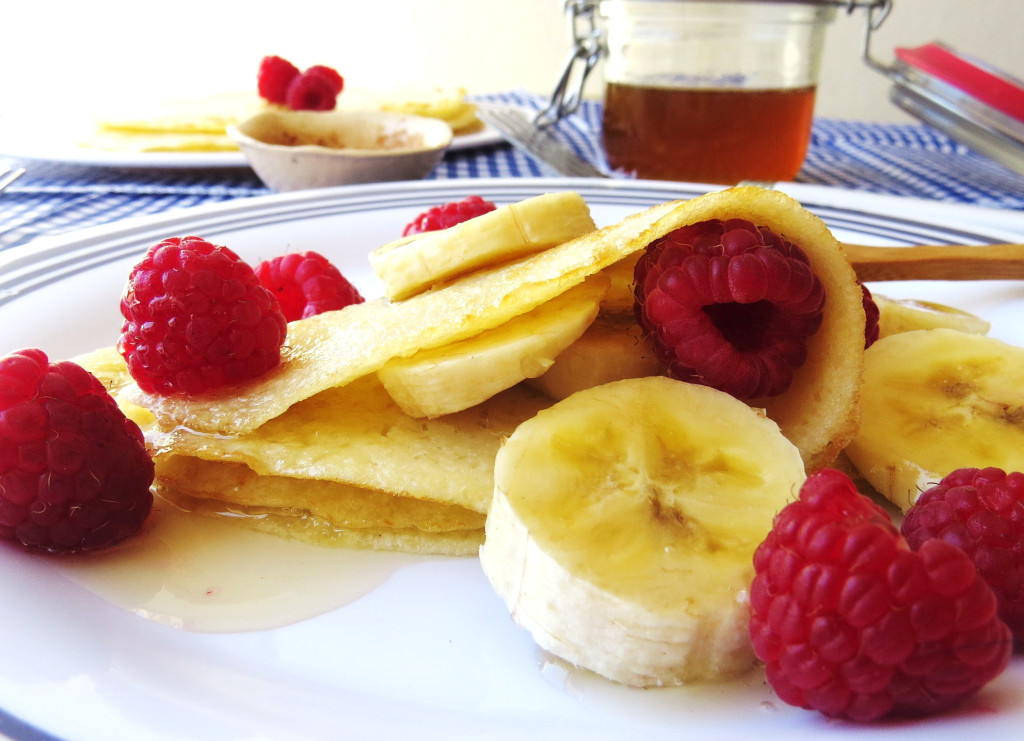 I am SO in love with these crepes. They are light, thin and totally guilt-free. AND I can make a batch and freeze them. With a variety of fillings they make for an easy breakfast, easy lunch or even an easy dinner. This morning I had them loaded with fresh banana, juicy berries and drizzled with honey! Decadent!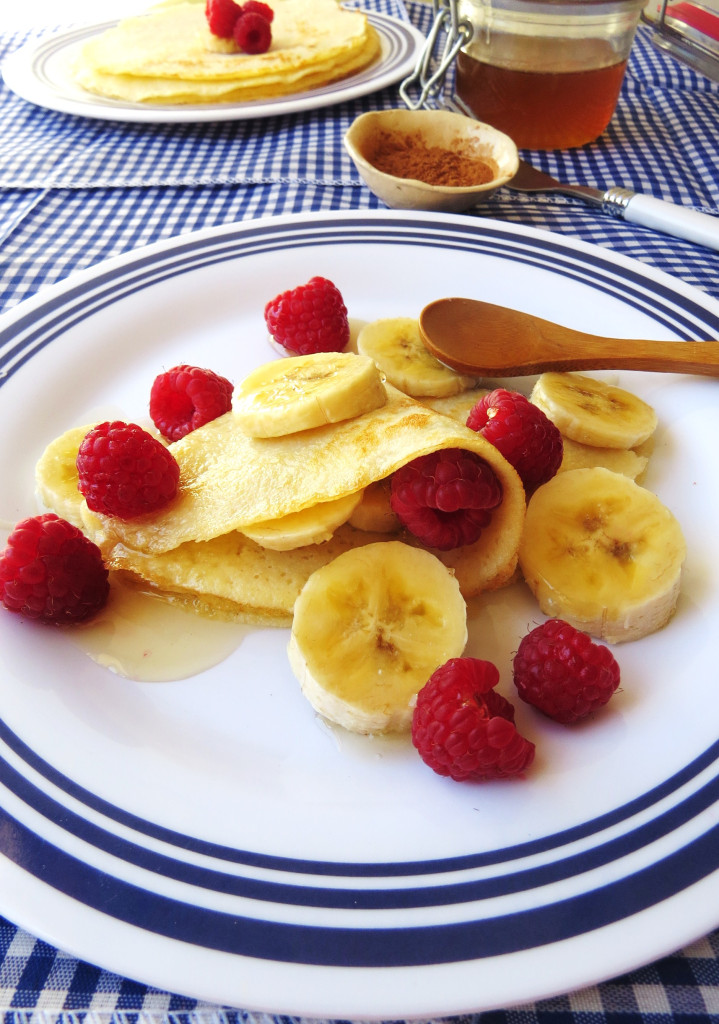 I have been planning a while now to experiment in making a budget-friendly-low-in-carbohydrates crepe and I am pleased to say that these crepes are really inexpensive to make and they taste great too. Even though the recipe calls for coconut flour, the taste is not overpowering. It is worth giving them a try.
The recipe is two-part like most pancake or crepe recipes: dry ingredients and wet ingredients. The two are mixed apart and then when each is incorporated well, the dry ingredients are gradually added to the wet ingredients while you continue to whisk the batter. The batter is thin and needs a good rest after you have whisked it so the coconut flour can absorb some of the goodness. Once the batter has rested for about an hour, whisk it once more time before adding 50ml-60ml scoops to a hot pan. I have found that even though the pan has to be hot to start off with, the slower I allow the crepe to fry, the prettier they come out. So make sure that the heat is medium.
LOW-CARB CREPES
Author:
Prep time:
Cook time:
Total time:
Ingredients
1/2 cup coconut flour
2.5 tsp tapioca flour
1/2 tsp sea salt
160ml full cream milk
80ml cold water
3 free-range eggs
2 tbsp melted butter + extra for greasing.
Instructions
Combine the dry ingredients together in a bowl.
Whisk together all the wet ingredients in a separate large bowl (except the extra melted butter).
Add the dry ingredients to the wet ingredients slowly by whisking as you're adding.
Cover the batter and allow to rest for +- 1 hour.
Turn the stove plate to medium heat, heat a large pan and brush with some melted butter.
Whisk the batter* one last time before frying.
Pour about 60ml of the thin batter into the hot pan and swirl the pan to make a thin round layer.
Allow the crepe to fry until golden brown edges form (about 6 minutes) and flip to brown the other side for about 11/2 minutes. The slower the crepe is allowed to fry, the better.
Continue this with the rest of the batter, brushing the pan with melted butter every time a scoop of batter is added.
Serve warm or cold with sweet or savoury fillings.
Notes
*Once the batter has rested and seems too thick, add 2 or 3 tablespoons of milk to thin it again and whisk through.
(Visited 82 times, 1 visits today)