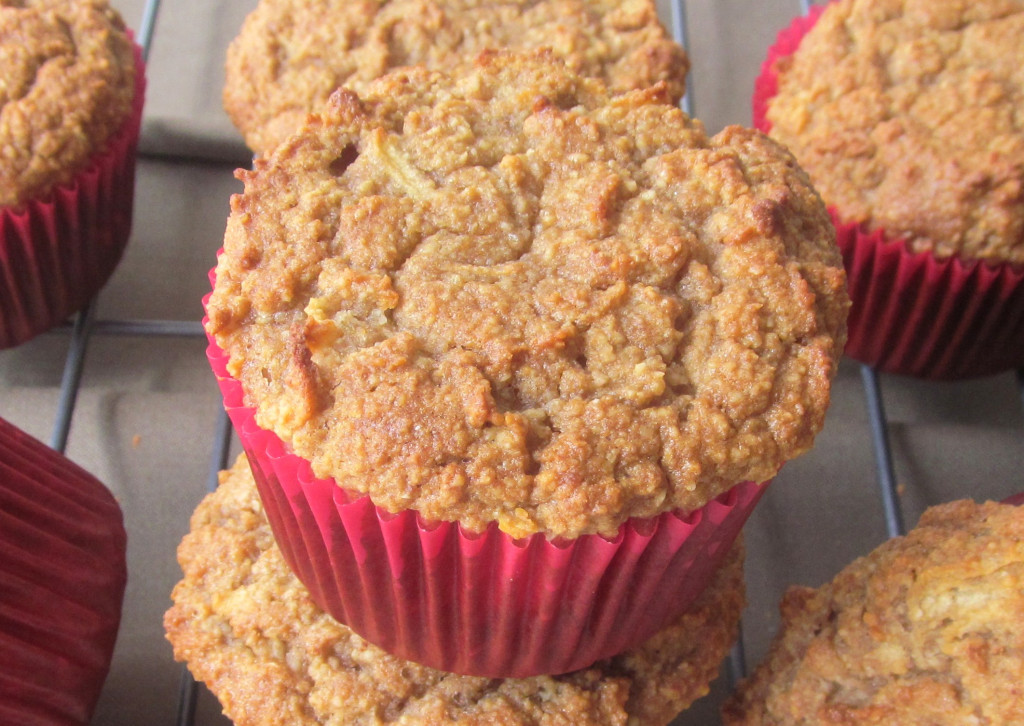 After finding great joy in my pot of homemade applesauce, I dreamt about making moist muffins with it. That dream has been put into action and all I can say is, I absolutely love dreaming about food!
These muffins have an amazing texture, are gluten-free, low in carbohydrates AND totally delicious. The kind of muffin you can have for breakfast, lunch and supper without feeling guilty.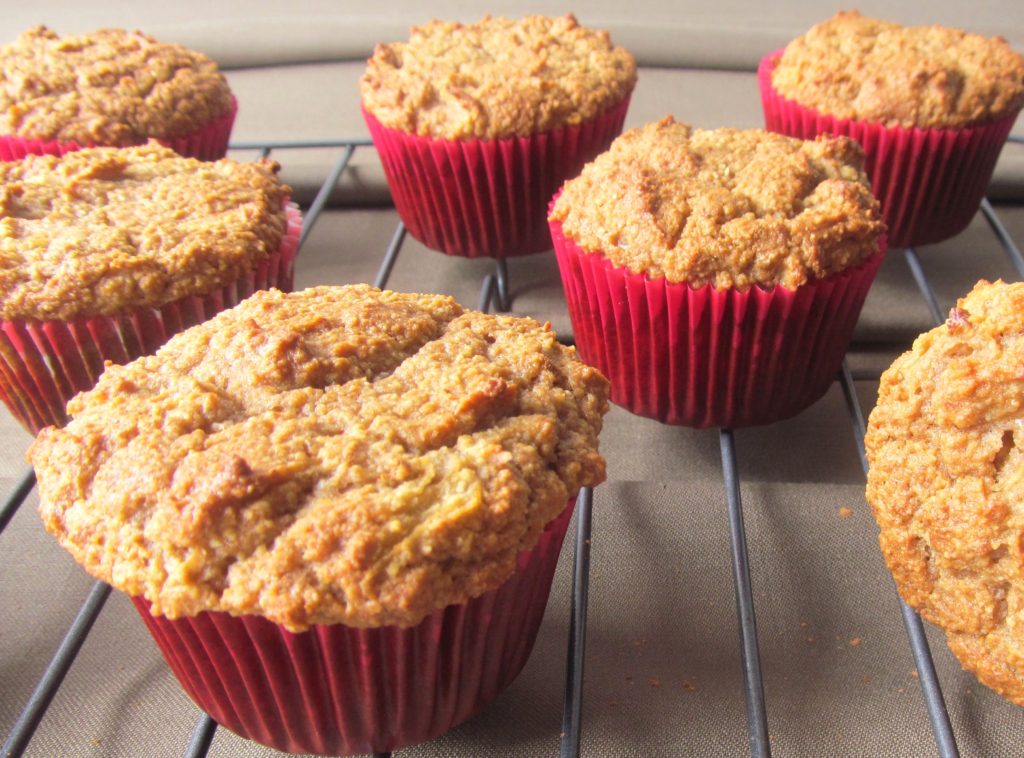 Even though this recipe takes two cups of almond flour, there isn't an overpowering nut taste. If wholesome was a flavour, I would ascribe it to this muffin.
With the almond flour, all the dry ingredients (cinnamon and bicarbonate of soda) gets added to a bowl and mixed by hand. In a mixing bowl, all the wet ingredients (except the grated apple) gets added and combined with an electric beater. Then all that needs to be done is for the dry ingredients to be combined with the wet ingredients, beaten for a few seconds and only at the end the apples are added in with a wooden spoon. Then this mixture gets spooned into a prepared muffin tin and baked for 25 minutes or until golden brown.
The most important part that I want to bring to your attention about this muffin is that you have to let it rest once you've removed it from the muffin pans (this can be very hard!). BUT, it will ensure the most beautiful set muffin once you remove the wrapper.
And there you go, yummy, healthy and moist muffins that can be enjoyed as is; I tried one with some salted butter though and it just hit the spot!
LOW-CARB APPLE AND CINNAMON MUFFINS
Author:
Cook time:
Total time:
Ingredients
3 eggs
100g salted butter, melted
3/4 cup applesauce
1 tsp vanilla essence
2 cups almond flour
1 tsp cinnamon spice
3/4 tsp bicarbonate of soda
1 cup peeled and grated apple (for me this was 2 Cripps Pink apples)
Instructions
Preheat the oven to 180C.
Use an electric beater to beat the eggs until bubbly.
Prepare a 12-hole muffin tray by placing a muffin or cupcake wrapper in each hole.
While the beater is still running at medium speed, add the melted butter, the applesauce and the vanilla essence.
In a separate bowl, combine all the dry ingredients and add to the egg mixture. Beat again for a few seconds until well incorporated.
With a wooden spoon, mix in the grated apple.
Divide the mixture evenly into all twelve holes.
Place the tray in the oven and allow it to bake for 25 minutes or until nice and brown on top.
Remove the muffins from the oven and from the muffin tray and allow it to cool in the wrappers for at least 15 minutes before enjoying.
Notes
If you like it chunky, you could also chop up the apples instead of grating it.
(Visited 208 times, 1 visits today)