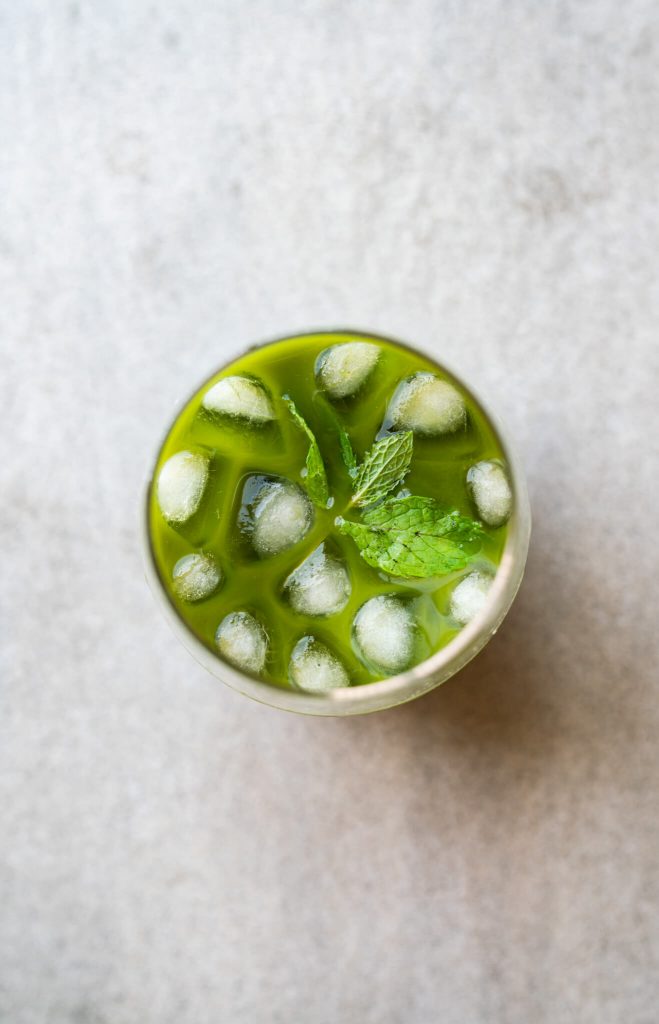 Five full days of natural liquids. Five full days without solid food. Five full days of praying and fasting. Five FULL days – emphasis on full as these days have made me appreciate life and everything in it so much more. Yes, whilst in lock down. And I want to share a bit of the experience with you, complete with recipes and pictures.
But first. Let's rewind a bit.
(This would probably be the opportune time to mention that this is a fairly long post. But a goodie, I promise. So, please continue reading).
Here in Kuwait the government has taken the Covid-19 situation very serious since the beginning. We started social distancing at the end of February already! Thankfully, my friend and I were still traveling at the time, so the two of us only came into it since 8 March. Schools were suppose to reopen on 1 March 2020 for the new term but here we are, 12 weeks later, (still) teaching online. We started off, as I mentioned, with social distancing, then we went into an 11-hour curfew, then a 14-hour curfew and now we find ourselves in a 24 hour curfew. This is said to carry on until 30 May 2020. My prayer is that the end of May will also be the end of our lock down.
A lot was suppose to happen during this time. A lot including a flight to South Africa to be with my husband (I missed his birthday!) and my family. I was looking forward to pickled fish and hot cross buns at mom's home on Good Friday. I also planned to stock up on pantry things I find ridiculously expensive here in the Middle East. And these are just a few of the many plans I had for the past few weeks which didn't happen due to the current world situation, and I know for many of you this might look the same or even worse. And if worse, I am truly sorry. I will say this though, if you can read this, I am so grateful that you can do just that. You and I are blessed to have life, whether in lock down or not. And I do believe the best is yet to come.
With that said, I wanted to do a Daniel-fast the week I opted for the juice fast. My husband and I have been trusting God for something major in our lives for some time now, and since I believe in prayer and fasting, I wanted to do this during a big week in his life. I am not going to get into that now but you might hear about this soon. What I am trying to get to is, with the fast as an idea on my mind, my sister happened to post about her plan to start a juice fast during this same period. She actually went on a cleansing and detoxing retreat last year where she spent a few days away from the city's hustle and bustle in a beautiful farm house surrounded by mountains in Tulbagh, lead by Annie Wyatt. Their days included daily hikes, yoga, pilates and a deep cleansing juice fast. Lynn has brought what she learnt in Tulbagh home with her and included us in her second fast at home. And I am so glad I decided to join this particular way of fasting. I fasted many times before but there was something different about my experience this time around.
Cleansing or fasting is our body's natural way of removing or purging itself of poisons. Fasting purifies the blood, regenerating and rebalancing all vital functions in the body. Digestive functions use large amounts of energy and enzyme power in our daily life and fasting diverts this energy to detoxification and healing. During fasting, each and every one of the internal organs detoxifies itself, while digestive enzymes travel throughout the system digesting damaged cells, tumours, deeply impacted mucus, crystallised spurs on the joints and inflammation. Fasting also stimulates growth hormone secretion from the pituitary gland which is the most powerful healing and regeneration hormone for the specific purpose of repairing damage to the organs and tissues as part of the healing process. – Annie Wyatt.
Can I stop right here? Are you ready to fast? Reading those words were the last bit of fuel I needed to get started with this juice fast, inspired by Annie. It sure got me going, as well as a few others. Lynn started a WhatsApp group for those of us who pledged to fast with her for the 5 days and it was so great to see and hear about each one's daily experience on this journey.
Before I get into the good stuff I also want to make mention of the severe headaches I have been struggling with lately. This was another deciding factor in my decision to fast. My headaches were so bad, especially at night, that thoughts about whether I'd see the break of morning troubled me. And if you know me well, you would know that I am not a pill fan, never mind painkillers. I always try and find the source of something happening in and to my body even if that means I have to endure the pain for a little longer to avoid it happening again. Rather that than to take a painkiller that will only relieve the pain for a short term and on top of that not even be natural. And one thing I was sure was contributing to my headaches was the increased screen-time we were and are now faced with as we educate our learners online. I know this new normal for teachers cannot be avoided right now but more about this later.
Now, since this is predominantly a food blog, let me tell you more about what we consumed during the 5 days of the fast. Before breaking it down for you, here's a brief: we started our day with a glass of water and 1 teaspoon of psyllium husk. At least thirty minutes later we followed that with a homemade immune booster tea. There was (and is) no limit to the amount of tea we could enjoy throughout the day. In addition, and probably the most important part of the day, were the pure fruit and vegetable juices we had throughout the day; the daily recommendation was 3 to 4 glasses. And since I don't have a juicer, continue reading to see how I managed to juice for 5 days. For lunch we made the most delicious warm and spicy almond milk drink. Supper time filled the air with delicious aromas from a pot of warm and hearty vegetable broth. And at the end of each day, we had another glass of psyllium husk water about 30 minutes before going to bed. This was the plan for each day in addition to regular exercise and, for me, an increased awareness of God's presence as I slowed down (with 22 classes to teach) and tried to be present in every moment.
I was so full of energy and excitement, especially during the first 3 days of this fast. I wish I could show you. My friend, Kim, who did this with me and saw me on the daily can tell you about this as she was not feeling my energy at the beginning. She experienced headaches and hunger pains at the start of the fast. But from day 3 there was definitely a change in her. No more headaches and a renewed energy. She glowed as she spoke about the value of this fast and how great she felt within. On night 4 I, however, started feeling hungry. And the encouragement from my sister, "go sleep", helped? No, it actually did. I was stretching my day out too long and it was better for me to get to bed earlier than to focus on my (late night) hunger pains.
The reason I mention all of this is for the mere fact that we are all different. We consume different foods. We exercise differently. Some of us might not even exercise at all. Some use medication. Some people believe in having a strong coffee every morning to kick start the day. And some people smoke and consume alcohol. And for these reasons, the way each person's body reacts to fasting will be different. But, yet, we are all able to fast and I do believe it is something we should all consider doing at least once a year. And even if you are still not sure whether you will be able to endure a fast like this, think about how much you have endured during Covid-19 already. Think about what planet earth is going through. Even though many of us might not like being stuck indoors all day, planet earth is healing as most of our cars are parked. Planet earth is healing as many of us are making and baking our own food with the things we have in our pantries and our refrigerators, instead of leaving garbage on the beaches and at parks. Planet earth is healing as we realise that we actually need less than we thought we did.
I actually have so much on my heart regarding this topic, and it can overflow into so many other topics but before I get carried away and write a thesis, let me share the recipes with you. Please know that all these recipes are a guideline for a good cleanse. And it is important to use good ingredients; organic where possible.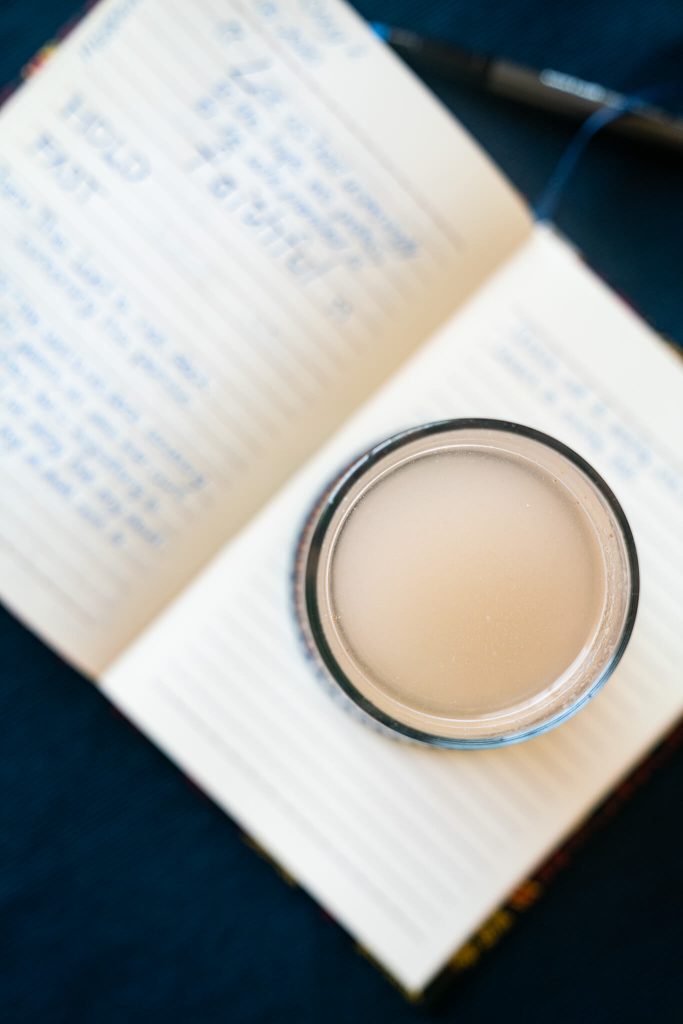 This is your first and easiest drink to make. All you need is a glass of filtered water to which you add 1 teaspoon of psyllium husk powder. Drink this twice: 1) 30 minutes before your immune booster tea and 2) 30 minutes before bed time (at night okay). Psyllium husk is a soluble fiber derived from the seeds of a herb grown mainly in India. One of the main benefits of psyllium husk is its ability to absorb water to become a thick, viscous compound that resists digestion in the small intestine. By resisting or the slowing down of digestion, psyllium husk causes one to feel full. In addition, it helps to regulate cholesterol, triglycerides and blood sugar levels. You can read more here.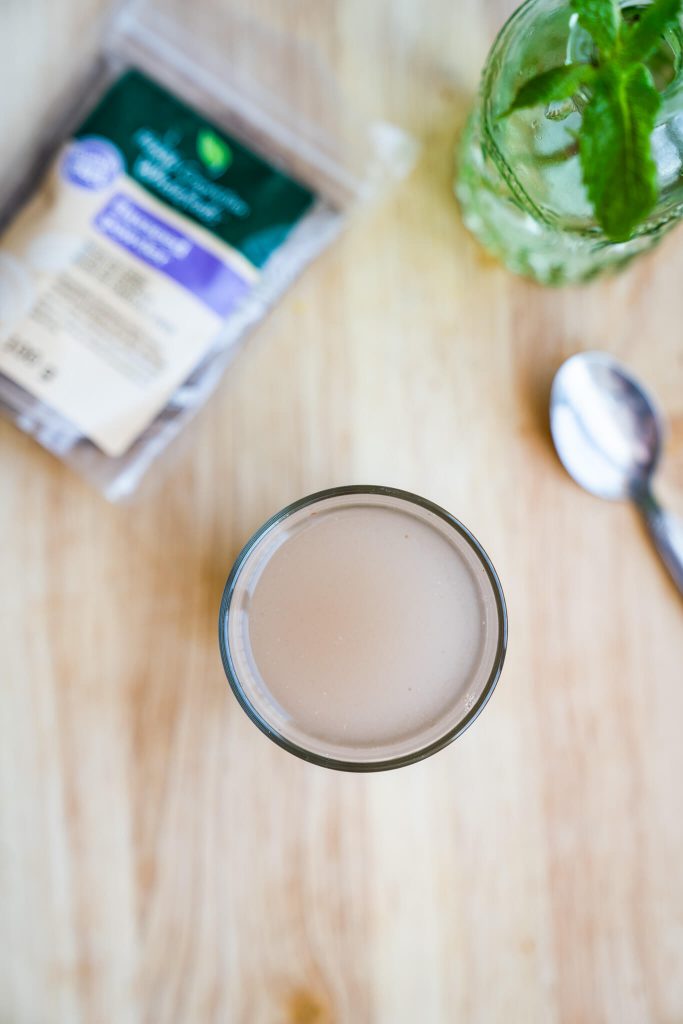 I have however replaced the requested psyllium husk powder with flaxseed powder as I couldn't find psyllium husk here in my area. It is also a source of fiber and I have it at hand as I use it often, like in my choc chip recipe. Furthermore, it also absorbs water and has mostly the same benefits as psyllium husk.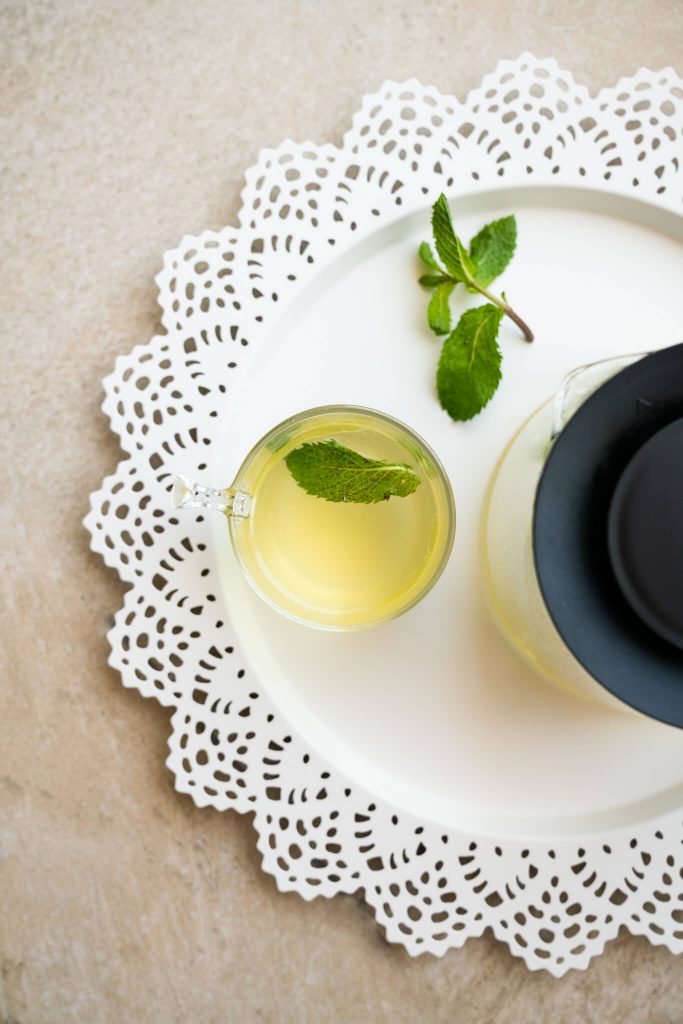 This recipe for the immune booster tea is one I still make, post fasting, at least once a week as it provides 5 cups of tea. It is such a nice way to wake my tummy up after a great sleep. And who wouldn't want a great natural immune booster in a warm cuppa? We enjoyed a cup of immune booster tea 30 minutes (sometimes longer) after the psyllium husk drink. It is also advised to drink a cup before any activity or any form of exercise.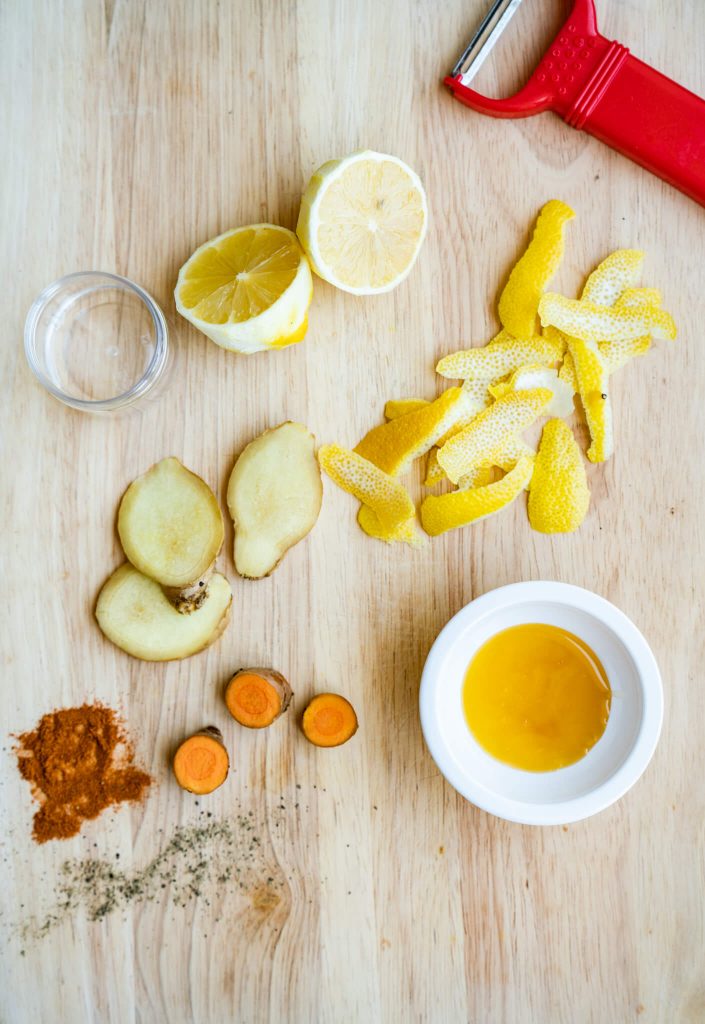 For the recipe, add 5 cups of filtered water, the peel of 1 lemon, about 5 cm of ginger and turmeric root, a pinch of cayenne pepper and black pepper to a small pot on medium heat. You want to heat this through for about 7 minutes, avoiding boiling stage not to destroy the nutrients in the ingredients (especially the turmeric). After this, remove the pot from the heat and add the juice of that lemon as well as 1 teaspoon of coconut oil (or butter) to it. Strain your tea into a cup and add (up to) a teaspoon of raw honey. Once again, we don't want the heat to destroy the nutrients in the raw honey, so allow the tea to cool slightly before adding it. You can keep the remaining tea with the ingredients in a teapot in the refrigerator and enjoy it throughout the day or before doing any form of exercise.
For me this was the fun part. For some it wasn't. Because if you don't have a juicer (great if you do!) it requires a bit of labour. As mentioned, I don't have a juicer simply because I never liked the idea of all the pulp waste. If you have or can find a very good masticating juicer that will leave the remaining pulp very dry, like this one, then go for it. In addition, don't discard the pulp but rather find ways to use it, in your compost for example. For now I am fine with the way I am juicing at home, but after doing this fast I am definitely considering getting myself a juicer after lock down lifts.
We were provided with six juice recipes and I will list each of them (as well as my approach) below. Allow me to mention that a 1/4 cup of filtered water and some ice were added to each juice recipe to help with the blending process. I will therefore not state this measurement in every recipe as it is a given. Also, as encouragement, do not be pedantic about the quantities of each ingredient necessary for the juices. Just make sure you are getting the juice of these fruit and vegetables into your system. The way you alternate your juices each day is completely up to you.
The first juice I tried (you can find a picture of this one on my Instagram Highlight, JUICE FAST 2020) is known as Beat the Sweets. The three main ingredients in the juice are: 4 carrots, 1/2 apple and ginger to taste. I love the taste of fresh ginger in my juices, but not everyone does so test the quantity for yourself. All you have to do is add these ingredients with your water and ice to your juicer and there you go – a refreshing orange (thank you carrots!) juice.
Many of us know carrots to be a good source of beta-carotene and fiber. In addition carrots are also a source of vitamin K, and potassium. I get many recipes from my optometrist that include carrots as it is linked to good eye health. Apples, on the other hand, help to fight inflammation and heart health with a handful of skin benefits, including brightening and toning. We all know the saying, an apple a day keeps the doctor away! And then mighty ol' ginger aids in digestion and supports your immune system.
The second juice I tried is known as All Clear as it is good for your skin. The ingredients are: chunks of pineapple, 1/2 cucumber and 1/2 apple. Blend this together with your water and ice.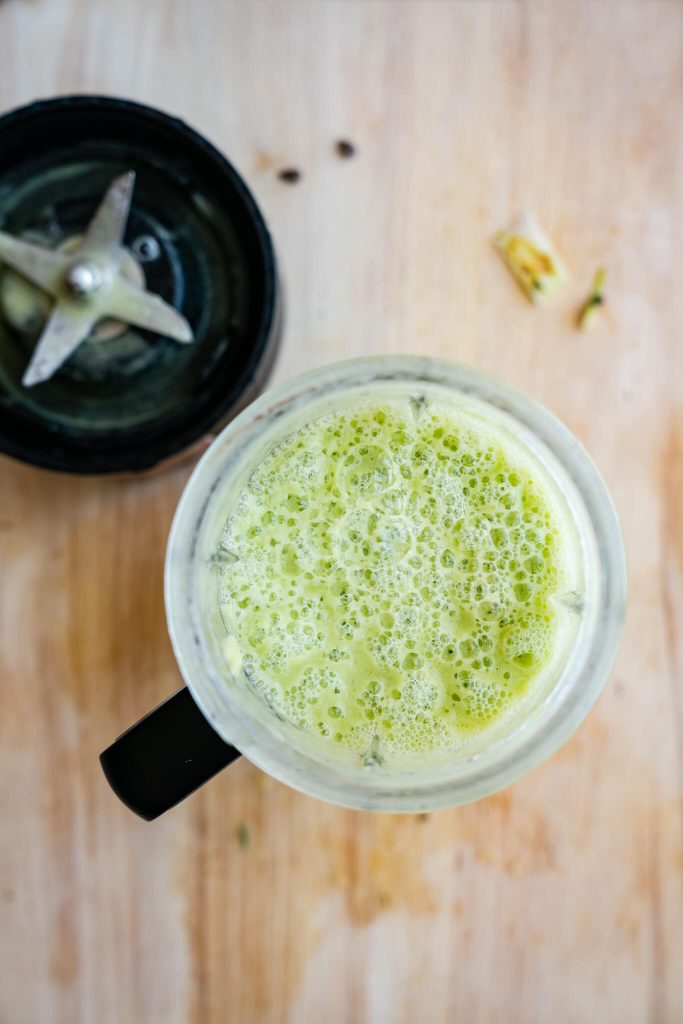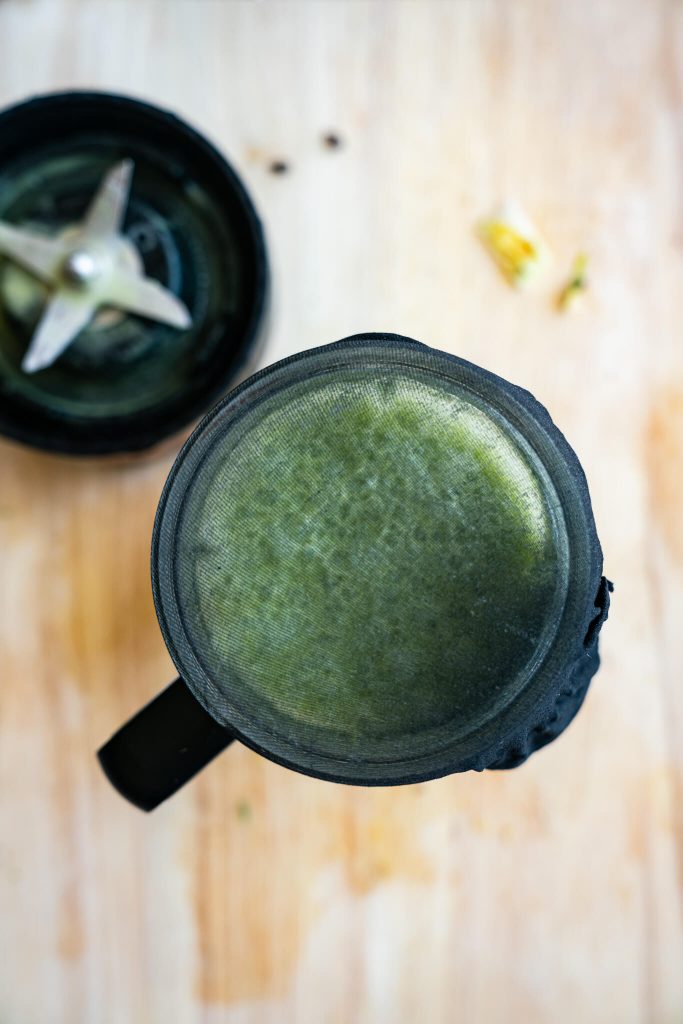 AND STRAIN! Here I have included my pantyhose method for those of us who do not have a juicer at home. All I did was add all my ingredients to my Nutribullet and blended it very well. Then I took a clean pair of pantyhose, the knee to foot part, and pulled it over the top of my Nutribullet cup. I turned the cup over, whilst keeping the pantyhose tightly pulled, over a large bowl and allowed the juice to drain into the bowl. Gently squeeze the remaining juice from the pulp in the pantyhose and take your time trying to get every last drop squeezed out. If your remaining pulp can crumble then you know you did a great job at squeezing.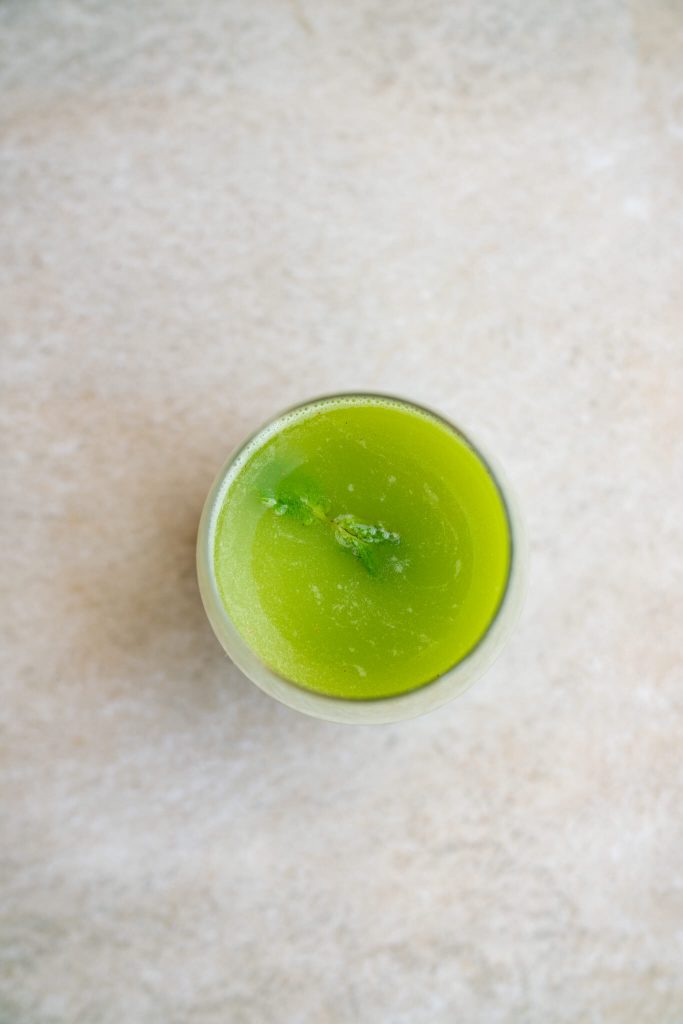 That leaves you with a delicious light green juice filled with goodness. And that goodness includes Bromelain, the enzymes in pineapple, which promote good digestion and good skin. Did you know that Bromelain is applied topically in skin-clearing masks and exfoliants? Just look at the ingredients listed in this exfoliating mask of one of South Africa's favourite natural skin brands, SKOON.
Cucumber and apple, the other 2 main ingredients in this juice, are skin-purifiers that help boost hydration and alkalinity. They all work together to calm inflammation, which is present with acne.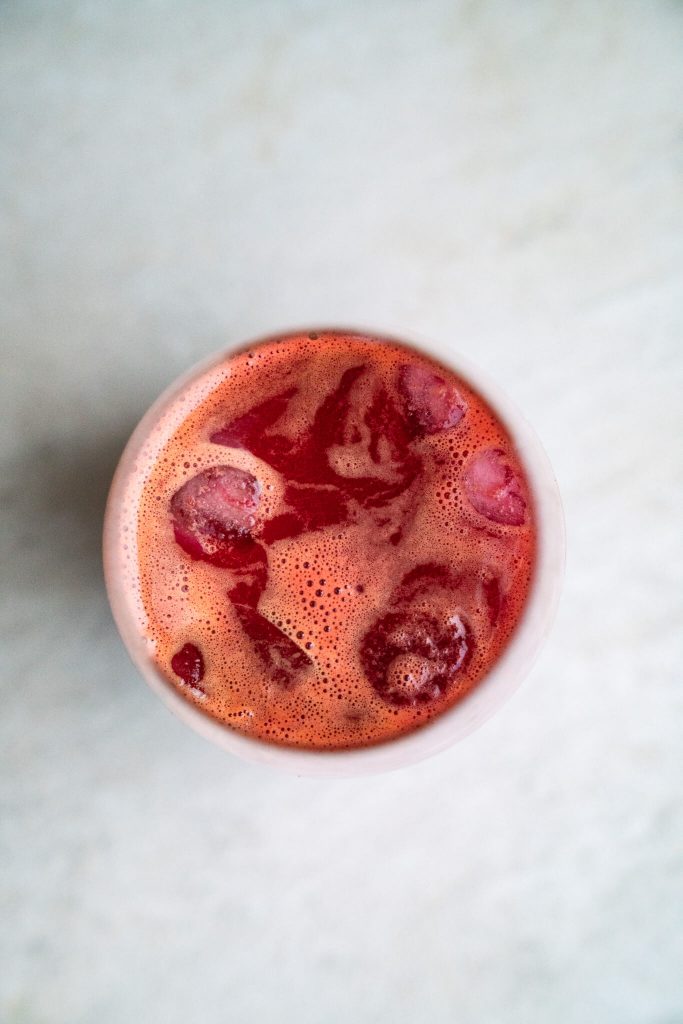 Juice number 3, The Beetroot Juice. Ingredients: 1 medium beet, 2-3 carrots, 2 oranges (peeled), thumb of ginger, thumb of turmeric.
Beets are a huge source of folate, manganese, thiamine, riboflavin, vitamin B-6, pantothenic acid, choline, betaine, magnesium, phosphorus, potassium, zinc, copper and selenium. Beetroots help lower blood pressure. Beetroot is commonly known as the liver-protective food as it helps to flush out toxins from the liver. This is due to methionine and glycine betaine that help to keep fatty acids from building up. Beetroot juice protects your skin with antioxidants by neutralising free radicals. In addition, the lycopene in the juice helps to keep the skin elastic while protecting it from the sun.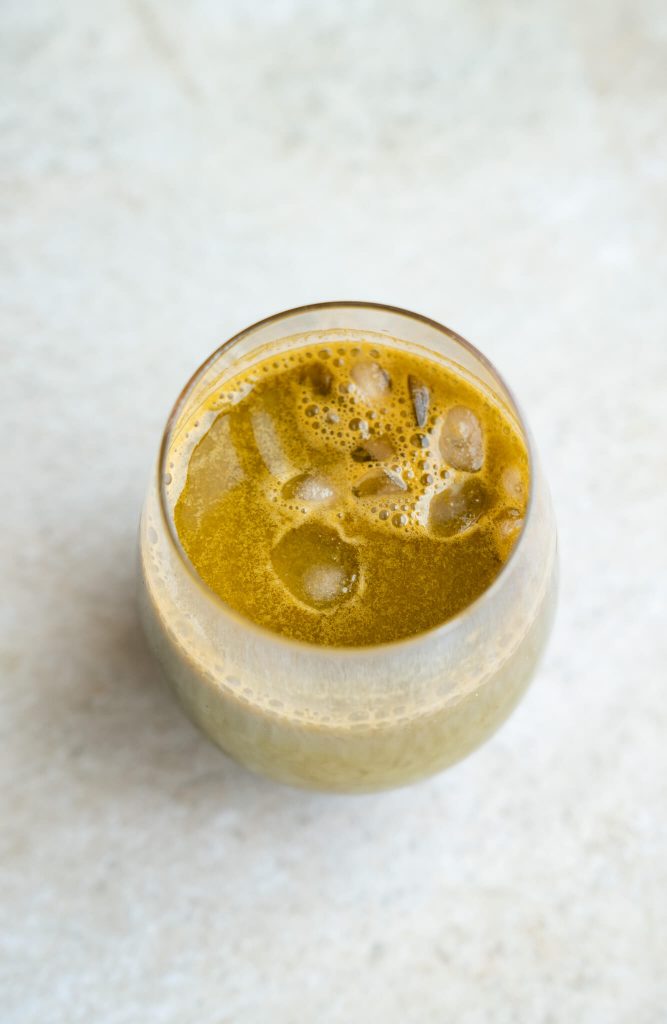 Juice number 4, Brighten Up. Ingredients: 4 carrots, a handful of spinach, a handful of parsley and 1/2 an apple.
Now we already know the benefits of carrots and apples but have you ever had parsley in your juice? According to my sister's juice fast document, parsley is great for stimulating the lymphatic symptom and reducing water retention. Eating parsley benefits your complexion. This herb is high in vitamin C, the vitamin that makes collagen, which gives skin its structure and strength.
And then spinach, which is common in smoothies and juices these days, is a source of vitamin F and has anti-cancerous properties which is great for healthy functioning skin that glows.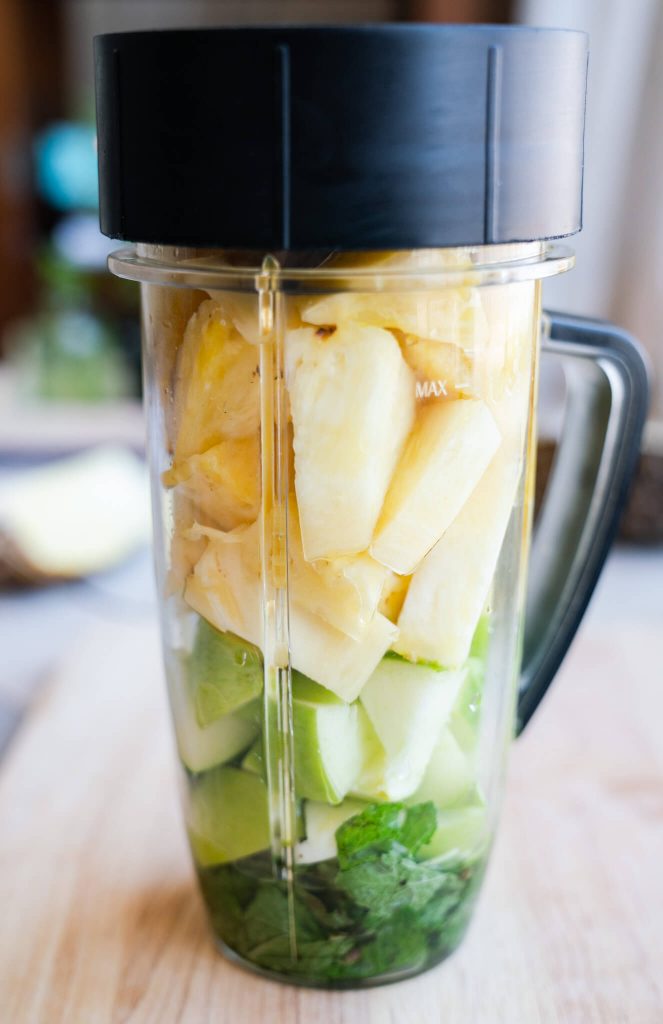 Juice number 5, Power Juice. Ingredients: 1 whole pineapple, 2 green apples, a handful of fresh mint and water and ice.
This was by far my favourite flavour combination. True to the name, the Power Juice teleported me to the Greek Islands! I absolutely love mint and gained new respect for it during this week; I am now growing my own mint at home!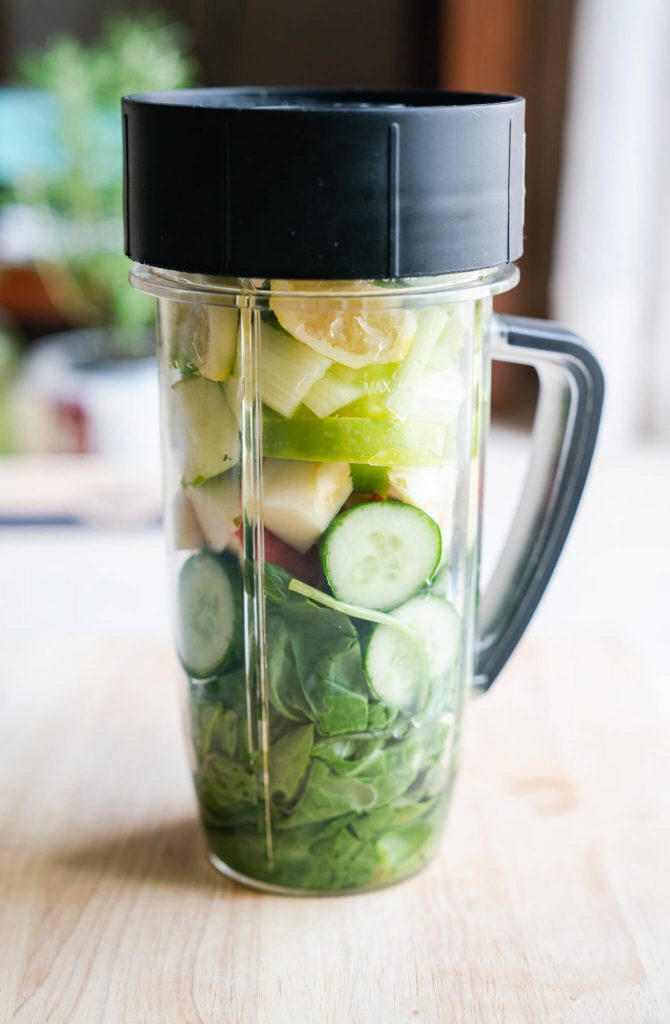 And finally, juice number 6, Detox Juice. I came up with the following quantities that worked for my taste buds: 1/2 lemon (peeled), 2 celery stalks, 1 and a 1/2 green apple, 1/2 large cucumber, 1 cup spinach leaves (packed), 2 large collard leaves (optional) and water and ice.
This green juice has an alkalising effect on the body; it neutralises toxins and at the same time supplies a transfusion of absorbable chlorophyll-rich phytonutrients to the cells and the bloodstream. Essentially the super concentrated nutrients provide nourishment to the body and is packed with enzymes, vitamins, minerals and amino acids.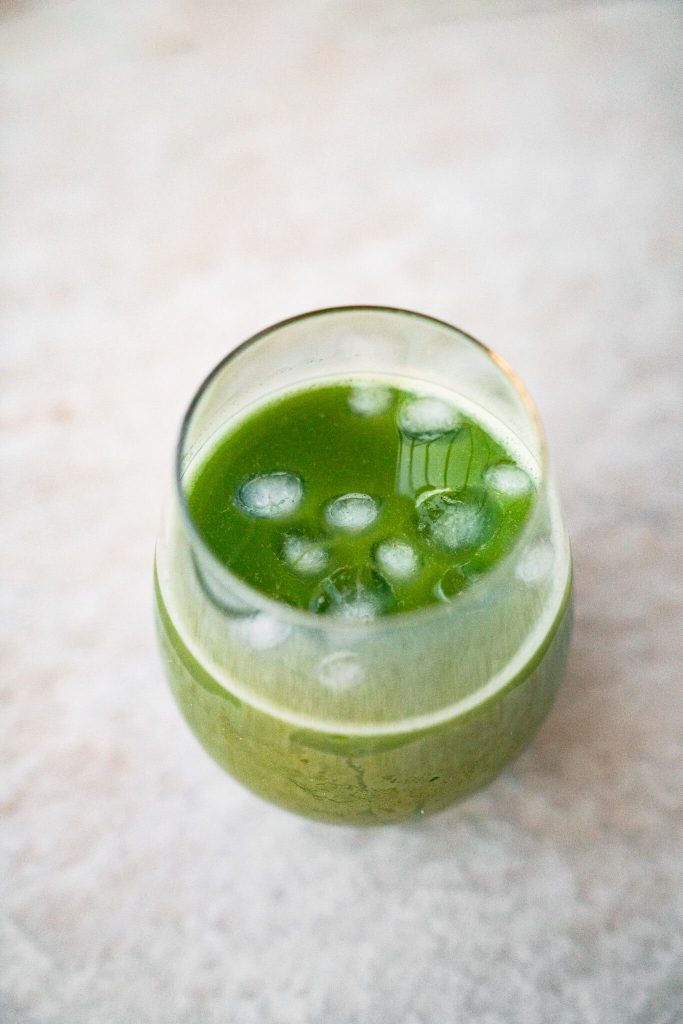 THIS warm and spicy almond milk drink is my absolute favourite. I didn't have the required protein powder but I will link it for you in the original recipe below:
For 1 cup of Almond milk:
Combine the following ingredients in a small pot: 1 cup of Almond milk
1 teaspoon of Wazoogles chocolate moondust superfood protein shake
1/4 teaspoon cinnamon
A pinch of ground ginger
A pinch of cayenne pepper
2 teaspoons maple syrup (or raw honey)
1 tablespoon almond butter (optional)
Heat it on the stove over medium heat until warm. After heating the ingredients on the stove, pour the mixture into the blender and run it for about 30 seconds (leave a little hole in the lid for the steam to escape). This ensures everything is mixed well and adds a bit of froth.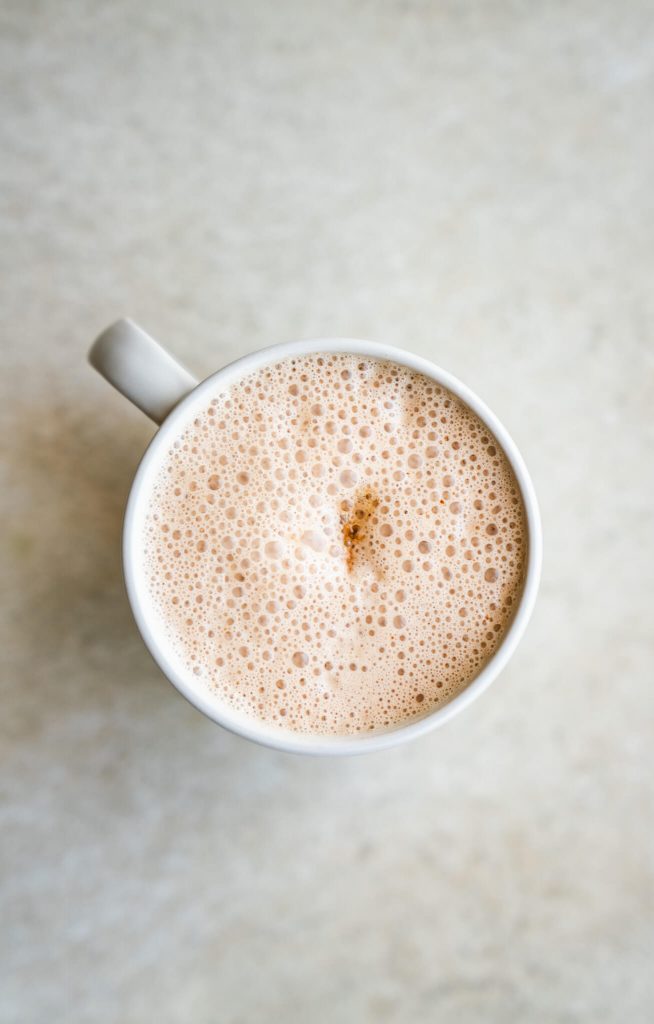 I have kept my recipe the same, but instead of the 1 teaspoon of Wazoogles, I added 1 heaped teaspoon of raw cacao powder. And I increased the prescribed pinch of ginger to a 1/4 teaspoon. Also, I only used raw honey in this drink every day. I love the benefits of raw honey. For me, the almond butter is a must. After only drinking thin liquids the entire morning, the protein you get from the almond butter is so satisfying and also makes this warm beverage ultra creamy. Trust me, you want this is your warm and spicy almond milk drink.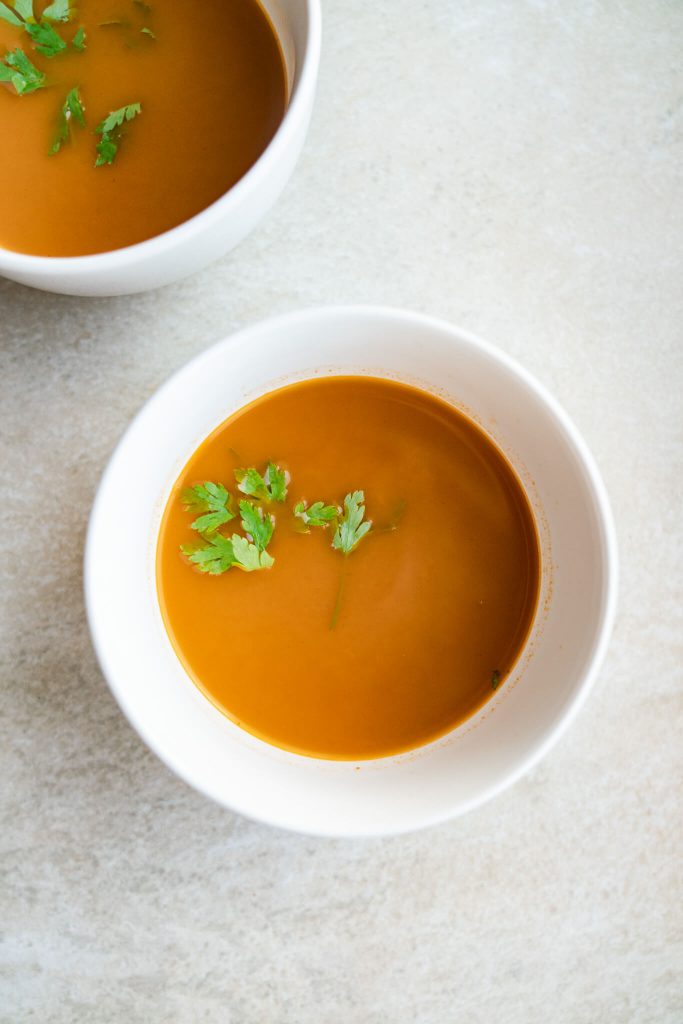 Supper time! After lunch, I definitely looked forward to broth at night. Preparing it was the best part for me because it filled the kitchen with the most amazing aromas, and then when you strain it all and only enjoy the broth, the flavours are all locked into a bowl of goodness. I also just want to mention, as I try to avoid waste as much as possible in everything I do, that I kept all the remaining vegetables from this recipe, pureed it, ziplocked it into the freezer and will be using it in soups and gravies.
Here is the recipe, provided by my sister, slightly tweaked by me:
INGREDIENTS:
1 Tbsp coconut or avocado oil (if avoiding oil, sub water)
1 medium onion (with skins, finely chopped)
4 cloves garlic (with skins, finely chopped)
4 medium carrots (with skins, finely chopped)
4 stalks celery (finely chopped)
1-2 tsp each sea salt and black pepper (plus more to taste, divided)
9-10 cups filtered water
1 cup chopped sturdy greens (kale, collards, etc.)
1/2 cup chopped fresh parsley
1 small handful fresh thyme
1 small handful fresh rosemary
2 whole bay leaves
3-4 Tbsp nutritional yeast (optional)
4-5 Tbsp tomato paste
METHOD:
Heat a large pot over medium heat. Once hot, add oil (or water), onion, garlic, carrots, and celery. Add 1/2 tsp each sea salt and black pepper (amount as recipe is written; adjust if altering batch size) and stir to coat. Sauté for about 5 minutes or until softened and slightly browned, stirring frequently.
Add water, greens, parsley, thyme, rosemary, bay leaves, and another 1/2 tsp sea salt and black pepper and increase heat to medium high until the mixture comes to a boil. Once boiling, reduce heat to a simmer and add nutritional yeast and tomato paste (add less of both for less intense flavour, or more for bigger, more robust flavour). Stir to combine and loosely cover; lid slightly cracked.
Continue cooking for at least 30 minutes, preferably up to 1 hour. The flavour will deepen the longer it cooks.
Near the end of cooking, taste and adjust flavour as needed, adding more herbs for a herby/earthy flavour, salt for saltiness, pepper for a little spice, or tomato paste or nutritional yeast for "umami" and depth of flavour. In total, I added about 3 tsp sea salt and black pepper and all of the suggested amount of nutritional yeast and tomato paste (both of which add depth of flavour and make the broth rich).
Let cool slightly before pouring over a strainer into another pot. Then divide between storage vessels. Let cool completely before sealing. Store in the refrigerator up to 5 days or in the freezer up to 1 month (sometimes longer).
To wrap things up, let me outline how a typical day during the fast looked for me:
07h30 wake up and have quiet time
08h00 wash; make a glass of psyllium husk water to drink
09h00 start logging on and prepare for online work
09h30 enjoy a cup or two of immune booster tea
11h00 enjoy a tall glass of juice (I alternated my juices each day)
13h00 enjoy another glass of juice (all while working online)
14h30 log out from work, make a cup of warm & spicy almond milk and continue marking
16h30 have another juice or a cup of immune booster tea
17h30 go outside for a 5 km run
18h30 drink an ice cold juice and then take a shower
19h30 have a bowl of broth (1.5 to 2 cups)
21h00 have a cup of immune booster tea (some nights)
22h30 drink a glass of flax seed water
23h00 get into bed, have quiet time and sleep for 7-8 hours
Would you consider doing this fast? Have you fasted before? I would love to hear your thoughts in the comment section below (on the site). I would also be happy to answer any questions you might have after reading this post.
PS. I have not had one headache during my juice fast week. Right from the start. I was already blown away on day 1. And still today I have not experienced one headache. Besides believing that this is due to the cleanse and lots of prayer, I also set more boundaries with regards to my work. The last few weeks have been really taxing, being available to 22 classes of primary school children, setting assignments for each of those classes, receiving homework on numerous platforms, marking it all and providing feedback on time, etc etc… If I believed I had done enough for one day, I would log out from my devices, instead of pushing myself beyond what I should be doing for one day. If a child handed his or her work in before the deadline, I could mark it right away but I could also leave that marking for the following day, depending on how I felt mentally. If we learn to listen to our bodies, which I believe this fast has helped me with, we will know how to act and react.
PPS. I lost 2 kilograms during this 5-day fast. And yes, losing weight was and is not the aim of a fast, but it sure is a bonus. (Insert smile-with-teeth emoji).
PPS. I have included some affiliate links in this post which means I get a small commission if you purchase ingredients and items via the links I have provided. This is at no extra cost to you, instead, you will get a discount as well as support me as I go forward to bring you the posts you want to read and the pictures you want to see. I am thanking you in advance for your love and support.
Happy fasting!
Mel
(Visited 650 times, 1 visits today)