Cheese and wine anyone? Is it just me, or is the month of February filled with Cheese and Wine events? Brendan and I have been to 3 or 4 already and it's only the 16th day of the month. I think it's definitely something we South Africans love to host and attend in the Summer months.
Though cheese is good for us, the crackers that accompany them at these events aren't always. So, if you're like me, make your own crackers and take them along. Get your friends to taste them so they can have them ready for the next Cheese n Wine.
I have made varieties of these crackers so many times already but never got around to sharing it, so today I'm sharing my most basic low-budget recipe. These crackers are thin and light – just what I want in a cracker and I achieved that result by using only 1 lightly beaten egg white. In order to add flavour without using many different spices I made use of Willow Creek's Parmesan flavoured olive oil! YUM!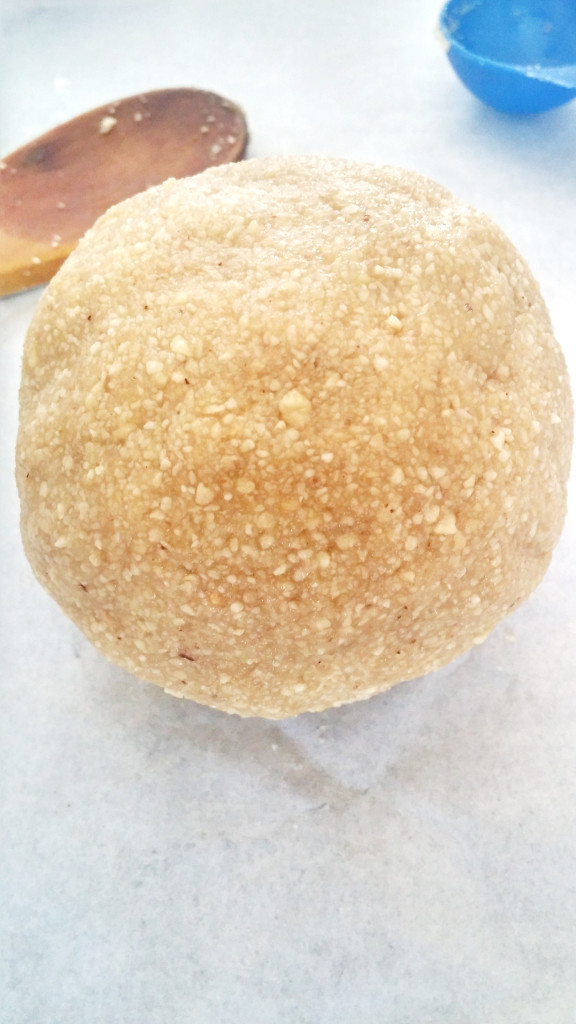 I worked the dough with my hands as it can get quite tough and in order to get a smooth ball like in the picture, I feel some love from your hand is all it needs. Once the ball is formed, it gets flattened between two sheets of greaseproof paper and rolled out as thin as possible. As you roll it out, you'll roll some oil out too but don't let it worry you. Initially the oil is needed to get everything together and we want the savoury flavour of the Parmesan. Bear in mind as well,  cashew nuts are high in natural oil so loosing some oil along the way can only be a good thing. Once rolled out, I used a long straight spatula to perforate the dough into 5cm squares. I made two sets of 16 squares but if your a good roller, you can keep it all together. I placed each set in the oven separately as well.
These crackers bake for 7-8 minutes depending on how thin you rolled it. The thinner the better. As soon as it starts browning around the edges, you know they are ready. Allow it to cool down for a few minutes and then remove it from the greaseproof paper and allow to dry and crisp up well on a wire rack. Break up and enjoy with your favourite cheese and preserves.
HEALTHY CRACKERS
Author:
Cook time:
Total time:
Ingredients
11/2 cup cashew nut flour (clean raw cashews made fine in your food processor)
2 tbsp coconut flour
1/2 tsp fine sea salt
1 tbsp Parmesan infused olive oil (I used Willow Creek's)
1 egg white, lightly beaten
salted butter for greasing
Instructions
Preheat the oven to 180C.
Combine the flours and salt into a large bowl and mix well.
Add the olive oil and mix together with a wooden spoon or rub it into the flour with your fingers.
Add the egg white and work through well your hand until you can form a smooth round ball.
Grease a large sheet of greaseproof paper with some salted butter and place the dough ball on it. With another sheet of greaseproof paper, cover the ball and roll it between the two sheets with a rolling pin. Roll as thin as possible without breaking the dough.
Measure out 5cm squares with a long spatula or a pizza slicer. Remove the edges and roll it on a separate sheet and repeat process for a second set of bake or add it to current sheet. I measured out 2 sets of 16 squares and baked it separately but you can do it together.
Bake for 7-8 minutes until the edges brown. (The browner parts are my favourite).
Allow to cool for a few minutes until you are able to handle it and place it on a wire rack to cool further and crisp up.
Once completely cooled, break up and enjoy with your favourite cheese and preserves or store in an airtight container.
(Visited 249 times, 1 visits today)