The end of the year is starting to look a whole lot sweeter! Caramel popcorn anyone? I cannot believe that we're already into December! Staying busy sure makes time fly and I ain't complaining. But by this time of the year I know many of you are exhausted. And your mind is thinking: Christmas! Preparations! Gifts! Gammon! Turkey! Snacks! etc etc etc. Can we tick healthy snacks off the to-do-list with this healthy caramel popcorn? I totally think you should go into the kitchen right now and start making this and jar it so it can stay fresh for Christmas day. At least that's one thing sorted.
I have quite a few Christmas treats lined up for you and I do hope I get to share it all with you before the clock strikes NEW YEAR!  With this gorgeous weather we are receiving in Cape Town lately it is quite hard to stay indoors but bear with me friends; I got your backs!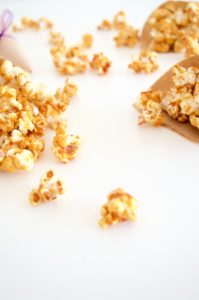 I've always wanted to make a healthier version of the famous Diddle Daddle, but somehow I just never got around to it. I think I overthought the whole process. A process which is hardly a process because it really is so easy to make this delicious and unprocessed treat. My overthinking was however related to the temperature of the caramel sauce and it's ability to melt the popcorn once contact is made. But as I soon discovered, no melting takes place. In fact, even though the caramel sauce is hot while being poured over the popcorn, it sets almost immediately (making the popcorn even crispier in my opinion).
There really is only 3 simple parts to caramel popcorn: 1) pop the corn, 2) make the caramel sauce and 3) pour the caramel sauce over the popped corn. Yes, in that order.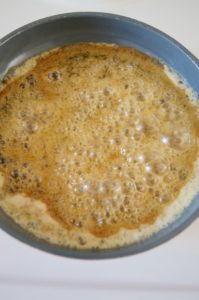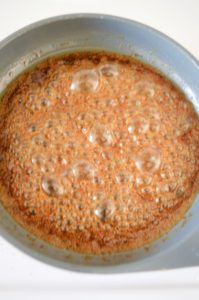 It is important to note that the caramel sauce should be poured over immediately in order for it not to set while stationary. Be careful not to burn yourself though. A dash of salt to this will literally make your toes curl! I find myself in a rather addictive phase at the moment to be honest. Everything in moderation, Melissa.
P.S. Can we just have a moment and thank the Lord for bees and the gift of honey? 🙂
In a small pot, place the coconut oil and allow it to melt on medium heat.
Add the unpopped popcorn and cover. Allow to pop for up to 5 minutes or until the popping is very slow.

Uncover and throw the popcorn into a large bowl.
Add all the ingredients for the sauce into a small pan and allow it to cook on slow to medium heat.

As soon as the sauce starts to bubble, cook for 7 minutes.

Pour the hot sauce over the popcorn and mix through with a wooden spoon trying to cover each popped corn.

Allow to cool slightly and enjoy.
The post Healthy caramel popcorn appeared first on And then there was food.
(Visited 481 times, 1 visits today)