There is something about warm muffins straight from the oven with a good cup of tea on a Sunday morning. And if you're feeling schm antsy pantsy like I did this morning, top your healthy banana muffins with caramelised banana and walnuts for that extra something. Something so special. Something so satisfying.
Brendan and I had such a chilled weekend. As in stay-at-home-watch-movies-and-snack-snack-snack chilled. It was one of those weekends where both of us just can't stop talking about how amazing the weekend was. Gosh, are we getting old? Or are we just too busy that a weekend of not having to rush anywhere or do much feels like heaven on earth? Either way, I am ready for Monday and it feels great!
I did however visit the A Taste of Belgium event at Vergenoegd Wine Estate in Somerset West on Saturday with a few friends. Honestly, I was not that impressed. I think I just expected much more Belgium and I don't think the traders did a great job at planning for the masses as all the good food was sold out in the first half of the event. Did anyone else go? I'd love to hear your thoughts.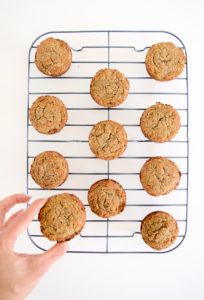 On to these muffins though. Easy, gluten-free, low-carb muffins which are also high in fibre and energy due to the use of flaxseed powder and the bananas. I've played with a few options for these muffins already and I share some alternative tips in the notes at the bottom. But basically all your dry ingredients are mixed together and in a separate bowl all your wet ingredients are mixed together and then the two are combined with a whisk and spooned into your muffin tin to bake for about 18 minutes or until golden delicious. That's it! They stay fresh for long and if you want to keep them for even longer refrigerate and just reheat for 10 seconds if you prefer them warm.
Grease a 12 hole muffin tin well with coconut oil.

Preheat the oven to 180 degree celsius.

Mix all the wet ingredients (bananas, eggs, vanilla extract and honey) together in a bowl.

In a bigger mixing bowl, mix all the dry ingredients together.

Add the wet ingredients to the dry ingredients and spoon the mixture into your muffin pan(s).

Bake for 18-20 minutes or until a skewer comes out clean.
I had a case where I was almost out of almond flour and I only used 1/2 cup with 5 tbsp of coconut flour and 3 tbsp of flaxseed powder. The same deliciousness but instead of 12 muffins be prepared for 11.
The post Healthy banana muffins appeared first on And then there was food.
(Visited 266 times, 1 visits today)