Hello food friends. I have such a fun and easy recipe for you today. PLUS, some very exciting news (which many of you may already have heard about or seen on my social media platforms. Shall I share the recipe with you first or the exciting news? The latter, Mel, duh.
Alright, alright. I, Melissa Adams, handed in my resignation letter at the beginning of this new school term. That's right. Six more weeks as a full time music educator for me. I have been praying for the boldness to start my own business and the extra time to share my real recipes with you. And God has so wonderfully answered those prayers for me. I have been studying photography part-time with the goal of bringing you better food pictures and now I am completely smitten by the art of photography. Not only do I want to capture my food creations, but I want to capture the moments in people's lives that matter most to them. I am currently in the process of setting up my website, Mel Adams, but for those of you who are interested in seeing some of my work, my new Instagram page should do in the meantime.
Friends, this has been a journey of faith. One of my prayers to the Lord was, Lord, I don't see myself starting my own business while Brendan and I are still renting a house. I want to help him with my secure salary status. And just like that our good, good Father made sure Brendan and I become home owners in order for me to resign and dive into my new found passion. NOTHING is impossible for our God.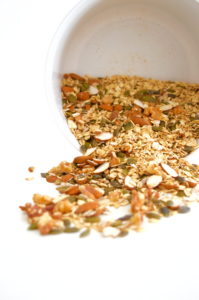 On to food things. This granola! So easy, so crunchy, so-not-store-bought. I am a real bacon-and-eggs-kinda-girl. I basically have it every morning… hello protein. But time isn't always on my side in the morning and therefore having something ready-made in the pantry which I can enjoy with some double cream yogurt is a must. I stood in grocery aisles before reading the ingredients of granola and boy oh boy, I just can't get myself to buy it. The sugar in there is either way too much or the price is just ridiculous. This recipe is healthier, cheaper and you can tweak it to suit your needs. No fuss, just fun.
Preheat the oven to 150C.

Mix all the dry ingredients together in a bowl.

Combine the wet ingredients in a cup and add it to the dry ingredients.

Using your one hand, mix well, making sure all the dry ingredients are coated.

Spread out the mixture evenly onto a baking sheet and bake for 30 minutes.

Allow to cool (so it can crisp up) and add your choice of dried fruit (if wanted). I used cranberries.

Store in a glass jar in your pantry or enjoy some over greek yogurt.
The post Easy homemade granola and some exciting news appeared first on And then there was food.
(Visited 396 times, 1 visits today)