Season's Greetings friends!
I trust each of you had a wonderful Christmas with the special people in your life.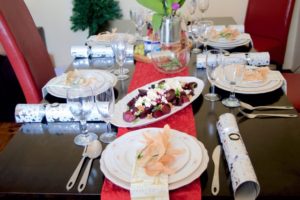 I love an intimate Christmas, focussing on what really matters – a celebration of Love. This year my husband and I spent Christmas day at my mom's place with my sister, 2 of her friends and the 2 precious girls my mom takes care of. It was a day of eating delicious homemade food, popping crackers (and champers), telling jokes, painting nails, playing games and sharing love.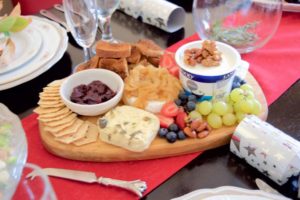 One of the salads that paired with our meats this year was this easy beetroot salad. I've made it before and mom loved it so she asked that I bring it to the table this year.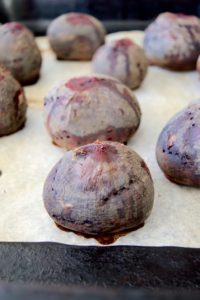 All it really is is roasted beetroot, fresh mint, caramelised walnuts, crumbled feta cheese and a homemade dressing consisting of apple cider vinegar (or balsamic), olive oil, a bit of honey and a squeeze of orange juice. Et voila!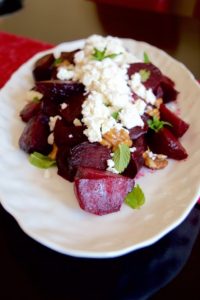 I'd love to hear all about your Christmas this year. Maybe share a few pictures? Is this a time of the year where you tell yourself, 'It's festive, let's eat and worry later!'? Or have you mastered the fruit of self control? I am so grateful for those of you who send me mails and messages regarding how your lifestyle has improved since joining the blog. I'd love for you to comment on the posts on the site so you can inspire others and show them how easy it is to eat real food and feel real good.
Preheat the oven to 180C.

Prick the beetroot heads with a fork a few times then place it on a baking sheet in a roasting pan and into the oven for 45 minutes or until soft. Allow to cool while making the dressing.

For the dressing, add the olive oil, vinegar, orange juice and honey in a small cup and mix well.

Peel the beetroot heads and cut into quarters or eighths (depending on head size). Place the beetroot into a mixing bowl and coat it with the dressing.

Pour the coated beetroot onto a serving dish and add a few mint leaves and the caramelised nuts (see notes) in between the beetroot. Top with crumbled feta cheese and enjoy.
For the caramelised nuts, warm 1 tbsp of butter with 2-3 tbsp of raw honey in a small pan on the stove (medium heat) for a few minutes until bubbly and slightly thickened. Place the nuts into the pan and allow to toast in the sticky caramel for 2 minutes. Remove from the heat and allow to cool.
The post Easy beetroot salad and Christmas 2016 appeared first on And then there was food.
(Visited 300 times, 1 visits today)