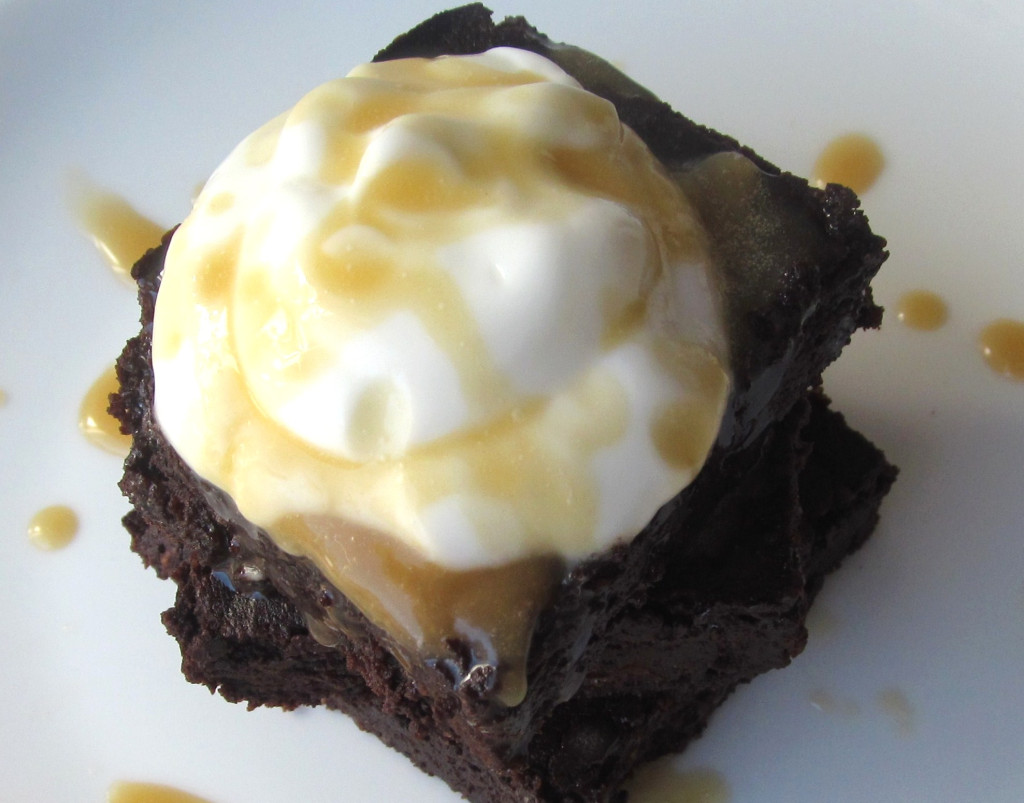 This past week, we celebrated Teachers Appreciation Week at our school. Our PTA (Parent-Teacher Association) treated us with a special gift each day and an even sweeter message to accompany it. This made me realize once again what a blessing it is to educate young children. Speaking about children, I received sooo many sweet gifts, including LOADS of chocolates and this is why I had to use some of that dark chocolate in a baking episode or two before eating them all at once. Dark chocolate, such a treat right? but in this brownie recipe they are much more than just that!
These brownies are gluten free and sugar free!  Indulge?  As much as you like 🙂 Serve it with some Greek yogurt and you have a match made in heaven. Some vanilla ice cream should also do the trick!
This recipe consists of 9 glorious ingredients. To start off, make sure your oven is preheated to 180 degrees Celsius and grease a 21cm square cake pan with butter or Spray and Cook. In addition, cut a square piece of greaseproof paper to fit perfectly at the bottom of the cake pan.
Melt half of the chocolate pieces/chips with the butter on medium heat in a non stick pan until all the chocolate has melted. (Be careful not to burn the chocolate). Stir well with a wooden spoon and remove from the heat.
While the melted chocolate cools down, all the wet ingredients get whisked together in a large bowl, starting with the eggs, apple sauce and honey. The vanilla essence and the milk also gets whisked in and then the melted chocolate. Following this, whisk in the almond flour and the cacao or cocoa powder. At this point, I taste my mixture. I am very happy with a 1/4 cup of honey, but if you prefer a very sweet brownie, you are welcome to add an extra tablespoon or two of honey.
Pour the mixture into your prepared cake dish and bake in a preheated oven for at least 22 minutes. After 22 minutes you can check on the brownies. If it is still too soft allow an extra 3 minutes or so of baking. Mine was done in 22 minutes and after a cooling period, the chocolate pieces were soft and gooey just as I like it.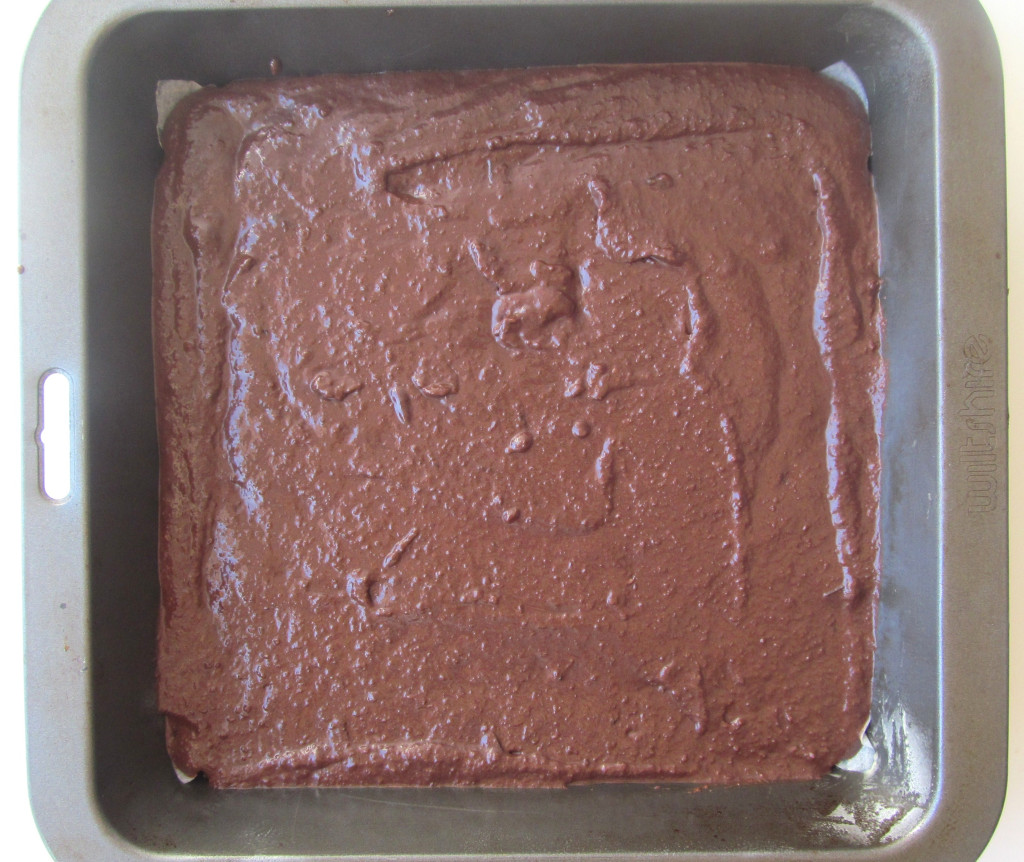 The cooling period is very important. Make sure you allow the brownies to cool down in the cake pan (about 15 minutes) and then gently remove it from the pan and place it onto a cooling rack to cool down completely before placing in on a cutting board to be cut into squares.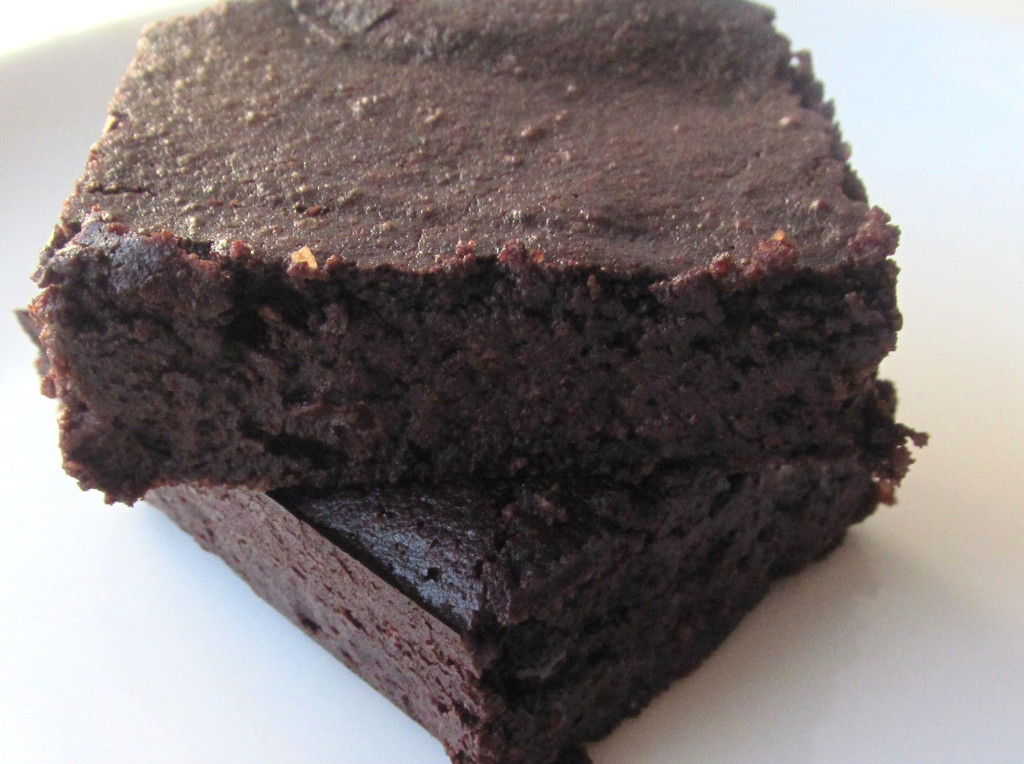 Store any remaining brownies in an airtight container in the refrigerator.
Deliciously Dark Brownies
Author:
Cook time:
Total time:
Ingredients
150g unsweetened dark chocolate, chopped
100g butter
2 eggs
1/2 cup applesauce
1/4 cup honey
1tsp vanilla essence
90ml milk
3/4 cup almond flour
4Tbsp cacao/cocoa powder
Instructions
Preheat the oven to 180C.
Cut a square piece of grease proof paper to fit in the bottom of a 21cm square cake pan. Grease the sides of the pan with butter or Spray and Cook.
Melt half (75g) of the chopped dark chocolate with the butter in a pan on medium heat. Once melted, stir well with a wooden spoon and remove from the heat.
Whisk together the eggs, applesauce and honey in a large bowl. Add the melted chocolate, the milk and the vanilla and whisk again.
Whisk in the almond flour and the cacao or cocoa powder and stir in the remaining chocolate pieces.
Pour the mixture into the prepared pan and allow it to bake in the preheated oven for 22-25 minutes. Check the brownies after 22 minutes; don't over bake so that the chocolate pieces are still gooey.
Allow the brownies to cool down in the pan (about 15 minutes) before turning it gently on to a cooling rack. Allow further cooling time before cutting it in to squares.
Serve with Greek yogurt or ice cream and drizzles of caramel sauce.
Notes
I prefer a 1/4 cup of honey, but you can add a tablespoon or 2 more if you have a very sweet tooth.
(Visited 148 times, 1 visits today)