Lemon curd = toe curling moments!
The plan was always to make my very own lemon curd healthier than any of the ones you (and I) have tried before but it happened to come out even healthier since I had no unsalted butter in the house. Replacement: Coconut oil. Just look at me claiming that coconut oil is healthier than butter. Actually, according to a few studies, they are neck on neck; both contain saturated fats. In my case, I just find myself using butter more often than coconut oil in my everyday life (hello fried eggs!), so the swop out to coconut oil is considered healthier (by me). Balance people, balance. I promise you though, the use of coconut oil in this curd is life changing!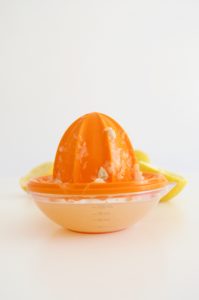 I am trying very hard not to finish this curd by the spoonful as I have such big plans for it: drizzled over pancakes, in mini meringues, over fruit salad, in our smoothies etc etc etc. I am seriously living my dream at the moment: making and experimenting in my kitchen with foods which I thought is quite a process but actually is not. And that is our aim here friends, to show you how easy cooking real food can be. This reminds me of the gift I received on Friday from one of the parents at my school: a beautiful glass stand with the following scripture and words: "Then God said, 'Let the Earth put forth vegetation: plants yielding seed, and fruit trees of every kind on earth that bear fruit with the seed in it"… And then there was food". With it being the end of the year and all of the madness that is paired with that, God freshly came to remind me why I started this blog. He provided exactly what we need more than 2000 years ago when He created the earth and everything in it. So to Him be the glory for taking such good care of us.
Happy Tuesday!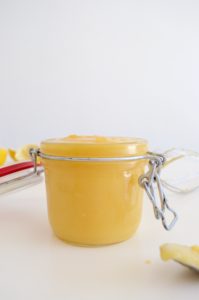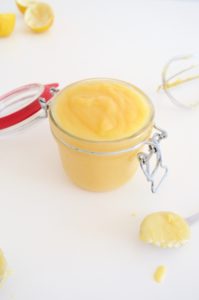 Place 1 cup of water into a small pot and allow to boil on the stove top.

Add a glass bowl to fit securely into the pot making sure the bottom does not touch the water.

Bring the heat down to medium and add all the ingredients to the bowl.

Whisk the ingredients together slowly.

Continue to stir the mixture slowly with the whisk for about 7 minutes or until thick enough for the whisk to leave a trail in the curd.

Remove the bowl from the heat and jar the curd.
The post Delicious dairy-free lemon curd appeared first on And then there was food.
(Visited 291 times, 1 visits today)