Crispy sweet potato skins filled with a feta-cheese-and-broccoli-combination. With this, I am more than happy to celebrate World Vegetarian Day and -Month this October. If you're not a vegetarian supporter, save this recipe for Meatless-Monday 🙂 I've been telling my husband that we eat way too much meat these days, so therefore I'm all for a Meatless-Monday or a World Vegetarian Day to counter all that meat!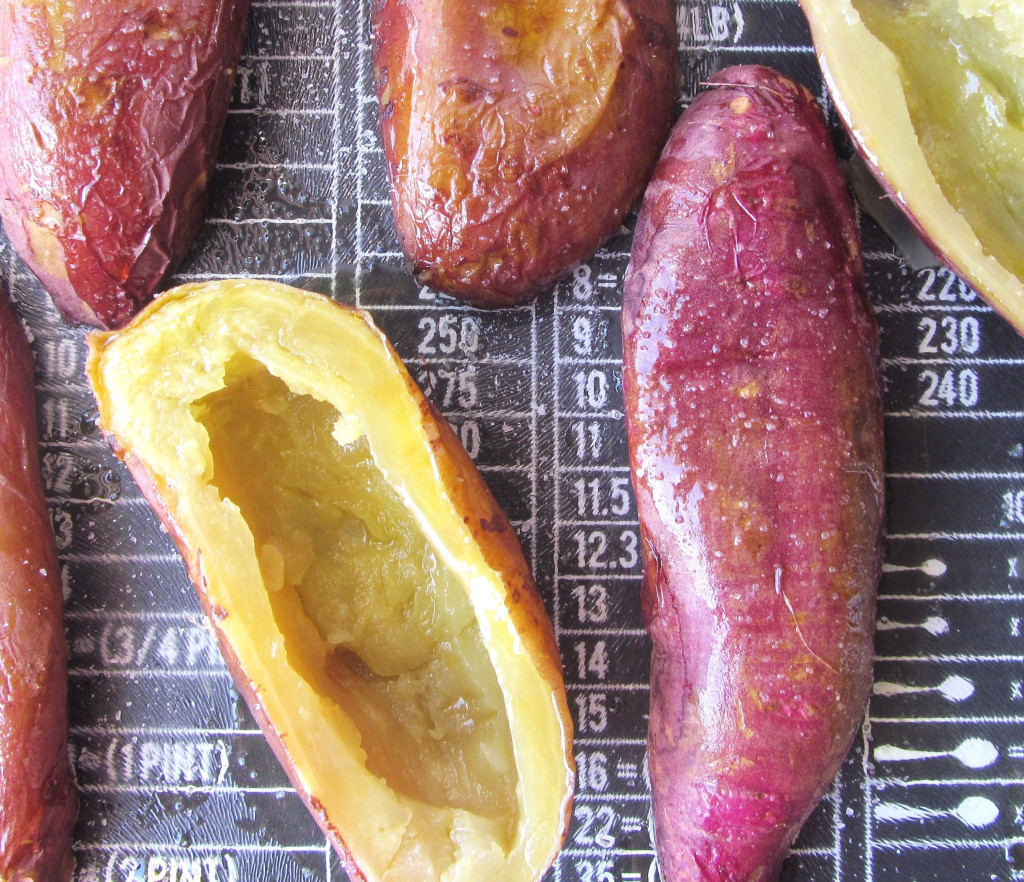 The filling I made is so delicious and so soft that I wanted my skins to be quite firm and crispy to add a bit of crunch to the meal. In order to get the crisp skins I cooked my sweet potatoes in a microwave dish until soft (but not soggy). Then I cut each one in half and allowed it to cool. Once it was cool enough to handle, I used a teaspoon to remove some of the flesh in order to make space for the filling and left a thin layer of flesh behind for the skins to stand firm. Then I brushed the skins with some olive oil, sprinkled it with coarse sea salt and in to a preheated oven it went for about 25 minutes until golden brown.
While the sweet potato skins were getting their crisp on in the oven, I got started with my filling. I used a small broccoli head, cut the stems off, and placed the florets in a microwave dish and microwaved it for about 10 minutes until soft. Then while steaming hot, I placed the florets into the food processor with some herb-y feta cheese, a tablespoon of olive oil and a tablespoon of balsamic vinegar and processed it for a minute or 2 until I had a creamy green filling. The feta cheese is salty enough, so I didn't add any salt but you should taste it and add more salt if needed.
Once my sweet potato skins were crispy on the outside, I removed it from the oven, placed it on a beautiful dish and filled it up with my fresh filling. Then I chopped up some fresh chives and scattered it over the sweet potato beauties and enjoyed it immediately! Once again, my taster (read: husband), approved! Mission accomplished!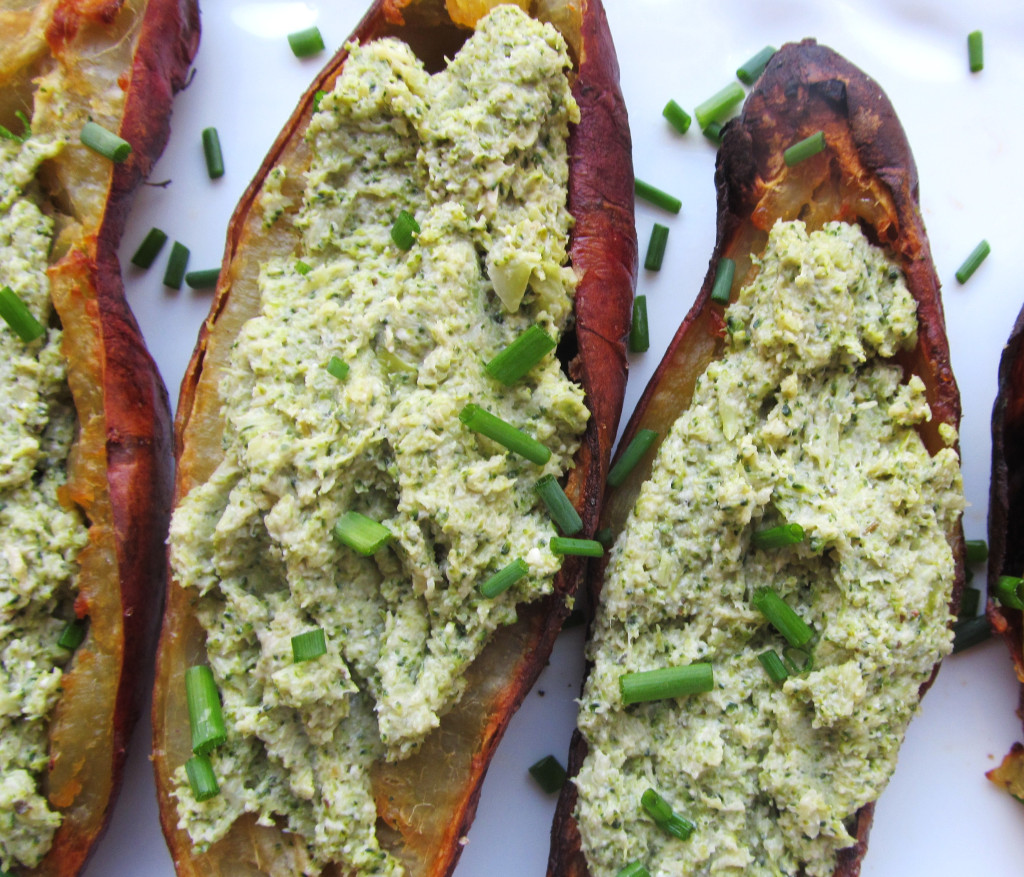 Crispy Sweet Potato Skins with Feta-Brocco-Goodness
Author:
Cook time:
Total time:
Ingredients
[b] FOR THE SWEET POTATO SKINS: [/b]
3 sweet potatoes, washed
olive oil (for brushing)
sea salt (for seasoning)
[b] FOR THE FILLING [/b]
1 small broccoli head (about 280grams), washed and stems removed
80g feta cheese with herbs (I used Lancewood's)
1 tbsp olive oil
1 tbsp balsamic vinegar
6 chives, chopped
Instructions
Prick the sweet potatoes twice of thrice with a fork and cook in a microwaveable bowl in the microwave until soft (about 12 minutes). Preheat the oven to 210C in the meantime.
Once removed from the microwave, place the sweet potatoes on a wooden board and cut in half. Use a teaspoon to remove the flesh but leave just enough around the edges in order for the potato skins to stand firm.
Brush the sweet potato skins with olive oil (inside and out) and sprinkle with some coarse sea salt.
Place the skins on the griller in the oven and allow it to crisp in the oven for 25-30 minutes.
In the meantime, get started on the filling by cooking the broccoli florets in the microwave in a microwave-safe dish. This should take about 10 minutes.
Remove the broccoli from the microwave and place it in the food processor. Add in the feta cheese, the olive oil and the vinegar and process until the texture is smooth. I didn't add any salt because the feta cheese is already salty, but if you're a salty person, feel free to add some salt at this stage.
Once your sweet potato skins are golden brown and crispy, remove it from the oven and place it on your serving dish. Spoon your feta-brocco-filling into each skin and top with fresh cut chives and enjoy immediately to crunch into the goodness.
Notes
You're probably wondering what should happen with the sweet potato flesh that we removed… Well, you could refrigerate it and use it later or save it for a recipe that I will share with you soon!
(Visited 142 times, 1 visits today)