CHEEKY CHERRIES!!! Currently, on my 2014/2015 holiday to-do list: visit the cherry farm in Swellendam! Has anyone been?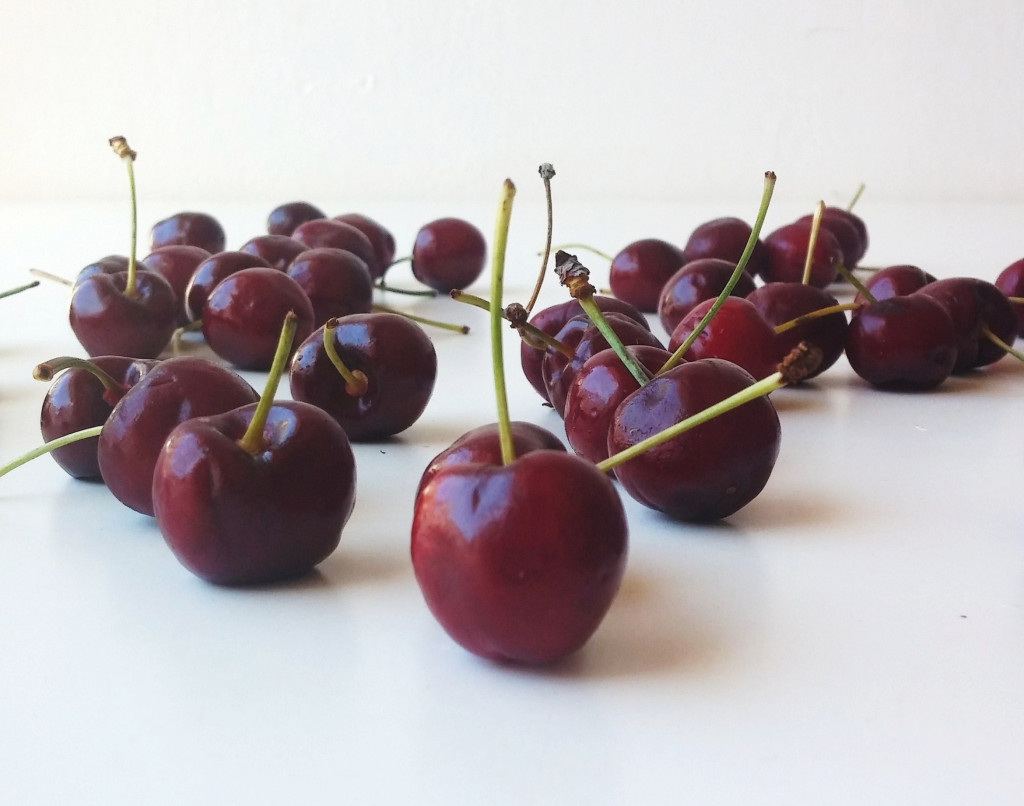 I love fresh cherries and seeing these deep red beauties at the market the other day, I simply couldn't resist. And I knew I wanted them in and on top of a scrumptious dessert. Well, they are IN my cherry cupcakes and also ON my cupcakes, mixed into the cream cheese frosting. And do I need to add that they are gluten-free and low in carbohydrates?
Once again, my husband-the-critical-tester, gives these cupcakes an A+. Happy face 🙂 When Brendan and I met years ago, he didn't have a tooth for cakes, sweet things or sushi! And the sushi queen that I am, I made it my mission to introduce him to the wonderful world of sushi and desserts and now he's the one begging me for sushi dates and delicious bakes.
Light, moist and dreamy – 3 characteristics that my cupcakes must have and that is exactly what you'll find once you bite into these cherry cupcakes. Please give them a try, you will not be disappointed.
The list of ingredients might look long but it really isn't. The bonus is that everything goes into the bowl of the mixer – no need for extra bowls or dishes. First, the eggs, honey and applesauce gets a mix until smooth and then the eggs and vanilla essence are added and mixed for a further minute and then the flours and the baking powder gets mixed in on slow to medium speed. And finally, the cherries are folded in gently with a wooden spoon and then each cupcake holder is filled (almost to the top). They bake for at least 22 minutes until a skewer comes out clean. Once baked, they are quite soft, so I remove it from the pan as soon as they come out of the oven and allow it to cool down completely on a wire rack in their holders.
Store these yummies in an airtight container in the refrigerator; they have an almost-cheesecake-like-texture/taste straight from the refrigerator. YUM!!!
CHERRY CUPCAKES WITH CREAM CHEESE FROSTING
Author:
Prep time:
Cook time:
Total time:
Ingredients
*CUPCAKES
100g salted butter, softened
1/2 cup applesauce
1/4 cup honey
2 eggs
1 tbsp vanilla essence
1/2 cup almond flour
1/4 cup + 2 tbsp coconut flour
2 tsp baking powder
24 cherries pitted and roughly chopped
*FROSTING:
1/4 cup butter
100g cream cheese
1/3 cup honey
6 cherries, pitted and finely chopped (optional)
Instructions
Preheat the oven to 180C.
Place 12 cupcake holders in a 12-hole muffin pan.
Add the softened butter, applesauce and honey to the bowl of a mixer and mix on medium speed for 2-3 minutes.
Add the eggs and the vanilla and mix for another minute.
Add the flours and the baking powder and mix slowly until well incorporated.
Finally fold in the chopped cherries.
Spoon the mixture into the cupcake holders and bake for at least 22 minutes until a skewer comes out clean.
While the cupcakes are baking, prepare the cream cheese frosting by adding all the ingredients to bowl of a mixer and mix until smooth.
Place the frosting in the refrigerator to set while the cupcakes cool down.
Pipe the cream cheese frosting onto the cupcakes once the cupcakes are completely cooled.
(Visited 134 times, 1 visits today)