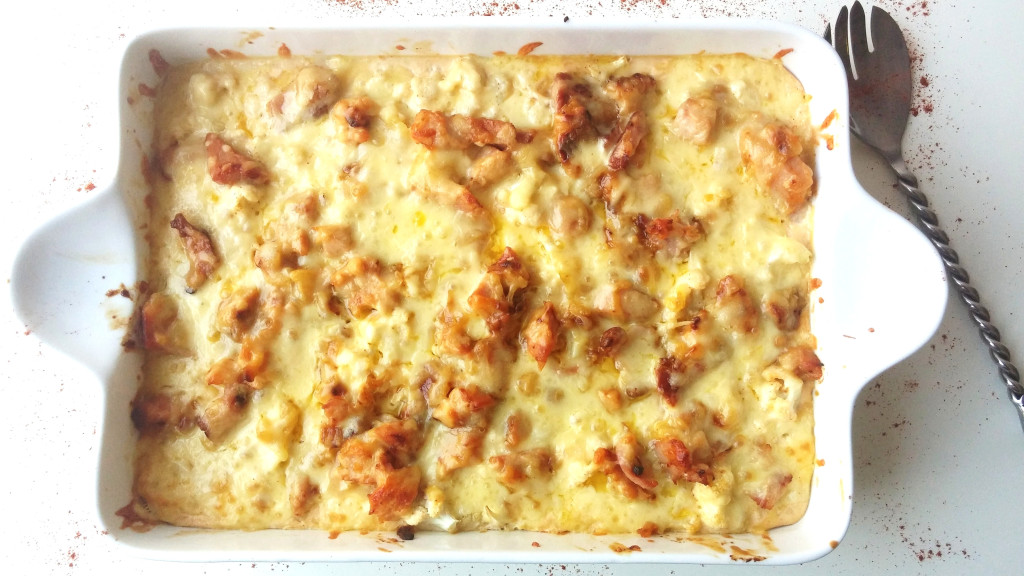 Got any leftover gammon from your Christmas lunch? Well, bring 'em over to this DELICIOUS dish! This is one of my favourite low-carb meals which I normally top with crispy bacon but I figured gammon will also do the trick seeing that it's a favourite at Christmas time.  I could even say the gammon did a better job than the bacon.
I actually made this as a side dish to all our yummy meats for Christmas. With all the impressive comments I received there, I am making sure that I'm sharing this with you today.
Before I go ahead with the recipe, I trust that each of you special people had a beautiful Christmas Celebration. May you and your family be blessed and may God surprise you with more of His greatness in 2015! Twenty-fifteen! Oh my goodness, I am so excited for it's arrival!
But let me calm down and share 🙂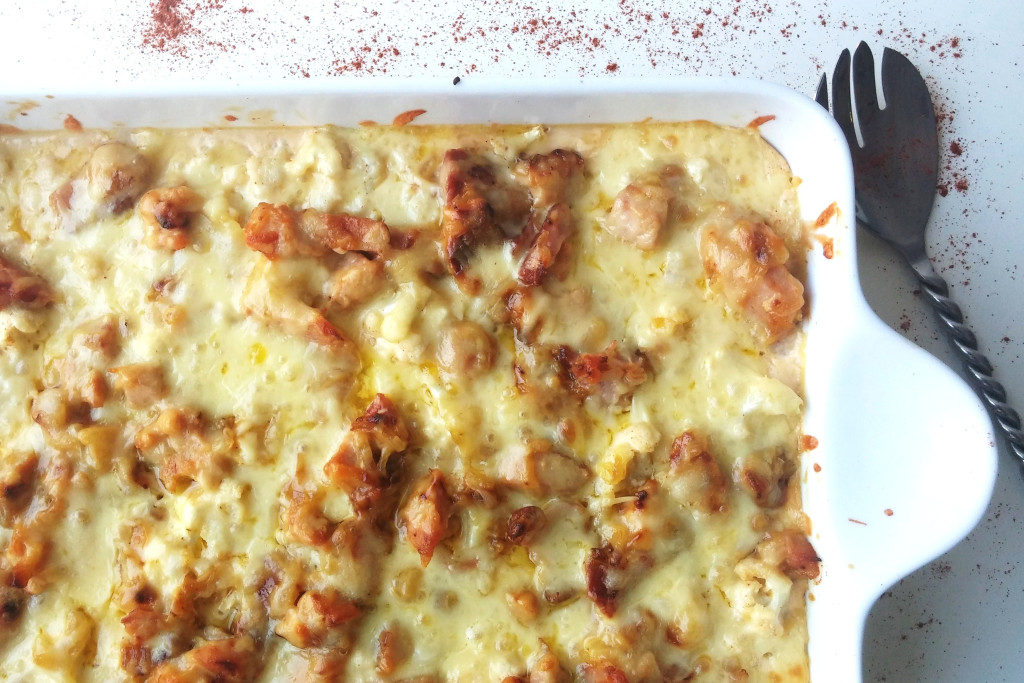 I used two fresh cauliflower heads, removed the stems and broke it down into the smallest florets and then I gave it a good rinse before steaming it for about 15 minutes until soft but still firm. While the cauliflower steams, the onion gets fried in some butter until it caramelizes. Into that pan, I added some mustard and honey and then the gammon bits and fried it until the edges crisped up. While that sizzles, use a separate bowl to which you add the eggs, sour cream, milk, cayenne pepper and some mozzarella cheese.
By now the cauliflower should be ready and needs to be drained and squeezed of its excess water on some paper towels. Once you've given the cauliflower a good squeeze, place it in a large casserole dish to form the base. Over that the sour cream mixture gets poured.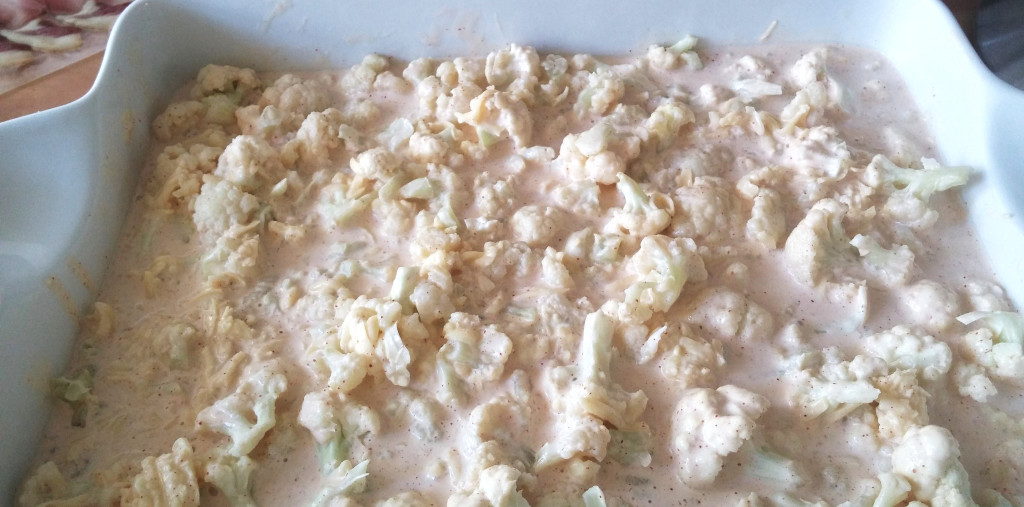 Finally, top this with your onion and gammon mix and with more grated mozzarella cheese. Then pop it into the oven to bake for 30 minutes until golden delicious.
CAULIFLOWER AND GAMMON BAKE
Author:
Prep time:
Cook time:
Total time:
Ingredients
2 cauliflower heads, stems removed and broken into smallest florets.
1.5 Tbsp butter
1 onion, chopped
1 tbsp Dijon mustard
1 tbsp honey
+- 400g gammon bits
2 eggs
500ml sour cream
1 cup milk
2 tsp cayenne pepper
1/2 mozzarella cheese + 1 cup for topping
Instructions
Steam the cauliflower florets for about 15 minutes until soft but still firm.
Preheat the oven to 180C.
In a pan on the stove, fry the chopped onion in the butter until it caramelizes.
Add the honey and mustard to the onion pan as well as the gammon bits and fry until the edges become crispy (about 10 minutes).
In a bowl, whisk the eggs, sour cream, milk, cayenne pepper and 1/2 cup of cheese together.
Remove the cauliflower and place it in between some paper towels, draining the excess water.
Once drained, place the cauliflower in a large casserole dish.
Pour the sour cream mix over the cauliflower and top it with the gammon bits and extra cheese.
Bake for 30 minutes until golden delicious.
(Visited 158 times, 1 visits today)