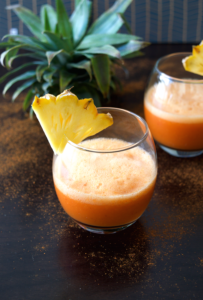 Power to the people! Power for the long weekend!
I am on such a high because of this stuff right here ↑ Or maybe it's because in less than 1 month I will be travelling to Bali and Thailand with my darling husband. Or maybe it is the fact that in exactly 2 weeks I will be saying farewell to my colleagues at my current employer to start the next part of my journey as a wedding/lifestyle photographer and a full time real food blogger (YAY to more time with you). OR maybe I am just happy because God is God and His faithfulness is so amazing.
I have been teaching music at Pinehurst for just over 7 years now and working with young children has really been such a blessing. They have definitely taught me a good
few life lessons. Having the opportunity to be apart of their growth is so rewarding. But I do believe my season there has ended. Now I look forward to being a disciplined entrepreneur who has to work hard at her other passions (photography and food) so others can show their appreciation and put food on her table. Hehehe. Literally. Shoutout to my loyal readers/supporters. I love you guys.
On another note, my real food living has influenced my hair as well! I have decided to keep it real by embracing my natural curly hair. So it's wash and wear all the way (for now). The journey has just begun, so let's see how long I last. I'll try and add some pictures to my InstaStory soon so you can tell me what you think. My life this week has been so much easier though because now I can just get up and go. Perfect for this long weekend ahead.
Speaking of the long weekend, what are your plans for this long weekend? Thinking about our busy weekend ahead is already exhausting me but I am so excited because we have quite a few things planned. And for this very reason, I thought it would be a good idea to share my power juice recipe with you so you can tick the energy box. This power juice is super easy to make and SUPER good for you. I'm talking anti-irritant-properties good. As well as digestive-aid-detox-aid-anti-aging-healthy-skin-improved-vision good. Do you need any more convincing to try this 4 ingredient power juice?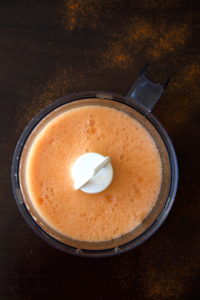 I am miserable when there aren't any fruit in our home. But that feeling does not occur often because I don't allow our home to be without the beautiful aromas of fresh fruit. However, as of late, I have been trying to include more vegetables than fruit in our diet due to the much lower natural occurring sugars in vegetables. I found an amazing 100% carrot juice the other day and I have been using it in many ways like in this power juice for one. All you need for this recipe is carrot juice, fresh pineapple, a thumb of fresh ginger and a bit of cayenne pepper. It will take you less than 5 minutes to make. So get on it, so you can enjoy your weekend.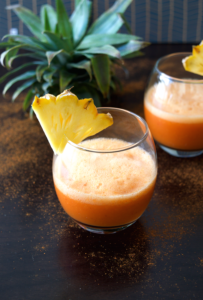 Have a HAPPY HUMAN RIGHT'S DAY my fellow South Africans.
Add the pineapple, ginger and only about a 1/4 cup of the carrot juice to a food processor and blend, scraping down any extra bits as you go along to get a smooth consistency. While the blender is going, add the cayenne pepper and the remaining carrot juice.

Enjoy immediately or bottle and refrigerate for up to 3 days.
If you have a nutribullet, you can add all these ingredients at once and blitz away. I'm saving for my bullet 🙂
The post Carrot and Pineapple power juice appeared first on And then there was food.
(Visited 325 times, 1 visits today)