Anna Beulah has become such a special place for myself and one of my dearest friends. The farm is situated on the outskirts of Durbanville and has the ability to make you escape reality with all it's busy-ness to a place of tranquility and true joy. There is such a peace on Anna Beulah and I believe it has everything to do with the spiritual aspect on which Anna Beulah is found. Shabbat is kept on this farm which means that on the seventh day (Saturday) the entire farm enters a time of rest following the example of God when He rested from all work after creating the heavens and the earth.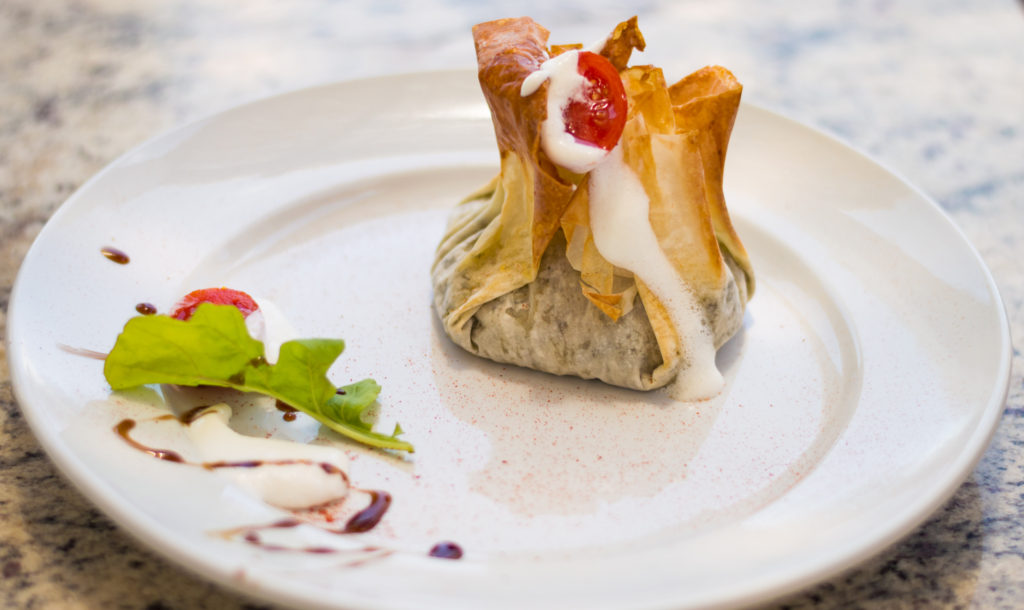 Though Mia and I have been to the farm before, yesterday was extra special as she treated me to lunch at the coffee shop as a birthday gift. But before I tell you more about that, allow me to share the purpose of today's post. One of my goals for this year is to introduce hidden gems to you. I want to write about restaurants and coffee shops that pride themselves in making real food, healthy food and introduce you to places that use the fruit and vegetables grown on their premises in their dishes. I want to show you that there are fabulous eateries out there to encourage a healthy lifestyle. And last night I lay thinking: would my readers appreciate this? I think there are 2 types of people that I need to consider when writing these reviews: the person who wants to know and see everything about a place before they visit it and then secondly, the person who likes to discover a new place for themselves and only seek the minimum with regards to information and images. What type of person are you? Today's post is geared towards the second type of person as I am somewhat like that. So I've included the farm's website link for you and then I will only be sharing pictures of my meals as I want you to visit Anna Beulah and take in the first view through your own eyes.
The farm started with the desire for homegrown organic fruit and vegetables. As guests, you and I are welcome to walk through the gardens and pick our own! More than this it hosts a deli where yummy goodness and pesticide-free products, healthy homemade breads, raw honey and so much more can be bought. For the children they have a pool, horses and then of course if one day isn't enough, gorgeous cottages for a sleepover.
The in-house chef, Hendrik, welcomed us with open arms to the coffee shop. He was so excited to tell us about the activities on the farm before he introduced the menu of the day to us. He explained the starters, the main meals and the dessert of the day to us and then he allowed us some time to make up our minds since he knew everything on the menu sounds (and is) mouth watering.
To start the feast, I opted for the beetroot and watermelon salad. As mentioned before, the ingredients are grown on the farm and you should know these are the little things that make my heart happy. No sugar was added to the salad as the natural sweetness of the watermelon is more than enough to balance the meal. The flavours complimented each other so well: rocket, beetroot, watermelon, feta and a honey and balsamic vinegar dressing.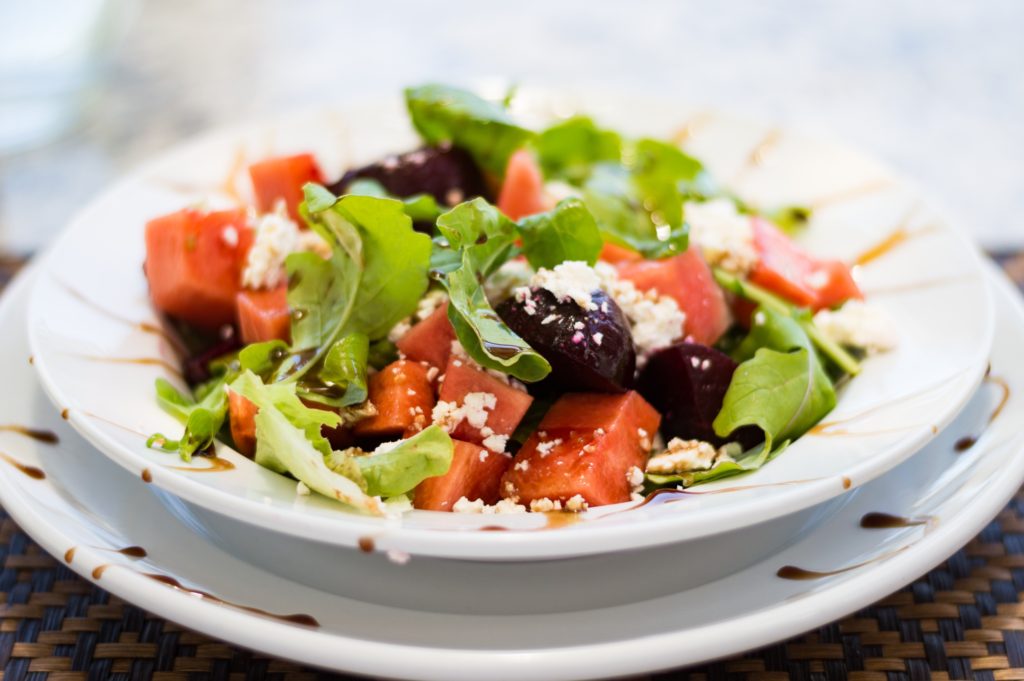 For the mains, we selected the rump steak with roasted vegetables. Hendrik mentioned that they often cook on the coals as it goes quicker and the taste is just so much better. He was right. Those potatoes were so delicious! Well everything on this plate was pretty darn good. Nothing was overcooked and I could taste that I'm doing my body justice.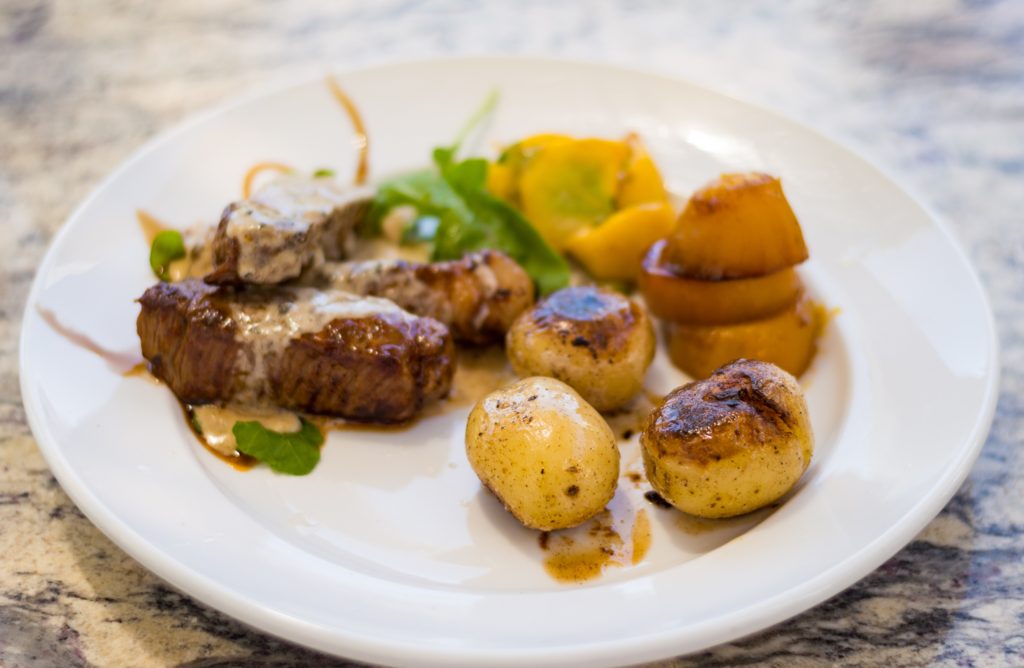 For a sweet ending, Hendrik served their farm fruit with a delicious compote and foam in a crispy phyllo cup; something out of the Aladin movie. Well, this plate took me there for a moment. The dish was fresh, delicious and filled with natural sweetness. I seriously cannot wait to go back.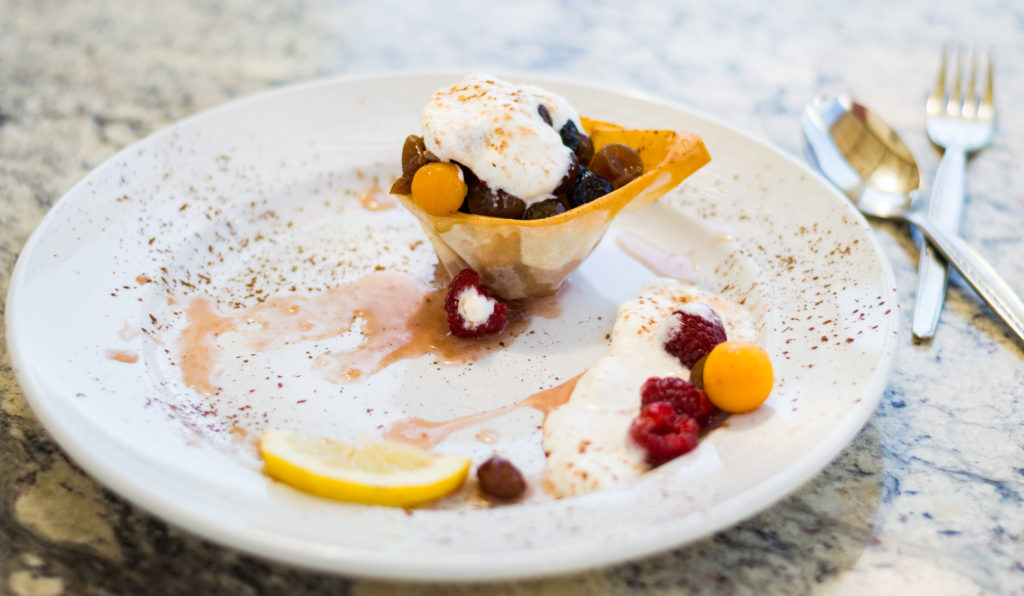 If you're interested in having breakfast or lunch at the coffee shop, make sure to book as Hendrik and the kitchen follows a no-waste lifestyle. They only prepare meals for the amount of people booked. I love that we have places like this on our doorstep and I thought you'd appreciate this too. Was I right? I'd love to hear your thoughts about all of this so please comment below or pop me an email.
(Visited 1,560 times, 1 visits today)