Friends, I am beyond excited about an amazing giveaway that is going to make your life so much easier for an entire month! I'm talking fresh ingredients plus AMAZING recipes delivered to your door for A WHOLE MONTH!
I've partnered with UCOOK to lift the weight off the shoulders of one of our followers. I know at this time of the year many of us tend to feel a bit overwhelmed as another year is coming to an end while the workload doesn't seem to do the same. Also, the last thing I want is for you to ruin that Summer body you've been working on by depending on take aways due to the lack of time to do shopping and plan good meals.
So how do we plan to do this? One lucky follower will win one month's free subscription to UCOOK. <- This means -> world class recipes and farm fresh ingredients will be delivered to your door for an entire month. Grocery shopping and meal planning can therefore be scratched off your to-do list. Are you excited yet?
Before we get to the HOW (you can win) let me tell you a bit more about this amazing company. UCOOK works with some of the best chefs in Cape Town to create meals that are not only healthy but delicious too. They create a fresh menu for each week. Each menu includes nine different meals with Rustic, Vegetarian and Lowcarb options which you can select from. Orders are placed by Wednesday noon and UCOOK delivers it to you the following Monday. They deliver to Cape Town, Johannesburg, Durban and a few other areas. Their suppliers are Ryan Boon speciality meats, Herb traders, and Abalimi & Harvest for Hope. Their food philosophy is ethical, organic and local and this latter fact regarding supporting local is what makes my heart the happiest.
Have I wet your appetite enough? Do you want to know how you can win a month's subscription to this awesomeness? Well, friends, follow these easy steps below and pray that you get selected as the winner:
Sign up to 1 week's worth of UCOOK via this link Get cooking! so I can track your entry.
This competition will run for 4 weeks until the 15th of November 2016 and the winner will be announced on the 18th of November 2016. You may enter as many times as you like. If you any questions, feel free to hit the reply button and send me an email. All of the best to you! P.S. The pictures I have included in this post are 3 of this week's 9 recipes that you can order for next week's menu.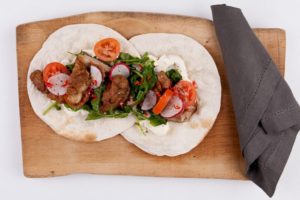 The post An exciting GIVEAWAY just for you! appeared first on And then there was food.
(Visited 42 times, 1 visits today)