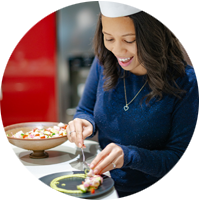 Hi! Welcome to my blog! This is where you'll find me creating and sharing delicious recipes that are made with real ingredients, and free from added sugar and highly processed junk. Basically, I take almost everything I love eating (and in some cases previously loved eating) and try to find a healthier way of enjoying it. This way I have more of it without feeling guilty.
Though born and bred in Cape Town, South Africa, my husband and I currently live in the Middle East. I am a Music Educator by day and he's in the financial industry. We visit South Africa often to see our family and friends. And, to visit all the beautiful wine farms and slow markets. In addition to this I also write honest reviews about restaurants that fit the vision of this blog.
Speaking of vision, I believe that the food we need for a healthy lifestyle has already been provided by God. This is also the idea behind the name of the blog, taken from Genesis 1:3,  "And God said, 'Let there be light' and there was Light"… And Then There Was Food. Let's use what we've been blessed with and create goodness together. It shouldn't be too complicated.
FOLLOW MORE OF MY JOURNEY
(Visited 377 times, 1 visits today)