I was recently asked to try the Pure Bioactive Collagen from Youthology. This request came at such a great time as I found the brand online a few weeks prior and started reading about it, wondering about whether this would or could be my next collagen as the vegan collagen booster I've been using was coming to its end.
What attracted me to Youthology's Pure Bioactive Collagen initially was reading the word 'bioactive' on the packaging and going further to find that this one collagen powder includes all three collagen types (types I, II and III); most collagens on the market today are type I or type III. Type I collagen stimulates skin metabolism and leads to noticeably firmer, smoother skin and wrinkles are reduced within 4 weeks. Type II collagen provides the 3 key components for healthy joints and is proven to improve joint mobility within 3 months. And type III collagen, very similar to Type 1, stimulates skin metabolism and leads to noticeably firmer, smoother skin and wrinkles are reduced within 4 weeks.
And just like that, knowing that I'm at an age where collagen production in my body is currently decreasing, I decided to give the Pure Bioactive Collagen from Youthology a shot.
Ordering my Youthology Pure Bioactive Collagen was super easy. The website, with its simplistic beauty, is clear and to the point. On the home page you are already given the opportunity to purchase the product, because the Youthology Pure Bioactive Collagen is the only product on the website. Imagine being so sure of your product that you give it a platform of its own. Everything you need to know about this collagen powder can be found on the website. This includes the fact that Youthology Pure Bioactive Collagen is backed by clinical trials and is clinically proven to:
Significantly reduce wrinkles by up to 50% after 4 weeks.
Increase collagen in the skin by 60% with continued use.
Increase skin elasticity by 30%.
Improve growth and condition of nails and hair.
Improve gut health.
Increase lean muscle mass while decreasing fat mass.
Significantly decrease cellulite in 3‑6 months.
Improve joint mobility and reduce pain and inflammation within 3 months.
I placed my collagen order late afternoon on Monday, 25 April 2022, and received it that Thursday morning, 28 April. I'm sure If I ordered it the Monday morning, I would have received it the Wednesday. Therefore, it's safe to say that the order-to-delivery process takes 2 days with Youthology. The communication from Youthology's customer service is clear and consistent; I could track my delivery status throughout my short waiting period.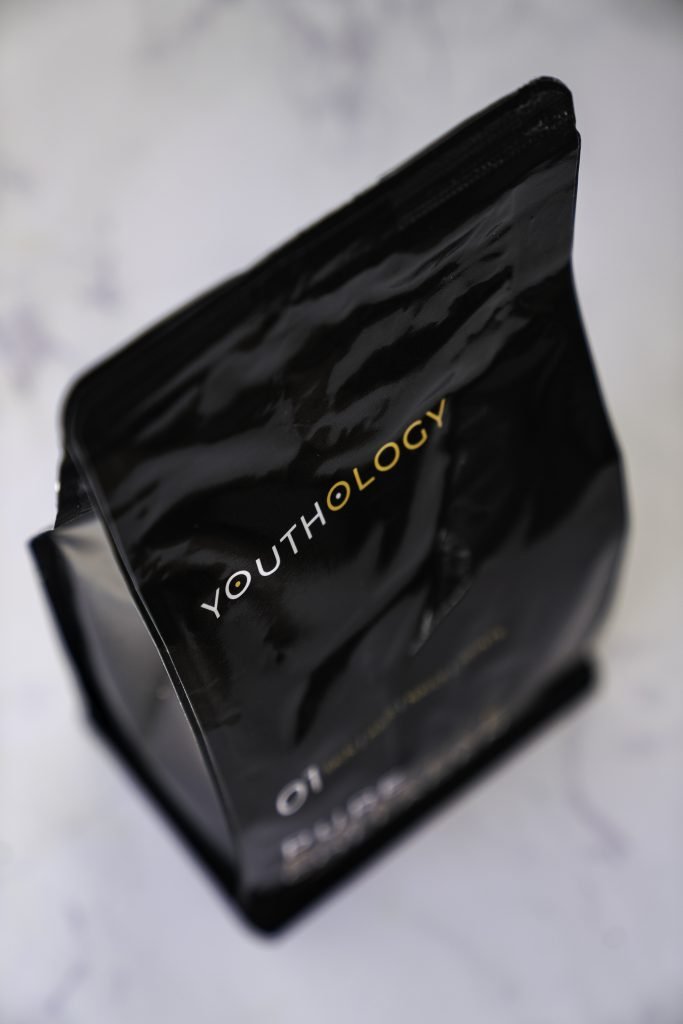 The Youthology Pure Bioactive Collagen powder comes in a beautiful black 500g pouch, with classic white and yellow graphics, at R690 per pouch. For a pure collagen that does not offer you only one type of collagen, but all three (types I, II and III), I think this collagen is very well priced. Allow me put it like this: finding one pure product that does the job of three types of collagen as you've read above, whilst getting absorbed by the body within 30 minutes after consumption, not only speaks to the uniqueness of this product but also to its affordable price point.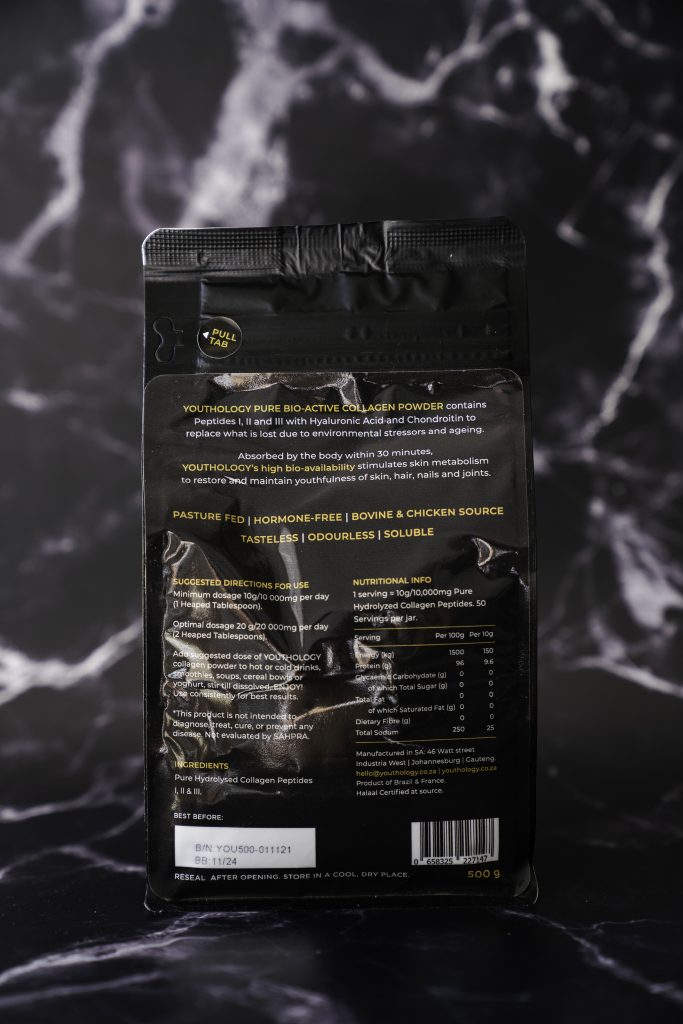 I've only been using Youthology Pure Bioactive Collagen for a month now but I can already see such a great improvement in the smoothness as well as the elasticity of my skin. My sister also noticed the improvement in my skin and asked me about my skincare routine recently; without hesitation I knew my new collagen had to get the credit.
I have a thumb story to tell (insert monkey-closing-eyes-emoji) which started off horribly but has a beautiful ending in the making thanks to my collagen powder. On 1 March my heavy car door, parked at an angle, slammed close on my right-hand thumb. Emphasis on "slammed"! When I tell you I don't know when last I've experienced such excruciating pain, I mean it. By the end of that evening I had a fat, purple-blue-red thumb, throbbing with pain. I took care of it as best I could with what I had. A few weeks later my nail started lifting near the cuticle. That's when I realised this bloody old nail was starting to rot and wants to make its way off my nailbed as a new nail is trying to grow out. (I don't recall losing a nail this way before, ever). On 20 May, about 2 weeks ago, the old nail broke off, leaving me with a very naked thumb as the new nail wasn't far out on my nail bed. But whilst drinking my collagen daily, I kept my eye on my thumb and at the moment I almost have a full nail. I'm not an expert on new nail growth but I do think this new nail grew out rather fast and I believe it's thanks to my daily intake of Youthology's Pure Bioactive Collagen.
I have been adding this collagen powder to my morning tea at work. I love a good cup of ginger tea in the morning, and a heaped tablespoon of this collagen powder in my warm tea dissolves easily. As my ginger tea only consists of pure water and ginger granules, I can tell when my collagen powder has been added to it and when it has not, but the collagen doesn't change the colour of my tea and it doesn't really change the flavour as the Youthology Pure Bioactive Collagen has a very neutral taste.
The optimal Youthology Pure Bioactive Collagen dosage is 2 tablespoons per day (though 1 tablespoon is enough) so on days when I only add 1 tablespoon to my tea, I'll add another tablespoon into my smoothie which I normally have as a late morning snack or for lunch. In my smoothies I cannot tell whether I've added my collagen or not which is great! This is a huge change from my previous collagen booster which changed the colour of everything I added it to as well as had an effect on the taste of my smoothies. Not a bad effect, but nevertheless I could taste it.
I don't see myself changing collagen brands anytime soon and since this is only my first month, I cannot wait to see how my skin will look and feel after 3 months of using Youthology Pure Bioactive Collagen. I definitely think I should do a follow up review for you in a few months' time again to show you further results, but I can honestly say that I really like this collagen at the moment. If you would like to purchase the Youthology Pure Bioactive Collagen, you can use my discount code, YOUTTWF15, for a discount of 15%. That means you'll get the 500g pouch of Youthology Pure Bioactive Collagen at R586.50 instead of R690. And shipping is free! If you'd like to read more about this amazing product, click here.
(Visited 73 times, 1 visits today)