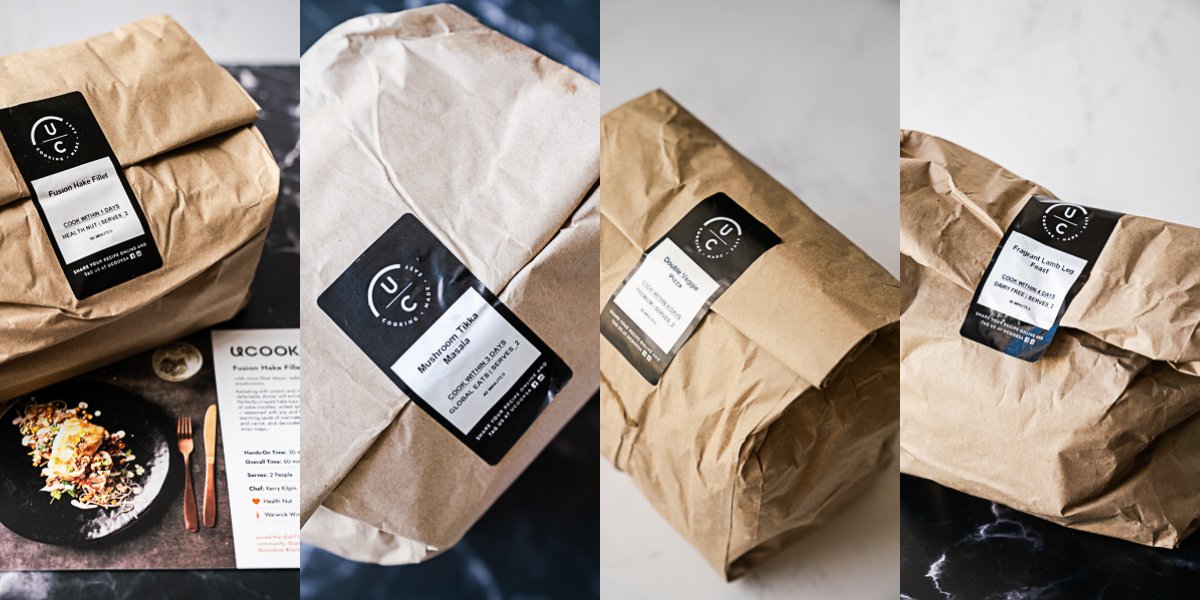 If you've been part of the And Then There Was Food family for a while, then you already know how much I love UCOOK's meal kits. Particularly the Health Nut category. If you're new here, welcome! I am delighted to have you here. For you, in a nutshell: UCOOK is a dynamic team of good food lovers who constantly work on innovative ways to bring more convenience, enjoyment and culinary excellence into the kitchens of home chefs (you and me – we're the home chefs). They center their service on providing ingredients that are ethically sourced with measurable impact on communities most in need.
I think it is important to mention that UCOOK is no longer just a Meal Kit company as many of us have come to know. They are dedicated to providing convenient and enriching food solutions from ready-made as well as chef designed Frozen Craft Meals to delicious tubs of Baby Food to Meal Kits. The Meal Kits which this post will focus on, in particular the Premium and Saver categories, are for those of us who are looking to sharpen our cooking skills.  
Upon entering the UCOOK website, you'll find the meal kit menu under the tab, Meal Kits. This menu is updated every Wednesday with a fresh selection of 18 Chef collaborated or UCOOK created recipes. In total, there are now 9 categories available to choose from. These are: 
Premium: these meal kits include a premium selection of proteins and recipes
Saver: in this category you'll find dishes that won't compromise on quality while costing less
Health nut: hello carb-conscious diner
Easy peasy: here you'll find recipes that are effortless without compromising on flavour
Global eats: this is an exciting category that allows you to travel through your tastebuds with cuisines from around the world
Vegetarian
Gluten conscious
Dairy free
Pork free
From these categories you get to choose 2 to 4 meals a week for 1 to 4 people and based on your choices you will receive the exact pre-portioned ingredients and easy-to-follow recipe cards. UCOOK's meal kit is a subscription service which means when you sign up you will select a meal kit plan which will automatically pack your weekly meal kit box for you without any need from you to edit or alter your order. However, customisation is an option. By logging into your account you can change the meal kits in your box as you wish and you can also pause your subscription whenever and how often you wish. As mentioned before, new menus will show up every Wednesday and billing will take place every Wednesday at 9am. If you choose to pause your subscription before Wednesday you will not be billed and you will not receive an order the following week. Deliveries take place on Sundays and Mondays.
For my recent order, I ordered 3 meal kits from the Premium category and 1 meal kit from the Saver category. Dishes in the Premium category is an excellent choice for a special night in with one's partner as the quality of the ingredients provided makes one feel like you're serving a meal from a 5-star restaurant. Do you see why I ordered most of my meals from this category? On the other hand, dishes in the Saver category are great for that last week before payday as they are still packed with all the goodness UCOOK has to offer but at a very affordable price. If, like me, you're cooking for 2, ordering from the Saver Category will cost you only R95 per portion. And if you're a family of 4, you'll score even more, at an unbelievable R65.50 per portion! Can we take a minute to pause and ponder on that… I know there are many people who assume UCOOK is an expensive subscription but taking into account that everything in your kit is already prepared for you in terms of size and quantity of the ingredients, as well as knowing that you will be getting in season local produce, I believe UCOOK is a bargain subscription.
The website is really easy to navigate and once you've decided which meal kits you want for the new week, one big load is already off the home chef's shoulders. You can relax knowing that you won't be purchasing unnecessary things at the grocery store or wasting food because your meals are already portioned correctly. This means spare time for things that are more important, like quality time with your loved ones.
With my Premium and Saver meal kits, each meal kit was labelled with the most important information like the amount of time required to prepare the meal, and by when the meal would need to be cooked to ensure my ingredients are at its best. This is also a very helpful tool in planning the layout and the variation of one's weekly meal plan when ordering online.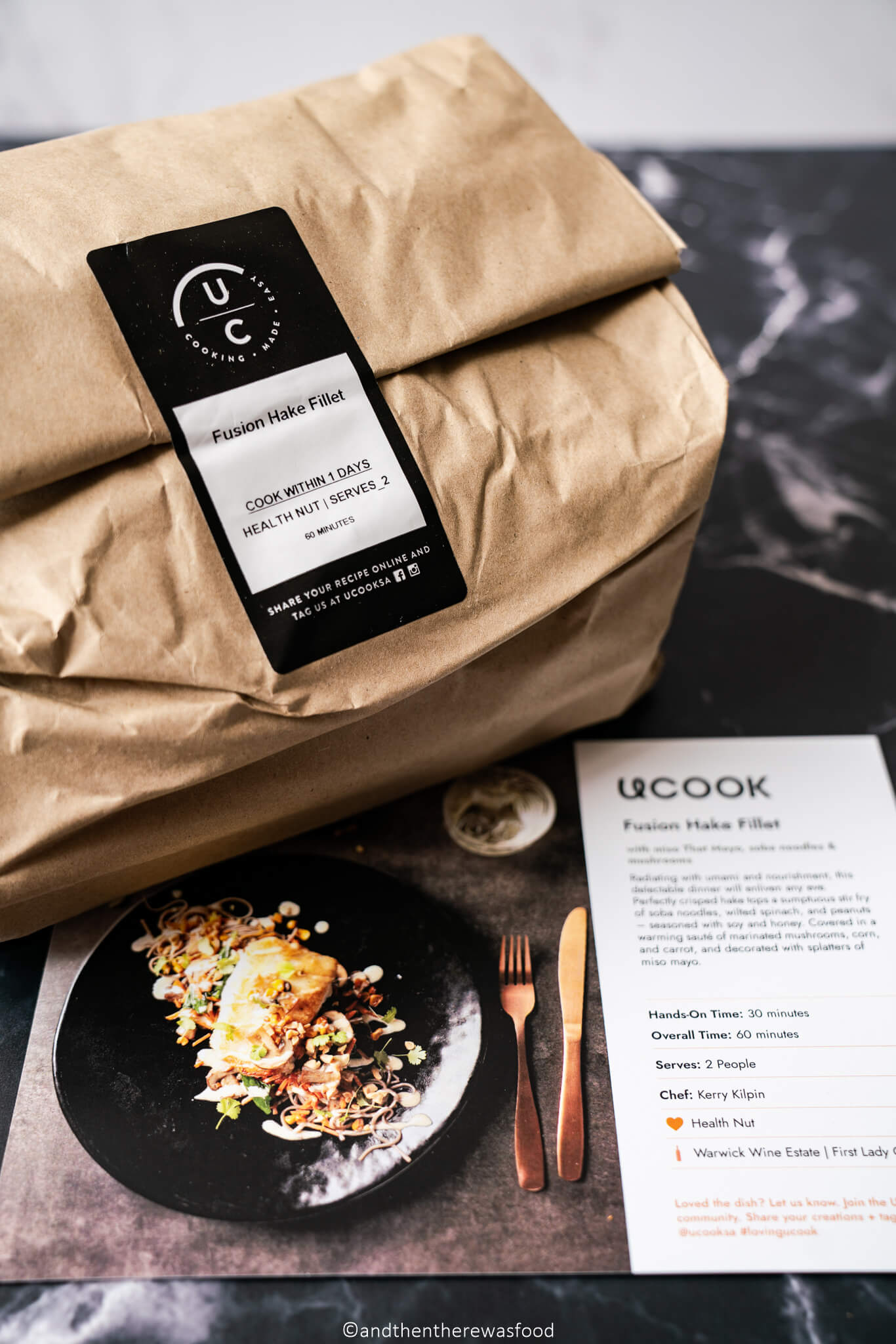 First on our Premium menu : Fusion Hake Fillet with miso That Mayo, soba noodles and mushrooms. 
Upon opening my brown paper bag of goodies, the Greenfish logo caught my eye. I recently discovered that Greenfish is a family run business in Cape Town, South Africa, with a deep respect and connection to the ocean. Knowing where my food comes from is very important to me and the fact that Greenfish prides itself on providing low environmental impact seafood, makes my meal preparation a wholesome experience.
Six steps to prepare this meal were beautifully put out on the recipe card which helped me to complete it with ease. I love how the ingredients are placed in the order the instructions of the recipe calls for as this is something I focus on in my recipes. The only ingredients I needed from my pantry were oil, salt, pepper and water – everyday ingredients.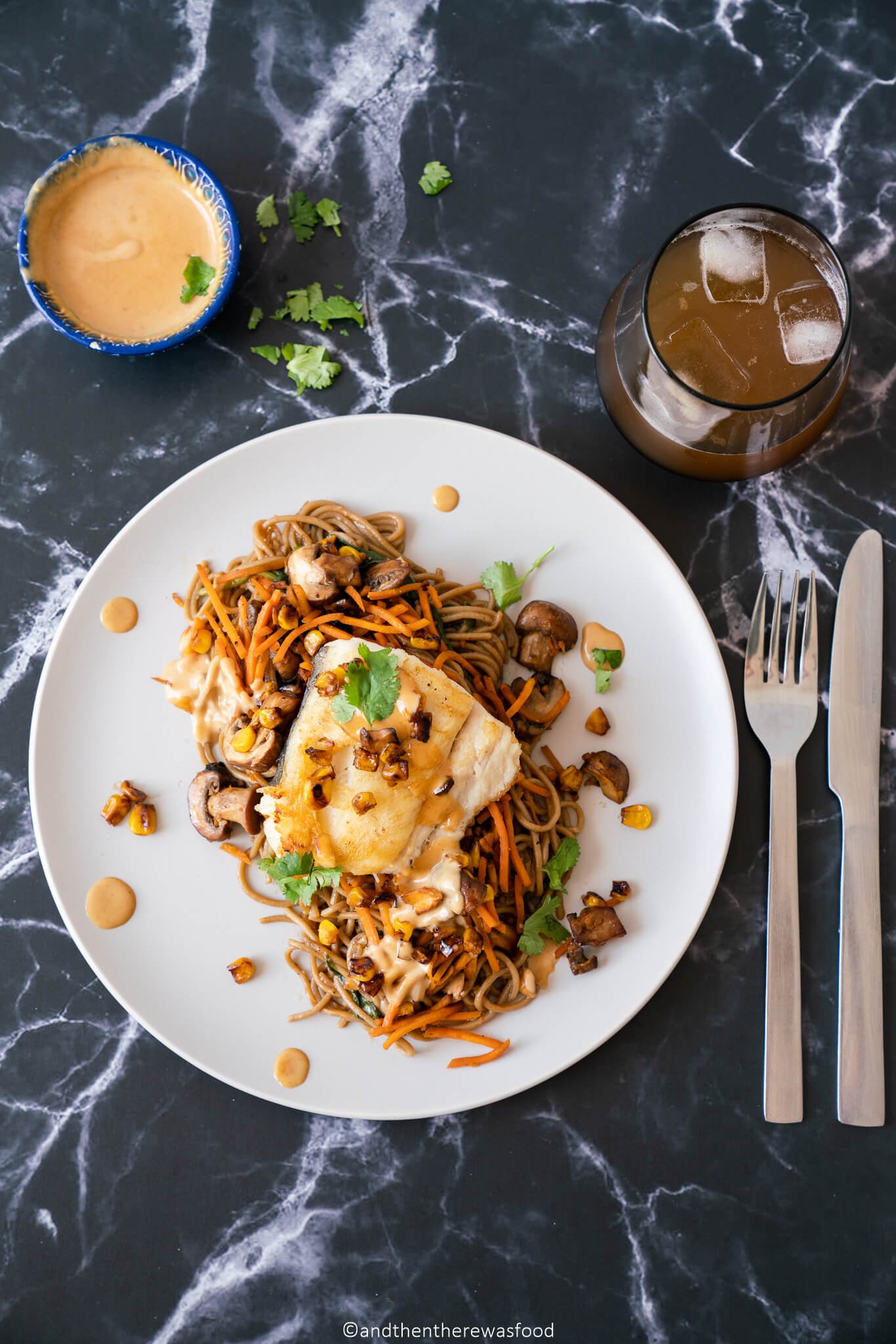 From marinating the mushrooms to cooking the noodles, to frying the hake and then plating this extravagant dish, only an hour of my time was required. Convenience AND deliciousness? Yes, please! 
My Fusion Hake Fillet dish radiated with umami. The hake came out crispy which I placed atop the soba noodles, wilted spinach and peanuts, seasoned with soy and honey. This was covered with marinated mushrooms (I've never marinated mushrooms before and I'm asking myself why not?!), corn and carrot, and then I drizzled loads of that miso mayo all over the dish. Absolutely delectable! Note to self: fish can be enjoyed in many interesting ways, like this, other than grilled with a side of potatoes and salad. Thanks for the fresh idea, UCOOK.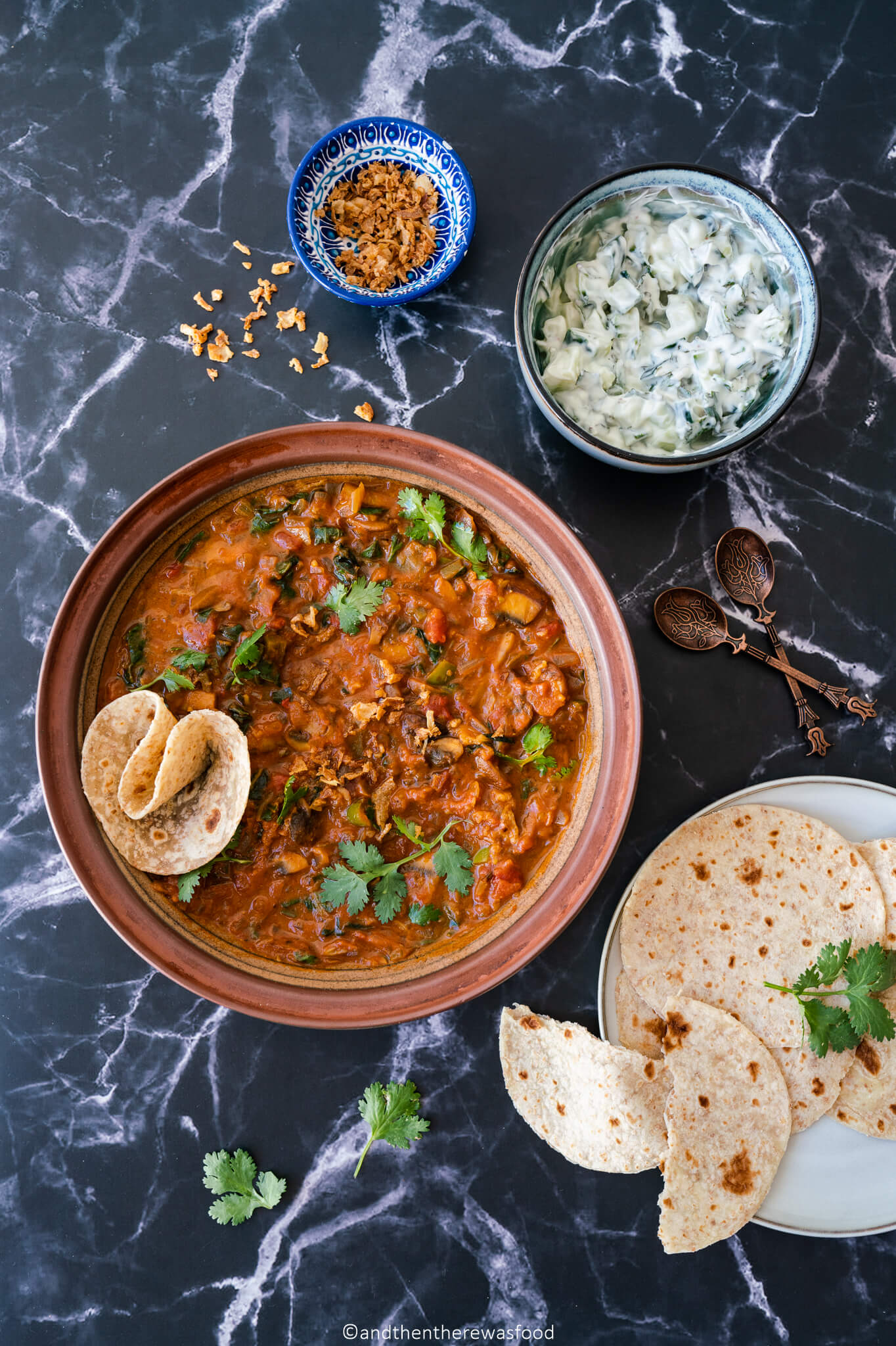 Next, from the Saver category, Mushroom Tikka Masala with rotis, coconut cream, minty raita and crispy onions. 
This is a tasty vegetarian take on tikka masala with loads of flavourful mushrooms – you won't even miss the meat. I know mushrooms are amazing, it's something I always aim to have in my refrigerator, but never before have I made such a fancy meal with mushrooms. Not only is this super easy to make, but SO budget-friendly! The main ingredients, as you can already see, are mushrooms, double cream yogurt and coconut cream. Add the onion, garlic cloves, a pepper, and your curry powder and that's your main dish. It really is a saver meal in the Saver category. 
I made this meal on the same day as the first meal. I took the opportunity to see how well UCOOK's meals freeze after preparing it for those times where I need to pause my subscription. This was one of those times as I needed to travel. My husband was sorted for a couple of days with freezer meals made with love by his wife who had to leave the country for a short while. I know what you're thinking… The answer is yes – he was capable of cooking this meal by himself, but for the sake of this post, I wanted to experience it all. And I've learnt quite a lot which I am now able to share with you, such as even preparing these convenient meal kit recipes in advance for enjoyment at a later stage. 
Moving on to our 3rd dish from the Premium category: Fragrant Lamb Leg Feast.
Emphasis on the word, feast!
This fragrant (free-range, yay!) lamb leg is sliced and placed atop rustic baba ganoush – a smoky Levantine dip made from the flesh of roasted aubergine. Added to that are spiced chickpeas which were roasted until crispy with a delicious side of minty pea salad.
Once again, I've learnt something new: turning aubergines into a dip by roasting it slowly in the oven. The garlic cloves was also roasted for a bit, skin on, and these two ingredients are then peeled and mashed together with some tahini, lemon juice and seasoning. SO simple, yet so fabulous. This was definitely a meal worthy of being in the Premium category.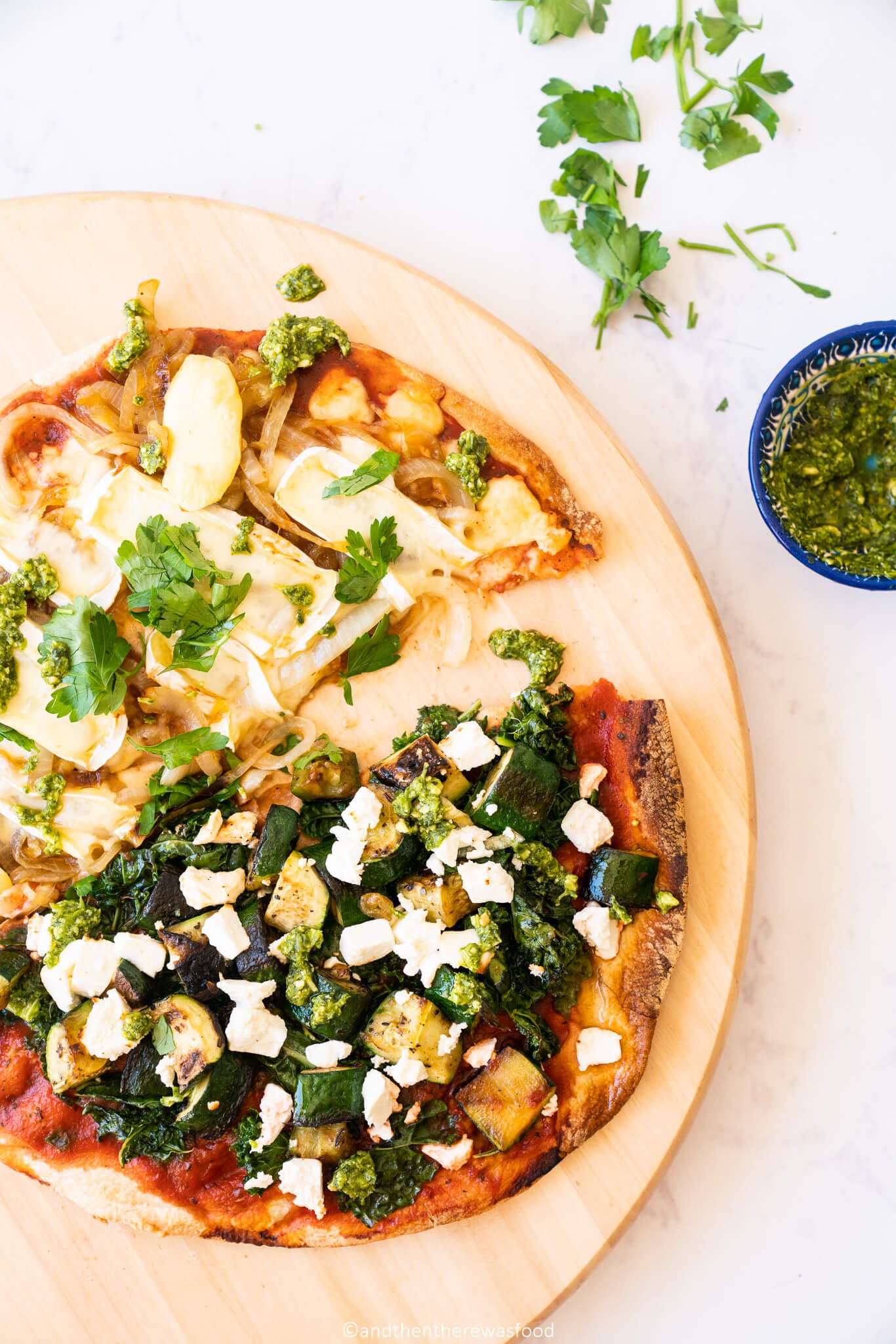 And finally, also from the Premium Category: Double Veggie Pizza
What is life without pizza?
In this meal kit I got two pizza bases, tomato passata,  and delicious veggies and cheese. And let's not forget the basil pesto from the Pesto Princess family. (I feel the need to pause here once again for the quality ingredients UCOOK brings to the table. Pesto Princess's products are royalty. And if you haven't yet, give them a try as you can find them at most grocery stores).
I prepared pizza 1 with greens including charred baby marrow, kale and pesto and added feta, whilst pizza 2 had loads of camembert and mozzarella with caramelised onion. Simple yet deliciously flavourful. We then halved these so each of us could have a double veggie pizza. 
This was the quickest meal to prepare – only 35 minutes were required! In actual fact, not one of my four meals required more than an hour of my time. To me, that means more quality time with my husband at dinner time. And the fact that he enjoyed every single meal that I've prepared with the help of UCOOK's amazing service, is another win! 
I really love UCOOK's thinking with regards to keeping it local, putting farmers first and keeping it seasonal. They make it their mission to source the freshest local ingredients. I can vouch for that with every single ingredient in my Premium and Saver meal kit bags, from the mint to the mushrooms. They also support small-batch farmers and up-skilling projects to give back to give back to our communities with every order. May I add that the free-range lamb I received was without a doubt THE BEST lamb I have ever had in my home. Lamb is definitely not something I buy often, but when I do buy it, I make sure to get quality lamb and this was it. And then, finally, to continue on UCOOK's thinking, I want to stress the fact that they keep their recipes seasonal, which means not only will you and I discover new seasonal produce on this UCOOK journey but we can also rest assured knowing that UCOOK is committed to improving the food system. 
I really hope I have encouraged you to give UCOOK a try. Just in case you need more convincing, I have a 20% discount code for you: #FOOD20. Use my code to get 20% off your first meal kit order and/or off the Frozen Craft Meals and Pizzas, Kids Food and Baby Food. I obviously highly recommend trying the meal kits from their Premium AND the Saver categories – you won't regret it! 
***
DISCLAIMER: This post was created in partnership with UCOOK. The review is my truth which I happily share with you. By clicking on and working through the links in this post you contribute to the advancement of my blog at no cost to you. Your support of this blog is highly appreciated. Thank you for being here. 
(Visited 181 times, 1 visits today)