You scream, I scream, we ALL scream for NICE CREAM!!! Why nice cream? 'Cause no sugar, no fuss and no guilt! Niiiiiice 🙂 Basically the term nice cream has been given to very ripe bananas that are blended well, frozen and then scooped like soft serve. All you need to do then is add a flavour of your choice which is natural peanut butter and vanilla extract in this case.
I always, always make sure there are frozen bananas in my freezer that are already chopped up and in ziplock bags or you will find bananas in my fruit basket getting their ripe on. Why? Because bananas are so versatile and that is why it features as one of my Top Tips on my website's homepage. I use it in so many different recipes.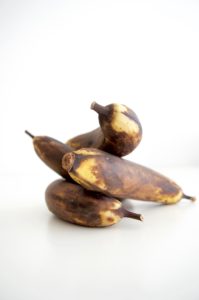 By now you know that you won't find any recipes on here that require refined sugar, but when you can get away with adding ZERO sweeteners of any sort to a great recipe, I consider that a bonus. We are really so blessed to have been provided with goodness in nature, eg. bananas, that are naturally sweet. Guys, I cannot stress enough how much healthier we can live with what God has already provided for us on earth. There is really no need for highly processed foods.
This morning I attended a seminar and I met a wonderful woman who asked me about my blog. When she heard what we are all about she spoke about her healthy 3 boys. Her eldest is already 18 years of age and still he does not crave any sweets because she never made him used to it when he was younger. Even when she left her boys with their granny during the day she made sure she pre-packed their healthy foods and snacks which didn't leave much room for granny to hand out any unnecessary sweets and chocolates. I was so encouraged by her story this morning because many of my friends and colleagues feel that I won't be able to keep sweets away from my future children. I. beg. to. differ. I believe it starts with preparation at home. I am not saying my children won't ever put a sweet in their mouth, but I do believe that they will live healthy lives and make healthier choices because I will prepare them for a healthier life.
I am laughing at myself because as you can see I can get too emotional about this topic. If you let me, I will carry on and on and on… So instead, I am off to have a second bowl of this creamy nice cream.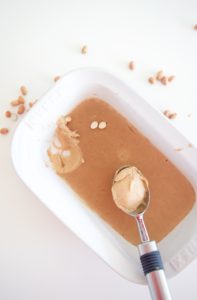 In a food processor, add all the ingredients and blend until smooth and creamy.

Pour the mixture into a loaf pan, cover and freeze for at least 4 hours or until set before serving.
The ratio bananas to table spoons of peanut butter is 1:2. So you can make as much or as little nice cream as you need.
The post 3 Ingredient Nice Cream appeared first on And then there was food.
(Visited 313 times, 1 visits today)