Apple Sauce! TWO ingredient applesauce! Healthy applesauce. Because I dislike store bought apple sauce. Seriously DISLIKE.
Friend, have you read the ingredients on the label of a jar of applesauce from your local grocer? What is the number one ingredient that pops up? SUGAR. Refined sugar. By now we know that sugar is added to many products as it aids in the shelf life thereof. But is it really necessary to add it to something like applesauce when apples are naturally sweet?
My believe today is that once you make this easy apple sauce, you will never go back to store-bought. In addition, when you understand the just of this recipe, you will adjust the quantities as needed. The success of this recipe lies in the use of the slow cooker. Allowing the apples to cook and break down in the slow cooker allows more of that inherent sweetness to come out. And if you leave it a bit longer than required in the cooker it caramelises around the sides of the pot and then you end up with some darker bits which are oh so yummy.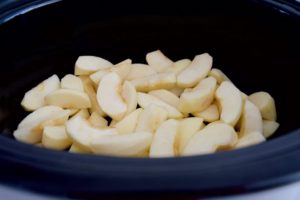 I almost-always have homemade applesauce in my refrigerator. Now for a little confession: I never really thought of sharing this recipe on the blog because I just found it too easy. But, since there is applesauce in the prize I am giving away for our 2nd blog-iverary this month AND since there are so many new recipes on the way that includes this homemade applesauce as a natural sweetener in the ingredient list, I simply had to share it so I can refer you back to it and make sure you all have the healthier option at your fingertips.
All you need for this specific recipe is eight sweet apples and a bit of raw unfiltered apple cider vinegar. Concerning the apples, I love the sweet- and tanginess of the Pink Lady and always use this type in my sauce but I can imagine Fujis also being a good choice and am yet to put it to the test. If you beat me to it, please let me know how that works for you?
Peel, core and slice the apples into eighths.

Place it in a slow cooker with the apple cider vinegar.

Cover and allow to cook. On high, the apples should break down and form a sauce in 2 and a half hours. On low heat, at least 4 hours are required. Mash to your preference of smoothness with a wooden spoon.

Jar it and refrigerate once cool.
This applesauce is great and if you prefer it chunky, keep an eye on it after 2 hours. But if you prefer to use it as a sauce over meat or in cakes, then stir halfway through with a wooden spoon and allow to cook until completely broken down.
The post 2 Ingredient apple sauce appeared first on And then there was food.
(Visited 336 times, 1 visits today)