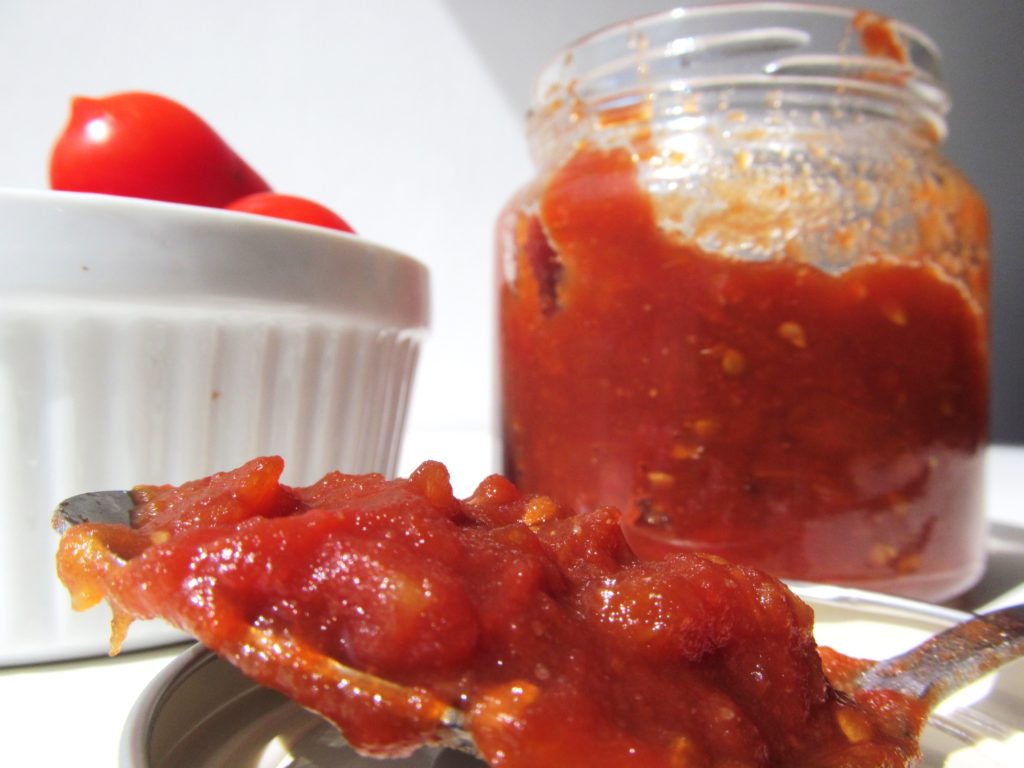 My husband LOVES tomato sauce. I'm sure many of you do too. A sauce has the ability to put the hmmm-factor on certain foods. I'm however worried about the sugar content of this good ol' favourite. Many of the sauces also make use of extreme preservative options that are not always good for us. So I made a healthy version and used it on my amazing pizza base yesterday. Hmmmmm…
The quantities I used in this sauce recipe is for one large pizza base so if you'd like to make this and store it in the fridge for a few days, go ahead and double up the ingredients!
HEALTHY TOMATO SAUCE (PIZZA BASE SAUCE)
Author:
Prep time:
Cook time:
Total time:
Serves:
1 jar (for a large pizza base)
Ingredients
4 ripe plum tomatoes
boiled water to cover tomatoes
1/2 cup water
1Tbsp balsamic vinegar
20ml raw honey
1/2 tsp sea salt
1/4 tsp ground coriander
Instructions
Place the tomatoes in a bowl and cover it with the boiling water for a minute. After the minute, you will see how the skin of the tomatoes has started to peel. Discard the water and allow the tomatoes to cool before peeling.
Once the tomatoes are peeled, chop it up finely and add it to a non-stick saucepan as well as the 1/2 cup of water. Place the saucepan on medium high to high heat and allow it to boil for about 10 minutes or until most of the water has boiled away.
Bring the heat down to low and add the balsamic vinegar and the honey. Use a wooden spoon to stir and mash the chunky sauce continuously until smooth. Do this for 10minutes.
Once the sauce has thickened, stir in the salt and the coriander. Allow the sauce to simmer for a further 5 minutes.
Let the sauce cool down completely, then transfer it to a glass jar and refrigerate it if you don't plan to use it right away.
Notes
At point number 2, before adding the peeled tomatoes to the pan, you can remove the pips but I prefer the texture of the sauce with the pips and therefore did not remove it for this recipe.
(Visited 4 times, 1 visits today)